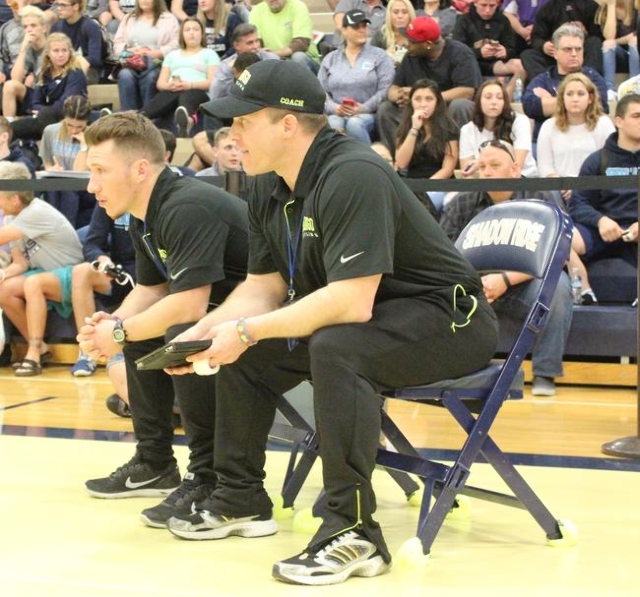 Ask any coach who the favorite was heading into the Division I Sunset Region Tournament and the majority would agree it's Arbor View's title to lose. Which is why it's no surprise the Aggies are in first place after Friday's opening day at Shadow Ridge.
Arbor View (50) holds a slim one-point lead over Cimarron-Memorial (49), while defending champion Shadow Ridge is in third place with 44 points, Bishop Gorman is in fourth place with 43 and Centennial rounds out the top five with 35 points.
And even though Durango is nowhere near the top, in a distant eighth place with just 14 points, there's a certain swagger that differs from past seasons when the team seemingly showed up to duals and the season-ending tournament out of sheer formality.
Three years after taking over as Durango's Jr. ROTC senior instructor, first-year coach Jeff Baumgart has instilled a newfound confidence in the Trailblazers, who came into the tournament with three No. 1 seeds out of the Southwest Division. They have 14 grapplers left in the tournament, 13 on the consolation side and one on the championship side — third-year varsity wrestler Donzae Jones.
Jones, who pinned Arbor View's Coby Tucker in his 145-pound quarterfinal match and will face Centennial's Brogan Denton in today's semifinal, said he's seen major changes in how his teammates approach duals.
"The past couple of years it's been 'show up, wrestle and go home,' but now it's a pride oriented thing," Jones said. "Coach is always talking about 'iron sharpens iron,' so we know we all have to come together to grind it out to make this program better."
Baumgart, who has used his experience on the mat and military background to resurrect the program, said he's maintained consistency with one important factor since day one: letting his wrestlers know he believes in each one of them.
That is why he's confident the Trailblazers' 14-15 record isn't indicative of how competitive his team has been throughout the campaign, especially considering eight of their losses came by five points or less.
"We have a lot of green wrestlers who don't have a lot of experience," Baumgart said. "It's been great to see them grow. No matter what they did in their matches, no matter the outcome, it's all about improvement. And they've started to see that, and started believing in themselves.
"I'm a big believer of mental power. I always tell the kids it's how mentally strong you are. And when they start to see their development, it compounds their mental strength."
Senior Sean Waasdorp, who moved to Las Vegas from California before his junior year, said the change in coaching staff has helped instill fundamentals in the program.
"Last year we had football coaches coaching wrestling. All we really did was condition, and yeah conditioning is good, but I think it's great to learn more technique. That's what we do with this new program. We go hard 100 percent every practice, so our conditioning is up and our technique is amazing."
Shadow Ridge coach Gus Gledhill has noticed a big difference, after his Mustangs faced Durango twice this season, and credits Baumgart and assistant Jonny Cronin with the program's 180-degree tilt.
"They're putting out a full lineup, they're getting better, every single time we've seen them they've improved, they're lasting longer in matches and overall, it's been good for that program," Gledhill said. "They look like they know they can go in and compete with teams. Whereas before they'd walk in with a look like 'we know we're going to get beat up on.' I think he's brought a lot of discipline to the program."
Baumgart is well aware it would take a myriad of things to happen for his Trailblazers to emerge as the region champion, and he remains realistic it's unlikely to happen. But he's also aware of the pride his wrestlers will come away with, not to mention the potential some of them have to qualify for next week's state tournament in Primm.
"I do realize there are a lot of tough teams … but I would like to see us come out of here coming close to some of these other teams, Arbor View, Shadow Ridge, those guys that have been powerhouse teams for a long time. I want our guys to go wrestle hard and see what we can come up with and build upon that.
"Yes, maybe we won't beat them this year, but I don't want us to get beat like we got beat in the past years. I want us to keep gaining ground on them, and that's what I tell them is to keep making improvements and gaining ground. Over time, we'll be there."
TWIN KILLING — Hoping to follow in their older brother's footsteps, twin brothers Daniel and Nathaniel Rodriguez, of Cimarron-Memorial, are both in today's semifinals. Nathaniel Rodriguez, at 113 pounds, pinned Durango's Brandon Su on Friday, and will face Arbor View's Chris Sims. Daniel Rodriguez, at 120, faces Desert Oasis' Daniel Costa after pinning his quarterfinal opponent, Durango's Ruben Pagan. Their older brother, Ruben, was a two-time Sunset Region titlist at Arbor View.
GIRL POWER — Helping Arbor View and Bishop Gorman contend for the regional title are a pair of ladies who show no fear on the mat. Arbor View's 106-pounder Peyton Prussin is two wins away from competing for a third-place medal and a berth into the state tournament, while Gorman 120-pounder Allison Petix needs three wins to get into the third-place match.
Results: