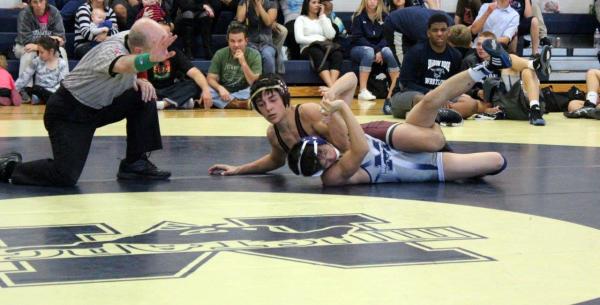 Tim Jeffries had no intention of continuing on as an educator and coach upon retiring from Cimarron-Memorial.
But the day before he turned in his retirement papers to the Clark County School District, the 34-year coaching veteran signed a contract to join Faith Lutheran's staff.
"It never really was in my mind at all to take another full-time job," Jeffries said. "I hadn't considered it … but once that became (available) and I was around those folks at that school, it was the thing to do. People talking about Christ every day and that's nothing but a good thing."
And just like that, the Crusaders' wrestling program became that much better.
Jeffries, who was an assistant at Valley for two years and the original Las Vegas High for six years, helped mold Cimarron into the powerhouse it's always been over a 22-year span. During his tenure at Cimarron, the Spartans won seven state titles, and were state runner-up another seven times.
Now Faith Lutheran is a Division I-A program on the rise, as Jeffries is in his second year with the program.
"It's been a good challenge for me, but it absolutely is a pleasure at this point," said Jeffries, who started his coaching career as a college assistant for two years at his alma mater Arizona State and another two at UNLV.
Crusaders assistant coach Dan Dolby, who has been with the program five years, said since Jeffries' arrival he's noticed more and more quality wrestling families that were a part of youth programs are now showing interest in enrolling at Faith Lutheran and that they're willing to invest the tuition for a quality education, while being able to learn from someone like Jeffries based solely on his long-standing reputation in the wrestling community.
"We were a team that was competing, but not at a high level," Dolby said. "Now that we have the right wrestlers in the program and the right coaching staff together, now it's starting to come together. With Tim it's about technique, so the kids are picking up little things they may not have had in the past. The good wrestlers are becoming better; the average wrestlers are getting good."
As was evident Friday and Saturday at Shadow Ridge's Mustang Stampede, where the Crusaders went 3-3, improved to 8-5 on the year and finished sixth in the Gold Bracket. And while it wasn't exactly the type of finish Jeffries nor Dolby want their wrestlers to become accustomed to, it was the effort against higher-caliber schools and competition they were pleased with over the weekend.
"We're not satisfied where we're at," Dolby said. "The kids who have been in the program understand they have to step up and remember where we came from and not be happy with winning one or two duals at a tournament like this. Our goal is to win every one … and we've got to believe that we can compete and win those matches."
Having a 34-year coaching veteran with credentials like Jeffries' has given the Crusaders newfound faith.
STAMPEDE SUCCESS — Tournament director and head coach at Shadow Ridge, Gus Gledhill, said he was pleased with the third Annual Mustang Stampede, which was once known as the Bonanza Duals and hosted by Bonanza High. After the first day of the 24-team event, the field was divided evenly into three brackets — Gold, Silver and Bronze — allowing for teams to wrestle at their own competition level.
"That first day is for seeding," Gledhill said. "We try to make it so the top teams end up in that upper bracket. It puts kids where they're wrestling other kids at their own level. What we're hoping is to keep building it where we get more out-of-state teams, but we also hope to attract all the Vegas teams, because we think they'd like to wrestle these top out-of-state teams."
In the Gold Bracket, Temecula Valley (Calif.) defeated Dobson (Ariz.) in the championship match, 35-26, while Shadow Ridge beat Cimarron, 39-27, to take third place.
In the Silver Bracket, Temecula's B squad beat Coronado, 54-24, to win that bracket title. Dobson's B squad handled Canyon Springs, 52-22, to earn the third-place trophy.
In the Bronze Bracket, Silverado defeated Valley, 45-30, to take home the title, and Desert Oasis defeated Utah's Alta High B team, 42-36, to nab third place.
THIRD TIME'S A CHARM? — One of the Sunset Region's top wrestlers pound-for-pound was on display at the Mustang Stampede, as Centennial senior London Thomas remained undefeated on the year after a perfect showing to improve to 15-0 (not including forfeits) on the year.
Thomas is a two-time state qualifier after qualifying for Arbor View as a sophomore, and for Cimarron-Memorial as a junior. The 152-pounder made it to the 138-pound state final last year, and came up one-point short against Bishop Manogue's Willy McDonald, after leading 3-0 early in the match and taking a 3-2 lead into the final period. The close, 5-4 loss still stings, and Thomas said winning the state title is all that's been on his mind since McDonald's arm was raised in the championship match last March.
"Coming close by one point in the state finals match, it's just made me work harder," Thomas said. "I just want to get that state title. I'm just grinding every day. It's my senior year, and my last year to get it."
TAKING THE SUNRISE BY STORM — In the Sunrise Region, the road to success usually goes through Green Valley. But Liberty junior 145-pounder Storm Roper is looking to return to the state tournament for the Patriots, after placing third last March. Like Thomas, Roper went undefeated in the Mustang Stampede, improving to 22-0 (not including forfeits) on the year. And also like Thomas, the Patriots' grappler is still smarting from a tough loss in last year's state tournament, a 9-7 semifinal setback to eventual state champion Dustin VanRiel, of Shadow Ridge, in the 132-pound bracket.
"My loss was a big eye-opener, because I felt like I couldn't be defeated — obviously I was," said Roper, who has recorded 17 pins, two technical falls and one major decision this season. "I learned that I have to know awareness; awareness with time, where I am on the mat and everything. I was 14 seconds away from being in the state final. My biggest obstacle is making sure I go 100 percent all the time. You can't have down moments, because when you do, even the least-experienced wrestlers can beat the best wrestlers. So you have to be ready for everything and continue working hard."