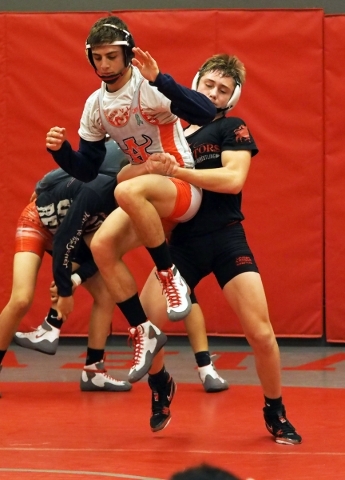 Lawrence Vigil Jr. misses the voice.
No matter how many people were screaming during one of his wrestling matches, the junior at Arbor View could always hear his father over the din.
"It's going to be hard knowing he's not going to be there," Vigil Jr. said. "I still feel like he's watching me, still in the corner yelling at me. It's just a different feeling knowing I don't hear his voice."
Vigil Jr., one of the top returning wrestlers in the Sunset Region at 126 pounds, will compete this season with a heavy heart following his father's death two and a half months ago.
The tragedy has provided inspiration for Vigil Jr. and the Aggies, who are dedicating the season to one of the program's biggest fans.
"I'm able to cope with it more than I used to. I've talked to people about it and have a better understanding of what happened," Vigil Jr. said. "Yeah, I'll have my days when I get down sometimes, and sometimes it will be a better day because I'll feel his presence or something.
"But I feel like since my dad's passing, it's motivated me to do better in wrestling because I know he would want me to keep going and going. He wouldn't want me to just stop. He'd want me to continue."
Lawrence Vigil Sr., one of the most recognizable figures in the local wrestling community, committed suicide on Sept. 15. He was 46.
To honor Vigil Sr., the Aggies' singlets this season feature a turquoise suicide awareness and prevention ribbon near the left shoulder strap. In addition, Arbor View will host the inaugural Lawrence Vigil Memorial Invitational on Dec. 11 and 12.
"This was something that really pulled the team together," second-year Arbor View coach Rusty Marchello said. "It wasn't like we were far apart anyway, but we had a teammate in need of a lot of support and everyone — no pity party — but everyone has stepped up to support Lawrence, the family, the program in some way."
Added Vigil Jr: "Knowing they did that for me and the whole community did that, it makes me really happy to know he made a big impact on the whole wrestling family and community that is in Las Vegas."
Vigil Jr. is one of six returning Division I state qualifiers for Arbor View. He finished third at the Sunset Region tournament as a sophomore and is projected as one of the favorites in the 126-pound weight class this season.
"I've been at this weight before, so I'm kind of comfortable around it," Vigil Jr. said. "There's some new kids coming into the weight and I'm the only one who stayed that I know of, so I feel like I have a really good chance of doing really good this year and succeeding to possibly win state."
Arbor View is one of a handful of local teams hoping to unseat four-time defending Division I state champion Green Valley. Last season, the Aggies were third at the Sunset Region meet, 16 points behind champion Shadow Ridge, and finished 14th at the state meet.
Junior Matthew Alejandro, the defending state champion at 160 pounds, also is back for Arbor View along with state qualifiers Dalton Eickhoff, Ryder Marchello, Tyler Roper and Alex Espinosa.
"We've got to try to do it. There isn't really going to be any excuses for why it doesn't get done this year," Rusty Marchello said of the region and state team titles. "When we feel like we're too tired to go on any more, when we just don't care about going any harder, we're going to think about what we're trying to do this season and who we're trying to honor."
Contact reporter David Schoen at dschoen@reviewjournal.com or 702-387-5203. Follow him on Twitter: @DavidSchoenLVRJ