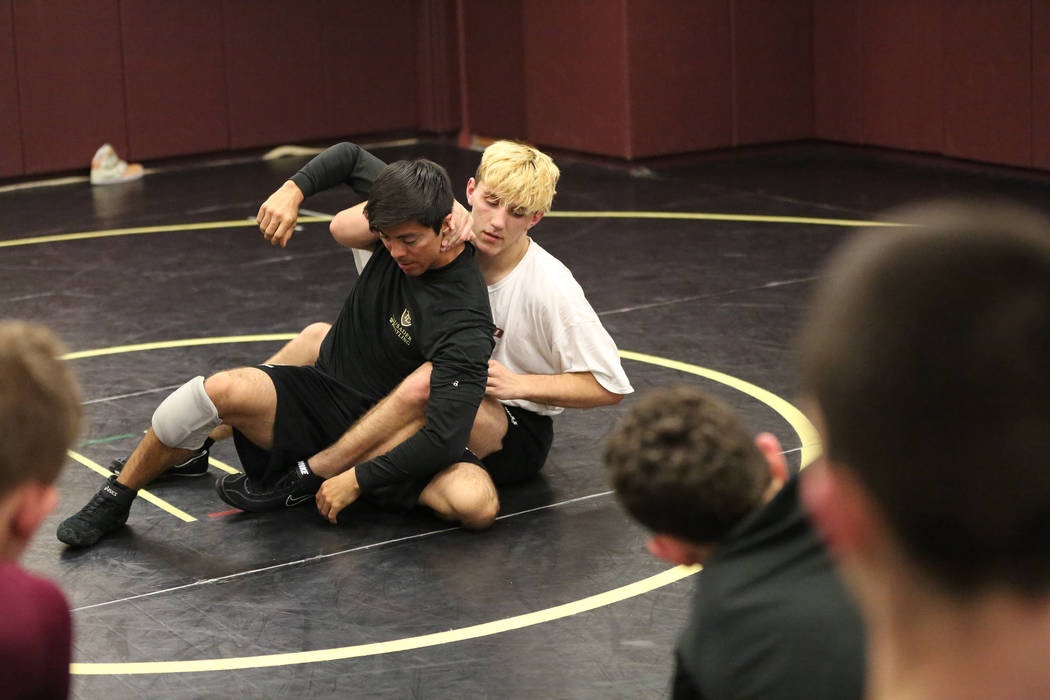 Walk into Faith Lutheran's wrestling room, and the first thing you see is the team's Hall of Fame. It has every state champion and every All-American who has wrestled for the Crusaders.
Except one.
It's by no means a slight, but it's also a fact that the honorees are listed on a banner with a finite amount of room. There's just no more space. But rest assured, Connor Bourne — only a junior — is already a Hall of Famer.
"The banner is something that needs to be redone and processed," coach Rayes Gonzales said. "As soon as somebody places, it becomes irrelevant. It give you no room to add."
The way that Faith Lutheran has been racking up state champions, filling the banner came more quickly than expected.
Owen Laurie notched his name by winning the 2014 state title, then won it again in 2015. Peter Enos won in 2016 and 2017, and Bourne won his first state title last year at 182 pounds.
"First" is the operative word. Bourne was the top seed entering the state tournament his freshman year but "choked," to hear him put it. He reached the mountaintop last year, and it's hard to consider him anything but a favorite to repeat at 182 pounds this season.
"He could win two more state championships," Gonzales said. "He's All-Americaned in Greco-Roman and freestyle, and he's definitely capable of going back there and doing it again."
Bourne's rise to the top might not have taken many years, but to hear him tell it, it was a struggle. He started working with the high school team as an eighth-grader and fit in seamlessly. After losing in the state tournament his freshman year, he went to Fargo, North Dakota, for a national tournament and was quickly sent home.
He came back a different wrestler. He went 41-7 as a sophomore, according to trackwrestling.com, and did not lose to a Nevada opponent. He breezed through the early rounds of the state tournament before securing a pin with 22 seconds remaining in overtime of the state title match. He returned to Fargo and came back with All-America honors.
So now he's the one with the target on his back, the wrestler everyone is trying to topple.
"I don't try to be cocky. I know I won," Bourne said. "I want to win again and again, so I'm just trying to work as hard as I can so I don't lose."
Spectators watching Bourne won't see a technically sound traditional wrestler. That's by choice, and at 182 pounds, he likes to bully opponents on the mat with his size and strength.
"I like to throw. I find it fun," Bourne said with a smirk. "Although shots are more sound, throwing is more electrifying. People like that more.
"I like to hear the crowd go 'ohhhhh.' "
He plans on doing just that to win his third consecutive Sunset Region title in February and, if things go right, get his name on the banner with another state championship.
Contact Justin Emerson at jemerson@reviewjournal.com or (702) 387-2944. Follow @J15Emerson on Twitter.