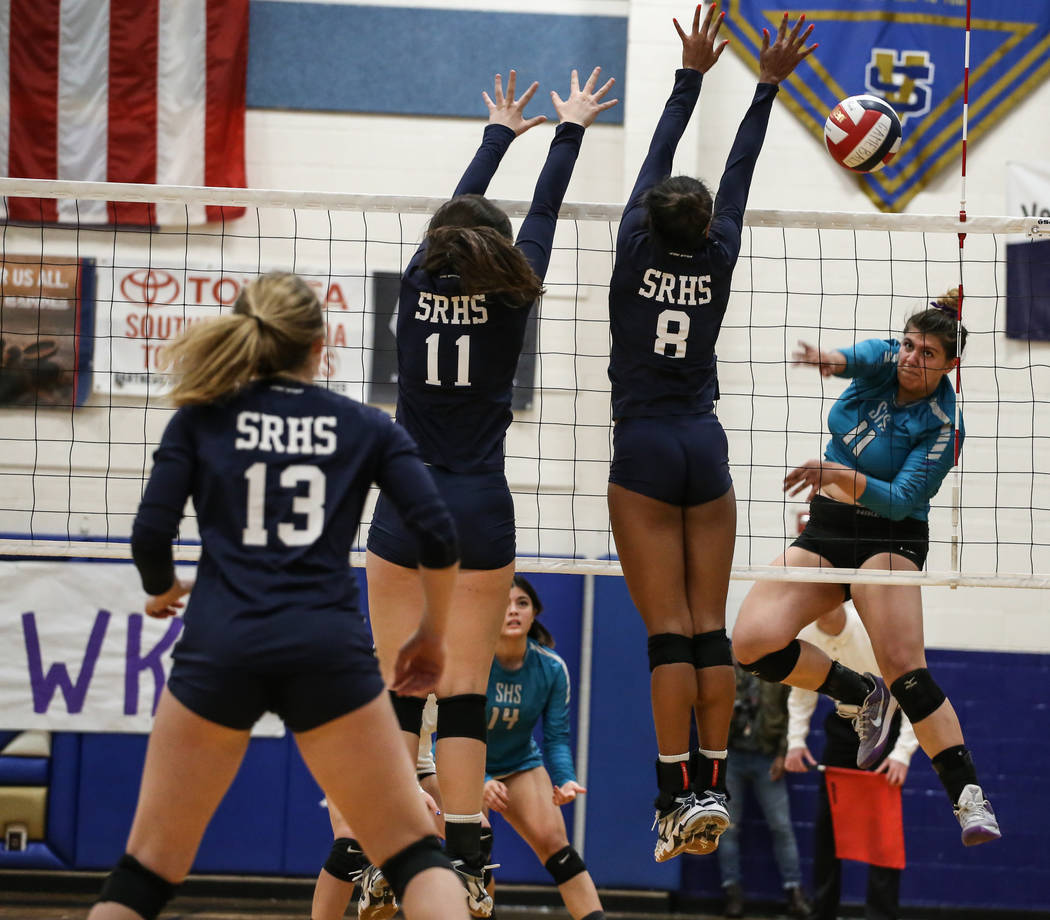 Shadow Ridge's girls volleyball team squandered its first attempt at making the Class 4A state tournament in the Sunset Region final last Friday.
The Mustangs weren't going to let a second opportunity slip through their hands.
Whittnee Nihipali had 13 kills, 17 digs and three blocks, and the Mustangs kept their season alive with a convincing 25-22, 25-17, 25-16 victory over Silverado in a state play-in match Monday night at Sierra Vista High.
"We definitely didn't take Silverado lightly," said Shadow Ridge coach Karissa Guthrie, whose team lost a two-set advantage to Bishop Gorman in the Sunset Region final. "But we wanted to come out here and take care of business."
That, they did.
The Mustangs overcame 14 ties and five lead changes in the first set, and finished the game on a 3-0 run to shut down the spirited Skyhawks. After rallying from a 21-19 deficit out of a timeout, senior Madyson Lousignont completed Shadow Ridge's comeback by serving a ball that clipped the net and rolled over for an ace.
Shadow Ridge (29-11) advances to face Coronado — the Sunrise Region champion — in a state semifinal at 5:40 p.m. Friday at Faith Lutheran.
"(The first set) was the most important thing," Guthrie said. "Good, bad, ugly — we wanted to win that one. And we did. I actually thought it was good. There were a few adjustments we had to make going into the second and third sets, and the girls did a good job of making those adjustments."
Guthrie said her players discussed Silverado's first-set tendencies after the 25-22 win, then adjusted their blocking scheme by honing in on Skyhawks senior Sydney Berenyi.
The next two sets were all Shadow Ridge, which won the match on consecutive kills by Natalie Nihipali.
Natalie Nihipali finished with seven kills and three blocks, and Alysha Smith had 16 assists and three digs for Shadow Ridge.
"It was a pretty good balanced effort," Guthrie said. "Hopefully, it kept people rested enough to continue working hard the rest of the week in practice and coming out Friday. … We always have to have everybody ready."
Berenyi led Silverado with 13 kills.
Catherine Coty had seven kills, and Kaylynn Smith had 10 digs for the Skyhawks (23-17).
Contact reporter Ashton Ferguson at aferguson@reviewjournal.com or 702-383-0430. Follow @af_ferguson on Twitter.
Box score: