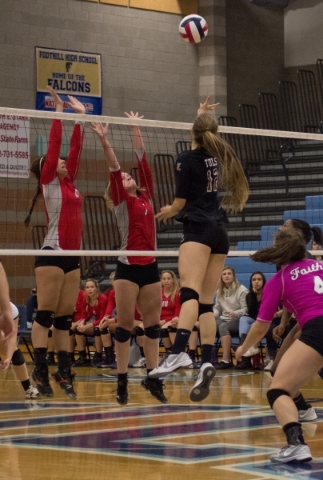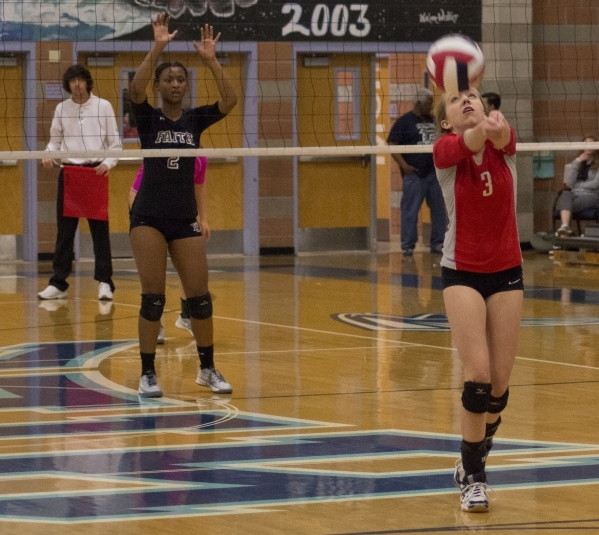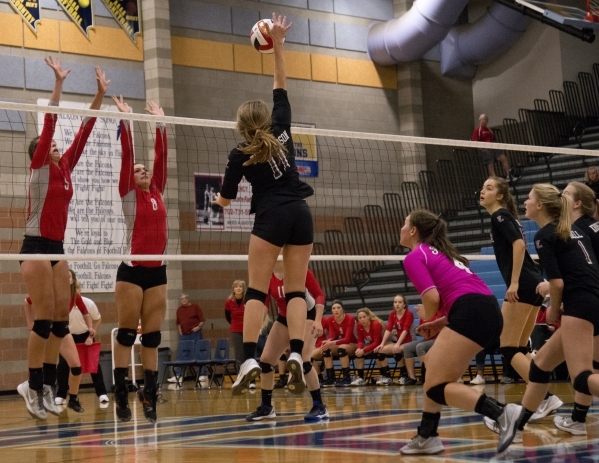 Faith Lutheran junior Elizabeth Tuls wasn't having the match she had hoped for after the first four sets of the Division I-A state volleyball final on Saturday.
Her play in the decisive fifth set made her forget all about that.
Tuls put down four of her eight kills in the final set as the Crusaders rallied for a 23-25, 25-17, 26-24, 20-25, 15-8 win over Truckee in the state final at Foothill.
It was the third consecutive I-A state championship for Faith Lutheran (30-11).
"I didn't want to lose," Tuls said. "We had gotten so far this season, and it was the fifth game. We had to go out swinging. … What's different about our team is that we never go on the court thinking we're going to lose. We had the confidence from the last two years of winning state. We think we're going to win, no matter if we lose the first (set) or second."
The 6-foot Tuls didn't have the same fortune early. She struggled to get going and became visibly frustrated after Truckee (26-9) grabbed the opening set, 25-23, and hung around because of Truckee junior Maia Dvoracek's play at the net.
Faith Lutheran won the next two sets, but dropped the fourth after the Wolverines held on after taking a 15-6 lead.
Even with momentum going against her Crusaders, senior setter Megan Kronschnabel had a hunch everything would be fine. She even predicted the match would come down to Tuls.
"In the fifth game, I just knew middles would work," said Kronschnabel, who finished with a career-high 62 assists. "So I just told Lizzy, 'You've got to be there for me.' And she showed up and did her thing. It was amazing."
Bryanna Neagle, another middle hitter, had three of her 12 kills in the fifth set. With the score 13-8, Tuls put down consecutive kills to give the Crusaders their third straight title.
On match point, Tuls received a set from Kronschnabel in the middle of the court and spiked the ball to a wide-open area on the left side, and was soon mobbed by teammates in celebration.
"Absolutely overwhelming," Tuls said. "From last year to this year, I've done a lot of work. And right there, it just felt like it all paid off."
Faith Lutheran coach Amy Fisher was just as happy for her junior standout.
"I was thrilled to death for her," Fisher said. "She was frustrated and kept looking at me like, 'What am I doing wrong?' For her to be able to come back and do that in such a crucial time was awesome."
Entering Saturday's match, Faith Lutheran hadn't dropped a first set to an in-state opponent since playing Coronado, the Division I state champion, on Sept. 18 in the Durango Fall Classic.
But no one panicked, especially the upperclassmen.
"I was very confident we'd come back," said senior outside hitter Bobbi Tharaldson, who posted a team-high 15 kills. "There was no way we were going to lose."
In the second set, with the Crusaders leading 18-14, Kronschnabel served five consecutive points and had four aces in the span to put Faith Lutheran up 23-14. An ensuing error on Truckee and a kill by Sydney Washington evened the match at one set apiece.
Faith Lutheran nearly blew a 21-13 lead in the third set, but recovered and won, 26-24, on consecutive kills by Tharaldson.
Sydney Washington finished with 14 kills, and Tayah Washington added 13 kills for the Crusaders, who also got 18 digs from Logan Van Reken.
"It was a full team effort," Fisher said. "We've never had a match where we had four hitters in double-figure kills. I give a lot of credit to Megan and her distribution of the ball. She did an amazing job tonight."
Contact reporter Ashton Ferguson at aferguson@reviewjournal.com or 702-383-0430. Follow him on Twitter: @af_ferguson.
Box score: