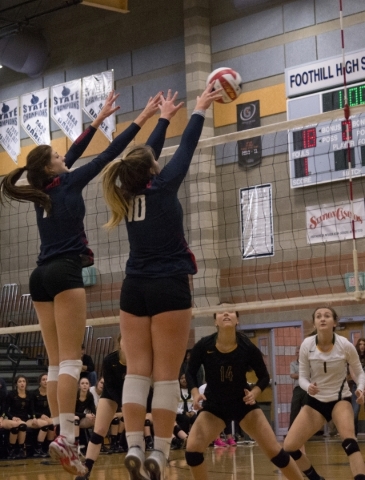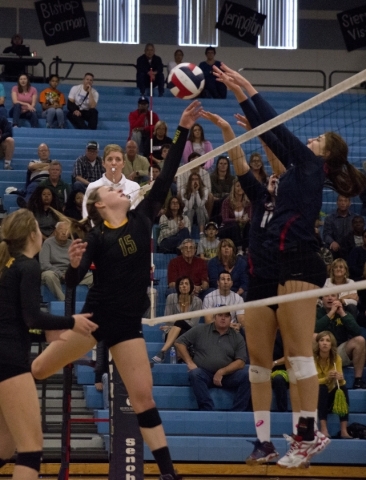 Like any good teacher, Matt Johnson gave his students a series of challenges to help prepare them for the final exam.
And when the members of the Coronado girls volleyball team had their biggest test of the season Saturday, they were ready.
Facing a one-set deficit against a fired-up Bishop Manogue squad, the Cougars knuckled down and claimed their third straight Division I state title with a 19-25, 25-22, 25-13, 25-14 victory at Foothill.
"This whole season has been geared to this moment," said Johnson, in his sixth year as Coronado's coach. "We've gone out of state. We've tried, as a coaching staff, to set up a schedule that was going to challenge us. And I think that paid off tonight."
Carolyn Andrulis led the Cougars (31-10) with 14 kills and 12 digs to go with four blocks and three aces. University of Portland-bound Cali Thompson dished out 43 assists, and Navi Lee added 10 kills and 10 digs for Coronado.
"This feels amazing," Thompson said. "We've worked hard all four years. We knew our goal was to win state. We fought to have the opportunity, and we're just so blessed and so thankful."
The Cougars trailed almost the entire first set, as they struggled to pass against the strong serving of Bishop Manogue (35-7) and were unable to slow Katelyn Oppio on the slide play.
The Miners jumped to a 12-8 lead in the second set, but behind the hard-to-handle serves of Lee and Nikki Jackson, Coronado answered with a 9-1 run and overpowered the Miners the rest of the way.
"This is a special group of kids," Johnson said. "They just worked really hard all throughout the last four years. And once they got a taste of what it feels like to win, they didn't want to let that go. And it was definitely evident after the first game tonight that they were pretty determined to not go down without a fight.
"I think that was the difference tonight. We started fighting instead of waiting for Bishop Manogue to make mistakes, which they weren't going to start making unless we forced the action on them a little bit more."
Coronado shut down the Miners' offense in the third set and led 12-4 when Lee put away a free ball. An ace by Andrulis gave Coronado a 22-10 lead, and Emily Bender's ace closed out the set.
In the fourth set, Jackson and Andrulis combined to block Mary Redl-Harge for a 12-5 Coronado lead. Lee had three kills to put the Cougars on top 22-13 before Thompson set Andrulis for the match winner.
Megan Wang led the Cougars' defense with 14 digs.
— Contact reporter David Schoen at dschoen@reviewjournal.com or 702-387-5203. Follow him: @DavidSchoenLVRJ
Box score: