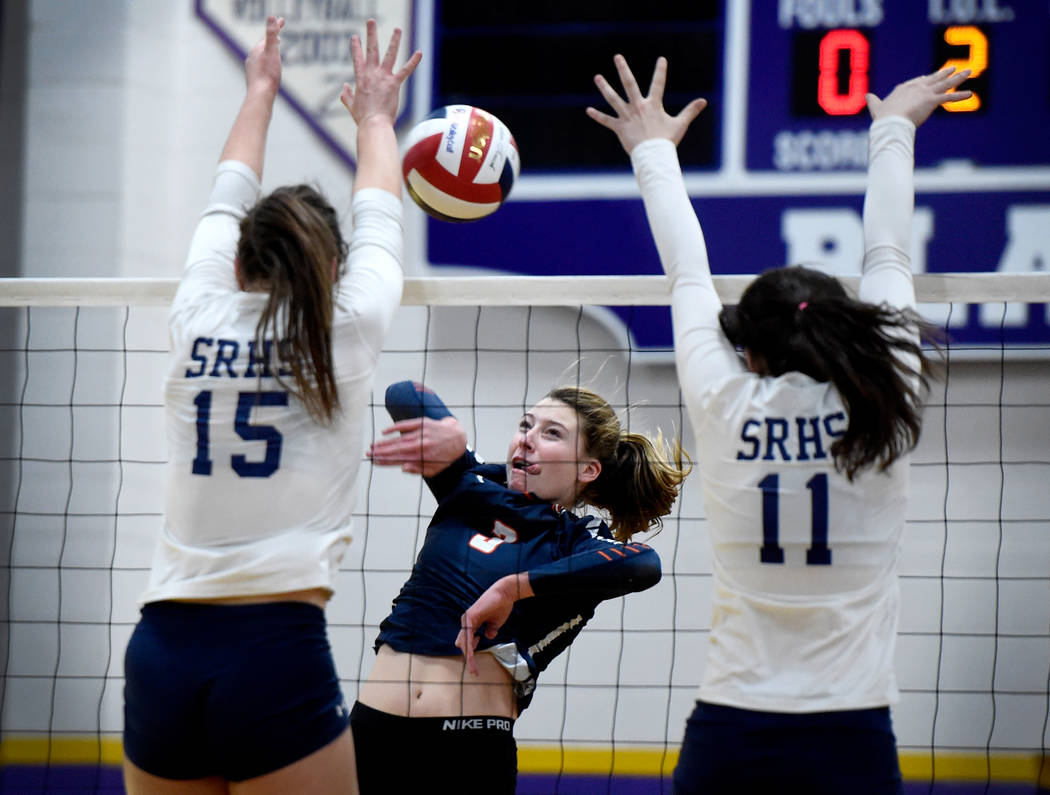 Both Coronado and Bishop Gorman had to face a region MVP in their quest for making the Class 4A state volleyball tournament.
Gorman went against Shadow Ridge in the Sunwet Region final for the third straight year, and the Mustangs' biggest weapon — Arizona-bound senior Whittnee Nihipali.
Nihipali certainly made her presence known on Friday, leading the Mustangs to a two-set lead. But the Gaels rallied to earn a third consecutive state berth, winning 18-25, 17-25, 25-14, 25-22, 15-5 at Durango High.
"Winning never gets old," Gorman coach Ed Van Meetren said. "Coming back from two games down might give you gray hair, but you learn the heart and determination of your team."
Gorman was tested in the region semifinals by Palo Verde, and it might have been clearing that hurdle on Thursday that gave the Gaels confidence.
The Gorman front line, led by Tommi Stockham and Kylie Gibson, came to life in the third set and gave Gorman an 8-3 lead with two early kills apiece. The Gaels quickly stretched the lead to double digits before grabbing the 11-point win.
"I told the girls to keep grinding it out, one point at a time," Van Meetren said. "We can't get back into the match in one swoop, so let's fight each point and we will get back into the match."
The fourth game was the tightest of the night, as both teams threw their best punch. Despite back-to-back kills from Nihipali, the Gaels answered late with kills from Stockham, Gibson and Anjelina Starck during a 6-2 run and the match was even.
"We knew they (Gorman) wouldn't quit," Shadow Ridge coach Karissa Guthrie said. "It was a big fight, and Gorman made big plays to get back into the match."
The Gaels raced to a 10-2 lead in the fifth set and never looked back.
"It's certainly stings that we blew a two-game lead, but we still have a chance to make state," Guthrie said. "We will get some rest, refuel our bodies and we will be ready to go Monday."
Shadow Ridge (28-11) will face Silverado (23-16) in a state play-in game Monday at 7 p.m. at Sierra Vista.
Nihipali led the Mustangs with 15 kills, 14 digs, five aces and four blocks. Kizzy Rodriguez added 28 digs, 12 kills and two aces, while Alysha Smith finished with 24 assists and eight digs.
Bishop Gorman got 21 kills from Gibson and 19 from Stockham. Lychock added 16 digs for the Gaels (27-9).
Box score:
Bishop Gorman 3, Shadow Ridge 2