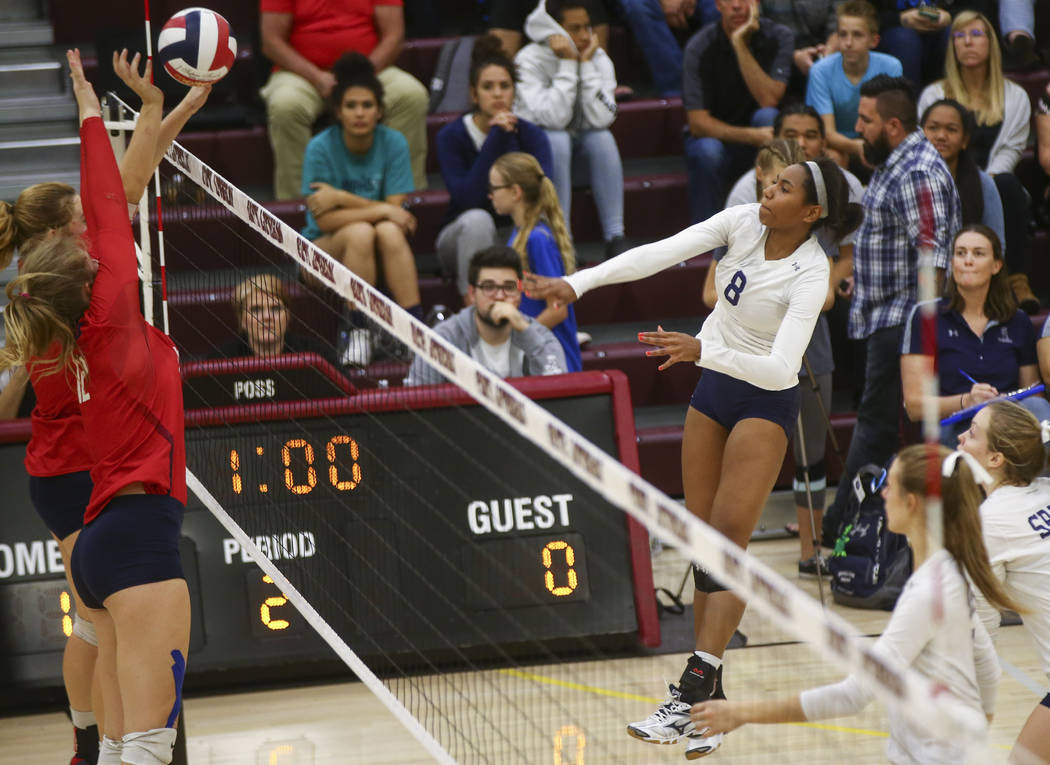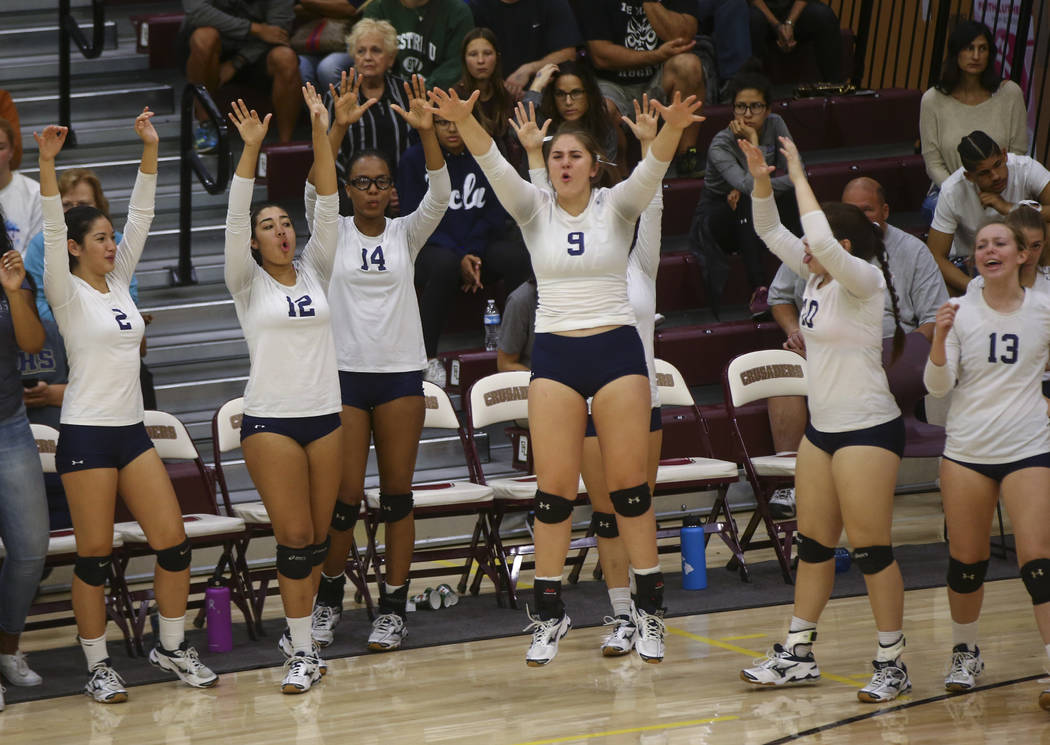 There could only be one winner in the opening match of the Class 4A state girls volleyball semifinal Friday night.
Whittnee Nihipali decided it would be Shadow Ridge.
Nihipali's jump serve helped the Mustangs rally from a five-point deficit in the fifth set and earn a 25-23, 25-27, 25-23, 23-25, 15-13 victory over Sunrise Region champion Coronado in a 2-hour, 6-minute marathon at Faith Lutheran.
"Absolutely insane," Shadow Ridge coach Karissa Guthrie said. "It's the state (tournament), so it's supposed to be insane. It's supposed to be the best of the best and a battle. And it definitely was. .. These guys have a ton of heart."
Shadow Ridge (30-11) will face defending champion Bishop Gorman (30-10) in the state final at 2 p.m. Saturday.
That is because, in large part, of the Arizona-bound Nihipali, who served four straight points, including two aces, in the decisive fifth set. With her team trailing 9-4, Nihipali put down one of her game-high 28 kills to earn a sideout before approaching the back line. She had just made a serving error on game point in the fourth set, and admits she was "a little nervous" before taking the game ball.
But teammate Madyson Lousignont shook the "heebie jeebies" out of her, and she went on to tie the game at 9. The Mustangs won the final two points on a serving error, and when Coronado junior Sasha Bolla's attempted kill sailed long. There were seven ties and four timeouts taken in the fifth set.
"She was tentative with that jump serve earlier in the match," Guthrie said. "And I just looked at her and told her, 'Whittnee, go 110 percent. We're either going to live or die by that.' She went after it, and the ball dropped where we wanted it to."
Nihipali finished with three aces and 19 digs.
Her sister Natalie Nihipali added seven kills and seven blocks and was Shadow Ridge's best answer in the middle of the court against the much-taller Coronado.
"Nihipali sisters," Guthrie said. "Can't ask anything more from them. (Natalie) came up with some really big blocks and tips when we needed it. Coronado is a hard matchup for us (with that size)."
Kizzy Rodriguez had seven kills and 20 digs, and Autumn Spendlove had 34 assists and six digs for Shadow Ridge.
Madison Karcich had 17 kills to lead Coronado (27-10). Bolla had 15 kills and four blocks, and Dallas Balanay-Flores notched 28 assists and 10 digs for the Cougars, who also got 16 digs from Megan Wang and 14 digs from Morenike Ajayi.
"It was just two teams battling," Coronado coach Matt Johnson said. "They would make a run. We'd make a run. … We had our chances, but at the very end there, Whittnee Nihipali lit it up. She put her team on her shoulders and carried them to that victory. We thought we were running away with it, and she went back there and ripped it and put us on our heels."
The match featured 27 ties and 18 timeouts.
In the second semifinal, Tommi Stockham led the way with 11 kills, three aces and two blocks to lead Gorman to a 26-24, 27-25, 25-21 win over Bishop Manogue at Faith Lutheran.
Alexandra Washington had six kills and two blocks, Kylie Gibson added nine kills, and Lilly Hoff had seven kills, 32 assists and two aces for the Gaels, who also got contributions from Sarah Lychock (one ace and 11 digs) and Reese Rossnagel (three kills, five blocks).
"I'm extremely proud of this group," Gorman coach Ed Van Meetren said. "We have a good group of kids that are supporting each other and doing all the little things."
Freshman Angelina Starck, who finished with three kills and two aces, put down a monster cross-court kill in the third set for match point.
The Gaels have defeated Shadow Ridge three times this season, including a come-from-behind victory in the Sunset Region final last Friday.
Van Meetren said his team was already anxious for the rematch.
"Shadow and us know each other very well," he said. "So it's fitting. I felt all year long we were the two best teams. And we're playing in the championship, which is how it should be."
Bishop Manogue ended its season 28-6.
Contact reporter Ashton Ferguson at aferguson@reviewjournal.com or 702-383-0430. Follow @af_ferguson on Twitter.
Box scores:
Bishop Gorman 3, Bishop Manogue 0