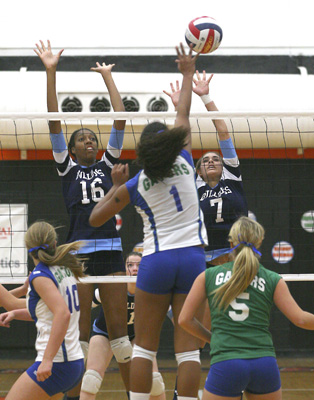 It seemed like every time one of the hitters on Green Valley's girls volleyball team found a groove, Centennial's defense would lock her down.
So, Jenna Swaffer just used the next weapon in her arsenal.
The junior setter had 36 assists — dishing passes to six hitters — and two blocks to help the Gators advance to their third straight Class 4A state final with a 25-18, 25-21, 25-21 win over Centennial on Friday at Chaparral.
Green Valley (30-6) meets Reed (18-9) for the state title at 2 p.m. today at Chaparral.
"I was just looking for the block, to see where the defense was weakest," Swaffer said. "And wherever I see the weakness, I find my hot hitter and send them to that block."
Nikki Drost had 16 kills, six digs and three aces for the Gators, and teammate Carly Scheiss tallied 15 kills and six digs.
Swaffer alternated sets between the Gators' two outside hitters, as well as middle hitter Julie Dramise, who finished with seven kills and two blocks.
Dramise fueled Green Valley in the second set when the Gators trailed, 18-14. She scored three critical points on a kill, a block and an ace as Green Valley eventually pulled out the win.
"It's really important (to have so many options), because when you're playing a team that's a level above, you need someone for when they camp on the outside hitters," Swaffer said. "They know who my outside hitters are. It opens up the offense, and creates more opportunities for us."
Alexa Drost had 13 digs and four assists for Green Valley, which struggled defensively on first contact from the back row.
"I have all the confidence in the world in (Swaffer)," Green Valley coach Erin Hill said. "She puts that ball in the hitters' hands, she knows who's hot, and she was finding her hitters amazingly well.
"Our ball control was struggling a bit tonight, but she led that back-row attack and played great defense on the right side, as well."
The Gators are hoping to reclaim the state title after falling in the championship match each of the last two seasons.
"Third time's the charm; that's what we've been saying all year long," Hill said. "Centennial played really well. They're a great team. And we're looking forward to playing in this final."
Lacy Miyahira led Centennial (29-7) with eight assists and nine kills, and Kassidy Welte added six kills for the Bulldogs.
Alex Johnson, Talia Barnes and Alicia Karst each contributed three blocks for Centennial.
Reed 3, Bishop Gorman 1 — McKinley Chelsey finished with 11 kills, three blocks and two aces to help the Raiders rally past the Gaels 23-25, 25-22, 25-21, 25-23 in the other semifinal.
Gianna Ruggeroli led Gorman (28-11) with 13 kills and two blocks, and Kylee Chun supplied 38 assists for the Gaels, who took the first set after rallying from a 23-19 deficit.
The Gaels almost rallied again, but Moriah Maluotoga's kill on match point grazed a Gorman player before landing just beyond the service line to clinch the win for the Raiders.
Meghan Rader and Sierra Hooft each supplied eight kills and two blocks for Reed.
Shelby Devlin had six kills and six blocks for Gorman, which also got eight kills and two blocks from Emma Kirst and nine kills and three aces from Rachel Wallace.
Breanna Rubalcaba added 13 digs for the Gaels.