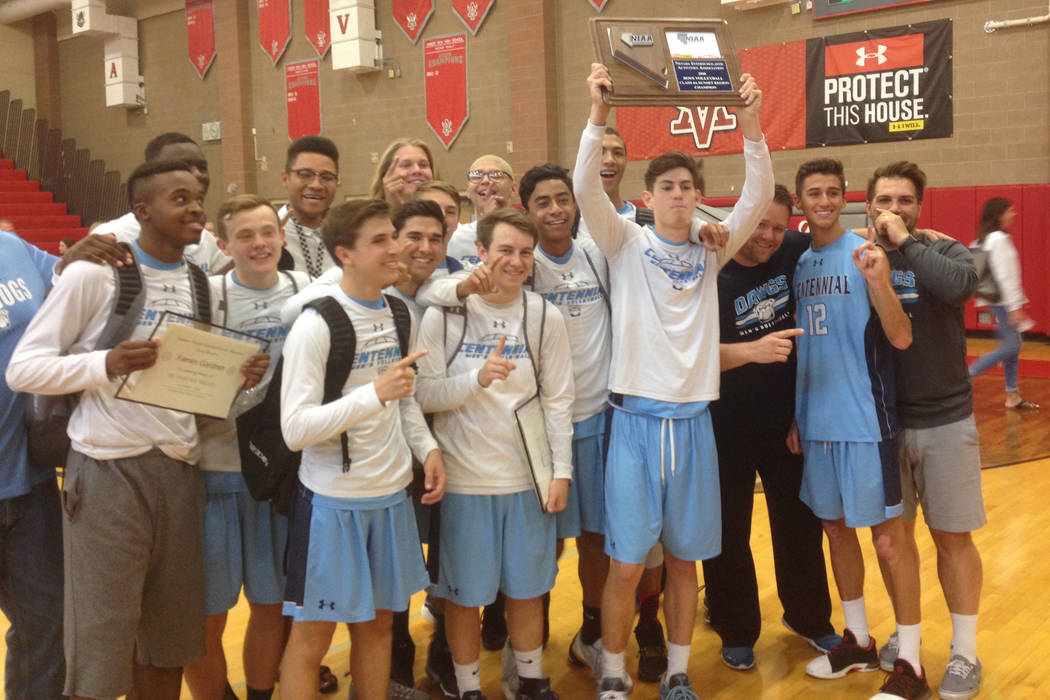 The Centennial boys' volleyball team has been trying to erase the heartbreak of missing out on region and state titles last season.
On Saturday, the Bulldogs reached one of their goals with a 28-26, 25-15, 26-24 sweep of host Arbor View to claim the Sunset Region championship. It's Centennial's first region title since 2010.
"It feels really good. We've been preparing all year for it, working as a team, and it feels really good," said senior Teon Taylor, who finished with 12 kills and three blocks.
"We just take it one point at a time, take it one practice at a time and just focus. When it gets tough, we dig our heels in. I have all the faith in the world in these boys."
While Centennial (38-9) swept Arbor View, the Aggies (29-9) made the second-seeded Bulldogs work hard for their championship.
A kill by Arbor View's Logan Bollinger tied the first set at 25. The Bulldogs would eventually score consecutive points on side outs to win the set 28-26.
After Centennial rolled to a 25-15 win in the second set, Arbor View started the third set on a roll, jumping out to an early 11-6 lead. The Aggies pushed the lead to 15-10 before the Bulldogs were finally able to regain some momentum and close the gap, eventually taking a 20-19 lead.
Both teams traded points until a side out gave Centennial a chance to serve match point, and Nahmani Brown came up with the kill to end the match.
"First of all, Arbor View played a good game," Centennial head coach Erik Davis said. "They came to play in their own house, and they had a great crowd here. We knew that we had to play our very best to go out there and beat them today, because they had a lot of momentum after beating Shadow Ridge in the semifinals.
"This is exciting for us. This is what we've been working for all year."
Farries Gardner had 19 kills and 13 digs to lead the Bulldogs. Brown finished with six kills, and Sam Durkin had 33 assists and had five digs for Centennial.
"One of our mantras is 'take it one point at a time,' and that's what we had to do," Taylor said. "We just did it as a team. It wasn't just one person who took over. I love these boys. They mean everything to me. But like you said, it starts with a pass from one of our players, then it starts with a set, then it's the kills. It's not just one player, it's the whole team."
Gideon Belnap had 12 kills and 11 digs to lead the Aggies. Jake Reid had 10 kills, Sam Belnap added 30 assists and six digs, and Jaylen Harris had five kills for Arbor View.
Tyler Worthington had nine digs, and Bollinger had four kills and three blocks for the Aggies.