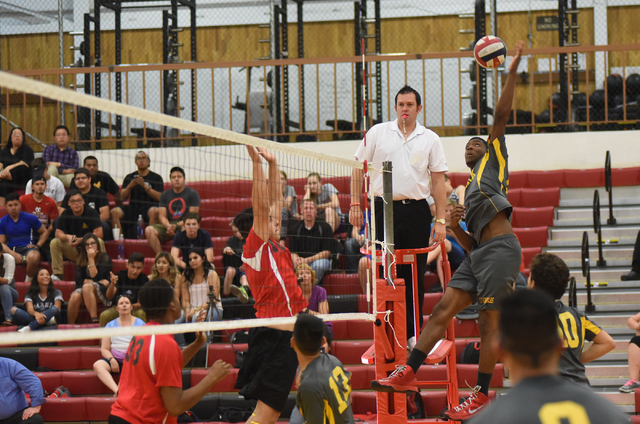 Even though his team had beaten Clark in the Las Vegas Easter Tournament in March, Tech boys volleyball coach Paepaevalu Agae emphasized one thing to his players before the team's rematch in the Division I-A state tournament.
"That was the beginning of the season," he said. "People progress and get better."
The Roadrunners wouldn't misjudge the Chargers on Monday.
Sir-Issak Singleton put down 10 kills to lead Tech to a 22-25, 25-21, 25-20, 21-25, 15-10 win over visiting Clark in the I-A state quarterfinals.
Tech (9-5) will face Mojave (31-5), the two-time defending state champion, in the state semifinals at 5 p.m. Tuesday at Chaparral High.
"People underestimate them because of their (lack of) size," Agae said. "But their heart makes up for their size. I take my hat off to Clark. They came, played hard and gave everything they had. They fought. … We did all right, but we can't play like this tomorrow."
After falling behind 18-13, Clark (10-14) rallied to take the first set. But the Roadrunners bounced back to win the next two sets.
"It was more of having to wake them back up," Agae said. "Because when we were ahead, we let them come back. In any sport, once you're ahead, you've got to stay ahead."
Tech also seized control in the fourth set by grabbing a 20-16 lead, but Clark used a 9-1 rally to force a decisive fifth set.
In the fifth set, Tech's middle blockers came alive late to help the Roadrunners close the match on a 6-0 run.
"My middles started hitting the ball," Agae said. "It was surprising. As a coach I was saying, 'They finally waited to the fifth set?' You can't wait until the end to start waking up. You start from the beginning to the end."
Julius Barnes had 23 assists, and Collin Faught added 19 assists for Tech, which also got eight kills from Jesse Rojas.
Alan Cruz led Clark with 18 kills and 18 digs. Antonio Martinez had 45 assists and 16 digs, Amir Boone added 15 kills and Dane Taylor-Phillips contributed 22 digs for the Chargers.
Mojave 3, Del Sol 0 — At Mojave, Clayton Fontano had 14 kills, six digs and three aces, and Jason Zambrano added 32 assists and four aces as the Rattlers swept the Dragons 25-6, 25-15, 25-5.
Absalon Williams had nine kills for Mojave.
Blane Quitog led Del Sol (6-17) with three kills and five digs.
Chaparral 3, Spring Valley 0 — At Chaparral, Ezquiel Borrero had 38 assists and six digs, and Isai Barrios added 14 kills and 12 digs to power the Cowboys by the Grizzlies 25-21, 25-15, 25-15.
Ray Almanda had 12 kills and six digs for Chaparral (16-9), which will face Sierra Vista (13-12) in a region semifinal at 7 p.m. Tuesday at Chaparral.
Steven Paukovic led Spring Valley (3-8) with four kills, three blocks and three digs.
Sierra Vista 3, Desert Pines 0 — At Sierra Vista, Chris McCoy had 14 kills, four aces and five digs as the Mountain Lions swept the Jaguars 25-14, 25-11, 25-21.
Nik Fava had 11 kills and 12 digs, and Brendan Cowden added 33 assists for Sierra Vista.
Karlo Lansangan led Desert Pines (11-15) with nine assists, six digs and three kills.
Box scores:
Sierra Vista 3, Desert Pines 0