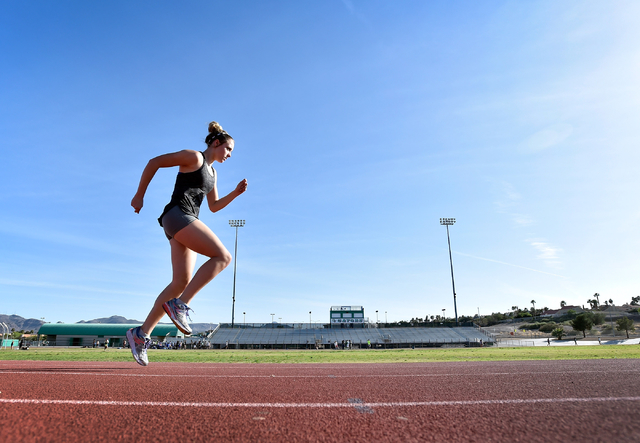 Charleen Jordan dealt with nagging stress fractures in her shins last season as a result of flat feet, yet still managed to win three events at the Division I state meet.
Now fully rehabbed and sporting custom-made inserts in her spikes, the Green Valley junior is ready to crank it up a notch and shatter her personal records.
"That was really hard last year," Jordan said of her injuries. "It slowed me down a lot. I didn't PR. My fastest times were from my freshman year. I still won (state), but personally, I didn't do my best. … This year, I definitely plan to go much further."
Despite starting the sport late as a freshman, Jordan has developed into one of the top track and field athletes in Nevada.
Some would say it was a natural talent.
"That's one thing I realized when I first saw her," said Green Valley coach Vanessa Pike, who met Jordan at a newcomers' meet in 2014. "The naturalness. But sometimes when you have that, it's not everything. You still have to put in that work."
As a freshman at Coronado, Jordan finished as the state runner-up in the 100-meter hurdles and the 300 hurdles to former Nevada Gatorade Player of the Year and Centennial star Tiana Bonds — now a sophomore hurdler at Arizona.
Last season, though, Jordan swept the hurdles at state and ran anchor leg on the winning 1,600 relay. She also finished third in the 100.
But in the process, she failed to set one personal record while dealing with the injuries. That's something she hopes will change this season under a new coaching staff.
Pike, in her first year as coach, believes it's only a matter of time. She called Jordan the top athlete she has seen at Green Valley since starting as an assistant in 2008.
"She brings a good stability of saying, 'Being an athlete, this is what it's going to take,'" Pike said. "And being a team player. Just seeing her for the first time when she won (the 1,600 relay on Saturday), I saw all the girls walk together. That's what I want. The bond, the unity."
The 5-foot-9-inch standout says a lot of her competitive spirit came from her battles with Bonds as a freshman.
"Tiana Bonds is my idol," Jordan said. "I look up to her so much. She's really the one who made me so good my freshman year. Not because I was good at hurdles, not because I had so much training, but because I was so competitive and she pushed me to be competitive."
Jordan is approaching the sort of dominance that made Bonds a two-time state winner in both hurdle events.
"It's weird because I almost miss — not miss being intimidated, but it's good to have that person who can push you," Jordan said. "Now that I've switched positions (with her), it's almost like I lose adrenaline because I'm not scared. She scared me. Being scared definitely made me run faster. Now I've learned to race myself."
Jordan will frequently have to race herself this season, as she will be the overwhelming favorite in every meet.
Though her fourth event has yet to be determined, Jordan said she plans on running the 100 or 200.
"There are so many different events, and I'd love to do more than four," she said, laughing. "But they only let you do four. I'll have to figure out which ones I want to do. I'd like to be ranked nationally."
And surely everyone will be watching in her quest.
"It's crazy. I feel small still," Jordan said. "I don't feel larger than life or bigger than anyone else. I just try my hardest."
Jordan has received interest from Arizona, Brigham Young, California, Florida and Stanford.
Contact reporter Ashton Ferguson at aferguson@reviewjournal.com or 702-383-0430. Follow him on Twitter: @af_ferguson