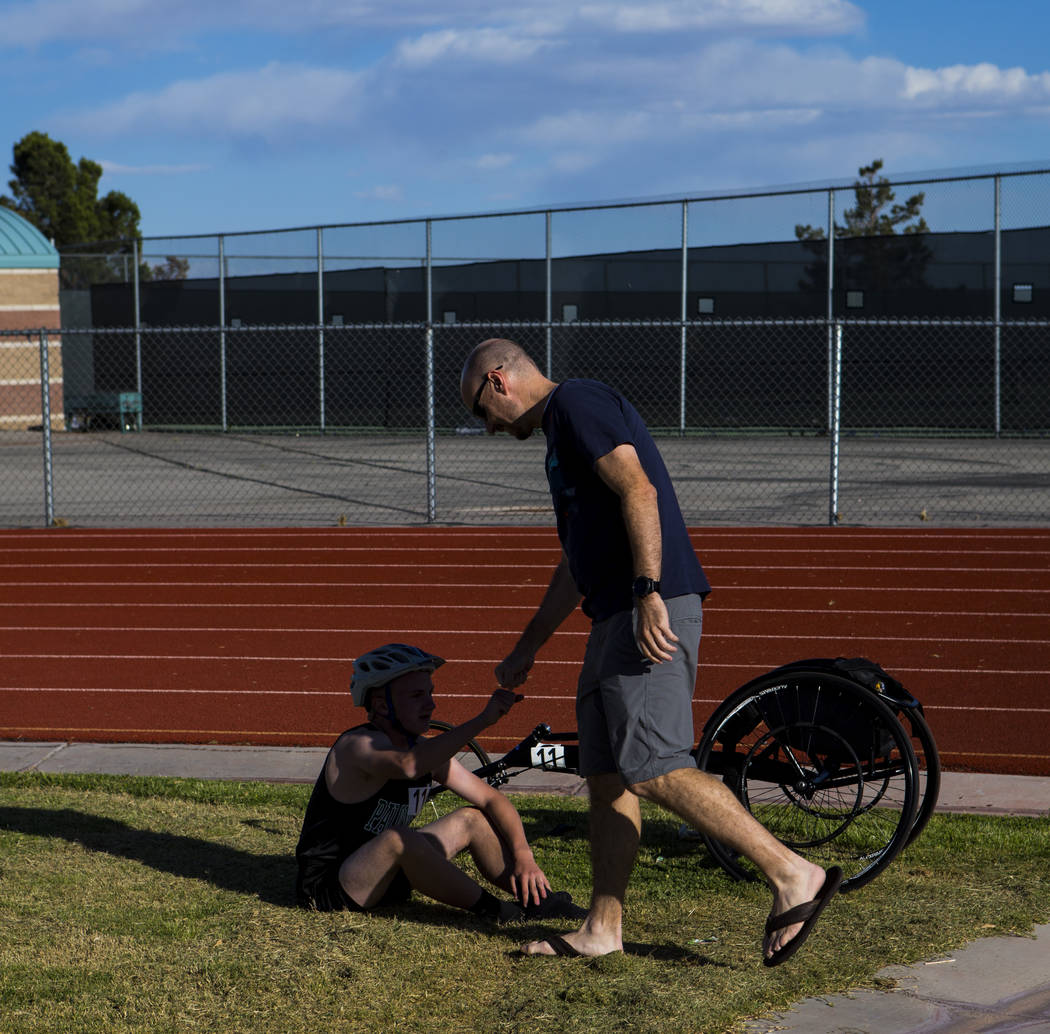 Blake Dickinson has mastered the routine leading up to his track events this spring.
After squeezing his 5-foot-4, 110-pound frame into a custom three-wheel racing chair, the Arbor View freshman buckles a helmet adorned with school colors, then carefully tightens a pair of gloves to prevent, or at least delay, the blistering and burning hands sure to follow.
"It gets pretty hot," Dickinson said. "Hot and sweaty."
Dickinson makes his way to lane eight — the required spot for all athletes not physically able to run — before inching his front wheel to the starting line. While his competitors get situated on the starting blocks, Dickinson must follow his own pre-race regimen. On "set," he shifts his body forward into a kneeling position, where his knees are tucked into his chest, brings his hands up and prepares to push "really, really hard."
Now he's ready to compete in the "sprinting" events for the Aggies.
Out of a wheelchair.
"I think I'm pretty normal," said Dickinson, 15, who competes in the 100, 200 and 400-meter dashes.
Dickinson suffers from spina bifida, an incomplete closing of the backbone, and is one of three student-athletes in Southern Nevada that have competed in track and field events this season out of a wheelchair. Ben Slighting of Palo Verde and Bridget Dietz of Green Valley are the others. Slighting, 16, suffers from Osteogenesis Imperfecta, or brittle bone disease, and competes in the distance races (800, 1,600 and 3,200), while Dietz, 16, was born with cerebral palsy and also takes part in the sprinting events.
All three match up against able-bodied athletes, and are as much a part of their respective teams as any of their friends and classmates.
"I like to do it because it's something to get my body working, instead of just being a couch potato," Slighting said. "I do it to have something to do with my friends."
Six years ago, though, none of this would have been possible.
AGGIES ROOTS
Cheyenne Leonard, now a senior at UNLV, was the first wheelchair track athlete in Nevada in 2011.
The Nevada Interscholastic Activities Association and Clark County School District had previously followed guidelines from the national federation that considered wheelchair athletes a safety concern. But that changed when Leonard, an Arbor View graduate, and her family brought legislation and examples of other states to the NIAA, which eventually allowed wheelchair athletes to join and score points for their teams.
"We went from her being fully denied, to (Nevada) being the most progressive state in the nation in terms of participation," Arbor View coach Tyrel Cooper said. "And being able to participate in postseason races and score points and everything."
Donnie Nelson, who has worked at the NIAA since 1998 and is the assistant director, says the inclusion of wheelchair athletes ranks at the "top of the list" of things he's overseen in his 19 years with the organization.
"This is what we're all about," he said. "It's about kids participating. If we can create avenues, that's our mission. That's our goal. These are our kids.
"Education-based athletics and activities are all about inclusion. So having athletes of all abilities being able to participate and being accommodated however possible, within the rules and regulations, is our goal."
Cooper, in his 10th season, was the first to inform Leonard about the increased participation among wheelchair students this season — only three years after she graduated.
"I didn't know so many athletes would benefit from it," Leonard said. "Hearing that out of the blue is so amazing because of what I went through. It makes me feel proud that I did something to help other athletes. …
"It can only go up from here. I didn't expect this to happen. I kind of thought it wouldn't go anywhere after me."
That's because, when Leonard competed, it was a novelty — fans asked for pictures, people busted out their smart phones to capture video for social media, news outlets showed up in droves, and Leonard became this mini celebrity at every meet.
"She was the only one," Cooper said. "She really set the tone. She paved the way."
Cooper, who now jokingly calls himself "quite the wheelchair mechanic," said the overall acceptance of wheelchair athletes over the six years has been one of the most rewarding things he's seen in his coaching career.
"I really enjoy just being able to see the overall acceptance now," Cooper said. "Even when we go to other meets now, it's not a novelty. (Dickinson) is just a regular kid on the track team. That's the best part about it."
NORMALCY AND AWARENESS
Though participation among parathletes might still be in its infancy at the high school level, the current trio hasn't dealt with any problems or distractions like Leonard did on the track.
"(Everyone) just says, 'That's so cool' or 'Good job, man,'" Slighting said. "And I say the same thing back."
Dickinson, Dietz and Slighting all said they would enjoy having more parathletes with them during the high school season, but recognized it will take time and more awareness.
"Definitely (wish) it was talked about more in the news," Dietz said. "Everyone is used to it when you do it every week. It's no big deal."
Cooper and Nelson have talked about the potential of creating a separate division for wheelchair athletes in the future, but neither is sure about the numbers today.
"There's no real precedent for this around the country," Nelson said. "We want everyone involved. I hope it grows. … We're still trying to figure this out. We're opened-minded and listening."
For now, it starts at the pre-teen level — with clubs, events and functions outside of the school setting. Dickinson, Dietz and Slighting, for example, met at the Paralympic Sports Club in recent years at Rancho High School.
Now, as a group, they are continuing what Leonard started not-so-long ago.
"It's really cool to be able to race with other kids," Dickinson said. "I'm grateful that she went through all that work just to get it done. And to clear a path for other kids like us."
Contact reporter Ashton Ferguson at aferguson@reviewjournal.com or 702-383-0430. Follow @af_ferguson on Twitter.