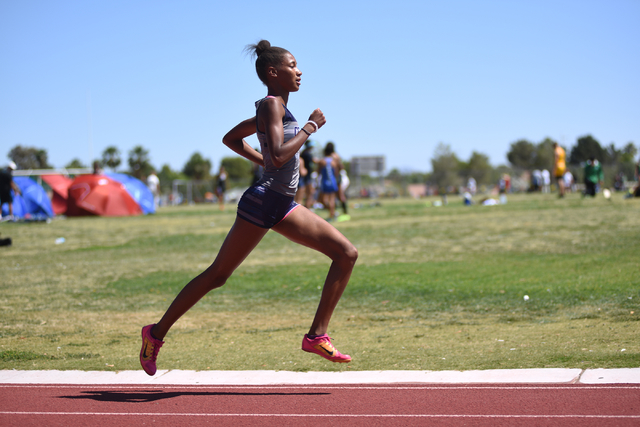 Centennial's Karina Haymore felt under the weather for most of the Division I Sunset Region meet at Del Sol on Saturday.
The junior, however, didn't show any signs of fatigue.
Haymore won two individual events and finished second in another to lead Centennial's girls track team to its ninth consecutive Sunset Region title.
The Bulldogs won with 201½ points. Palo Verde was second with 134 points, followed by Arbor View (123), Legacy (70) and Bishop Gorman (65½).
"I wasn't feeling very well today, for some reason," Haymore said. "After the mile, I had some acid in my stomach. And for the 400-(meter run), I couldn't even stand to warm up because I was so nauseous and I had a headache. I thought I was going to pass out or something."
Both of Haymore's victories were come-from-behind wins over teammate Alexis Gourrier. Haymore won the 800-meter run in 2 minutes, 17.09 seconds and the 1,600 in 5:05.19.
Gourrier, who sped to the front in each of those races, could not hold on to her leads late and finished second in the 800 (2:18.46) and third in the 1,600 (5:10.26).
"Alexis normally goes out really fast," Haymore said. "And the last laps she slows down. I don't know. I just try to run consistent laps. I have pretty good kick, which I'm able to rely on. And I just pray a lot before my races."
Haymore also had to battle feisty Palo Verde runner Emma Wahlenmaier in both distance events. Wahlenmaier finished third in the 800 (2:20.15) and second in the 1,600 (5:09.28).
"I felt good in the mile, but in the middle laps, I was cut off (by Wahlenmaier)," Haymore said. "She tripped me twice. … The second lap she cut me off right before the curve and I was stuck behind her. And before the last lap, she cut me off again."
Haymore also was second in the 400 to Arbor View's Madison Aldred (56.63).
"I just wanted to get second and qualify (for state)," Haymore said. "So I got second."
Aldred had one of day's top performances for either region. In addition to knocking off Haymore in the 400, the senior also won the 200 (24.99) and ran on a pair of winning relay teams.
"Pretty good, but I could've done a lot better," Aldred said. "I wasn't close to any (personal records) so I was a little disappointed with that."
Aldred had to rally to win the 200 over Centennial teammates Peyton Green (25.15) and Elize Larsen (25.55).
"I started out slow, but it's usually when I get off the curve is when it's best for me," Aldred said. "Halfway through I was like, 'Oh, maybe I won't win this race.' But then I ended up beating everyone."
Centennial's girls set a meet record in the 3,200 relay (9:35.66), breaking a Cimarron-Memorial record set in 2006.
Palo Verde's Jessica Fields swept the hurdles, winning the 100 highs in 15.14 and the 300 lows in 44.92.
Centennial's boys team won its seventh consecutive Sunset Region title with 136 points. Gorman finished second with 93 points, just ahead of Arbor View (91), Desert Oasis (83½) and Palo Verde (77).
Savon Scarver was one of the Bulldogs' top contributors. The junior won the 110 hurdles (15.27), the 200 (22.13) and was second in the 300 hurdles.
"I was a little bit nervous about today," Scarver said. "But once I stepped on the track for each of my races, I just calmed down and relaxed. It was an alright day. I just wanted to qualify for state. So then I can show my talent out there and win a ring."
Legacy's Jamal Britt won the 300 hurdles in 38.07. But Scarver doesn't see that happening again.
"I just got out pretty fast and I tried to hold the speed, but I didn't pace myself," Scarver said. "So I kind of messed up. I usually have a game plan, but I didn't follow it. In state, it will happen."
Britt's time in the 300 hurdles nearly broke a 15-year-old meet record of 38.04, set by Cimarron-Memorial's Elisha McCall.
The state track meet begins Friday at Carson High in Carson City.
Contact reporter Ashton Ferguson at aferguson@reviewjournal.com or 702-383-0430. Follow him on Twitter: @af_ferguson
Summaries: