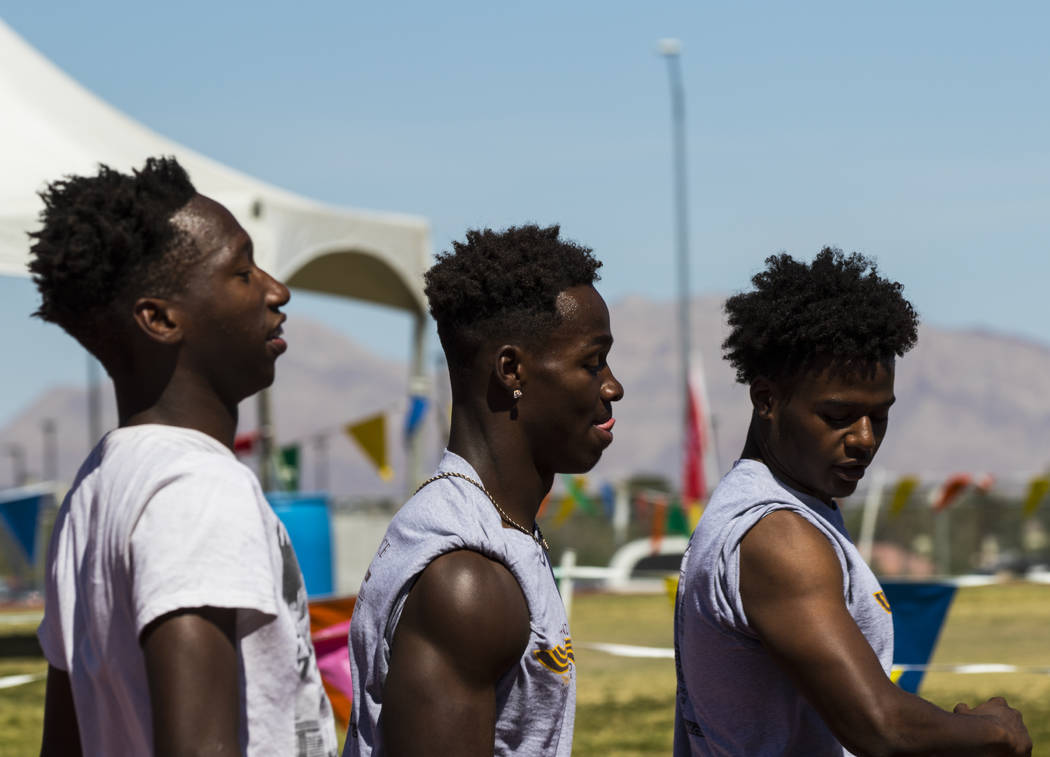 Last year, about this point of the calendar, was a bittersweet time for R.J. McCarter.
As a junior, the Bonanza standout qualified for the region track meet in his first season competing. But his grandmother was seriously ill in California and his mother told him the day of his race may be the last time he would see her. Naturally he skipped his race to be with her.
Now a senior, McCarter will enter the region meet Saturday at Foothill with a newfound motivation. He's doing it for Vivalyn, his late grandmother whose middle name he bears in a tattoo on his left arm.
"Before a race I'll touch my arms and look at it for motivation," McCarter said. "That's why I couldn't go last year, so that's what more motivating me to make it further this year."
Bonanza coaches lament that McCarter didn't come out for track before his junior year because his skill is evident.
Chad Robertus tried. Bonanza's head coach was McCarter's P.E. teacher freshman year, but the 6-foot-1, 171-pound transfer from Western was too focused on making Bonanza's football team after the Warriors cut him.
"He had the mindset of I'm only a football player, blah blah blah," Robertus said. "Football and track go hand-in-hand, then last year he did come out."
McCarter qualified for region in the 110-meter hurdles, the 300 hurdles, the high jump and the long jump, but his best event is the 110 hurdles, where he is the No. 3 seed in the Sunset Region. The top two from each region advance to state, as well as the better time between the third-place finishers in the Sunset and Sunrise Regions.
But his inexperience at the hurdles may hurt him on Saturday. He is seeded behind Centennial's Savon Scarver and Legacy's Jamaal Britt, both of whom have been hurdling for much longer than McCarter has. And because McCarter is still relatively new to hurdles, his results can be mixed.
"Sometimes he can be real good on the hurdles with the steps," Robertus said. "The next time, it's like 'What is that mess?' It's just the inconsistency."
Still, it's tough to discount an athlete of his caliber. A football player who caught 838 yards and 10 touchdowns last season, he is the only Bengal on the boys team to qualify for the region meet in four individual events.
Last season the coaching staff moved him from triple jump to hurdles and Doreen Farmer, a Bonanza assistant coach specializing in hurdles, spent half an hour teaching him the technique of the 110 hurdles. The next day, in his first meet running hurdles, he had a qualifying time for region.
"He's just a flipping natural," Farmer said. "I've had very few natural athletes like him."
When it comes to qualifying for state, McCarter is bullish on his chances. His personal record for the 110 hurdles is 15.15 seconds and 40.91 for the 300 hurdles, and he said he wants to break both of those.
He also said he hopes to win the high jump, in which his personal best is 6 feet, 4 inches. He did concede his long jump distance may not be good enough.
Regardless of how he does Saturday, the region meet will be something special for McCarter. Vivalyn used to come to his track meets until her health no longer allowed her.
She never got to see him run at a region meet, but the tattoo on his forearm is a constant motivator for his success.
"Before a race I look at it, and give it my all in that race," McCarter said. "I was running and qualified in all my meets last year, all my events, and I told her. And she was happy about it."
Follow all of our Nevada Preps coverage online at nevadapreps.com and @NevadaPreps on Twitter.
Contact Justin Emerson at jemerson@reviewjournal.com or (702) 387-2944. Follow @J15Emerson on Twitter.