Shenoa Davis shook her head and smiled playfully.
"Should have went for 6-11," the Mojave track coach said. "He got a little greedy."
She's speaking of the Rattlers' star high jumper, the hyper-athletic John Harper. At a weekday meet at Sunrise Mountain on March 20, the senior cleared 6 feet, 10 inches on the high jump, then got ambitious, passed over attempting 6-11 and couldn't quite clear 7 feet.
Still, 6-10 is the best jump by any athlete in the state this season, which bodes well for Harper's chances at his first state championship.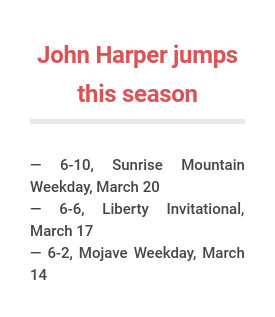 "I never really thought I could get to 6-10 until it actually really happened," Harper said. "That was cool getting there."
Harper has been at the center of Mojave's athletic renaissance this season. At wide receiver, he helped the Rattlers improve from 1-8 in 2016 to 10-3 and a state-title game appearance in 2017. The basketball team went 4-22 last season, and this year went 16-11 and won a playoff game.
He has the perfect build for a high jumper, standing a slender 6-4 and weighing 155 pounds. It allows him to slide over to high jumping, a sport that he has not always done. But to hear Mojave high jump coach Iris Brumfield say it, he's a natural.
"He has a lot of spring in his jump," Brumfield said. "It takes awhile for some people to pick up the flop, the technique, but his is so nice.
"He picked it up really quickly, he really did."
Harper could not finish his sophomore year, his first at high jump, and was academically ineligible last year. And considering where the Rattlers finished as a team at state, they could have used him. Mojave finished six points behind state-champion Sunrise Mountain, and a third-place finish would have given the Rattlers a tie, and second or better would have given them the state title.
The winning height was 6-8, and third place was 6-2.
"We needed John Harper points last year," Davis said.
The scope of Harper's jump should not be overlooked. Last season at state 6-8 was the best leap from any class. And this year not only has no other Nevada athlete hit 6-10 on the jump, only nine athletes in the nation have done better. In Nevada, he has a three-inch lead over the second-best height.
Harper has lofty goals. He wants to be the best in the country and said his goal was 7-4, which is an inch better than the national best. And he knows how close the team was to a state title last year, and he uses that as motivation.
"I felt like I let them down. I felt like I was a big factor that could have helped us get the state ring, and we didn't get it done" Harper said. "It makes we want to go for 7-10. I want to be great. I want to be the best at this."
Contact Justin Emerson at jemerson@reviewjournal.com or (702) 387-2944. Follow @J15Emerson on Twitter.