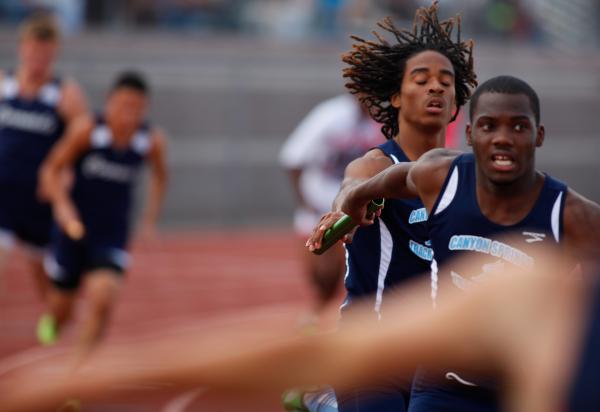 Centennial went the distance in the Division I Sunset Region boys track championship meet to score a win by knock out Friday at Silverado.
Bulldog runners finished 1-2-3 in the 1,600-meters, and 2-3-4 in the 800 Friday to finish off the Sunset team title with 169½ points. Arbor View was second with 99.
"The team has a goal this year of trying to repeat (at state)," Centennial coach Roy Session said. "They know our strong point has been distance. And they have worked and trained hard, and they want to carry as much as they can for us."
Jackson Carter, Dajour Braxton and George Espino powered the Bulldogs.
Carter led the trio in the 1,600, finishing first in 4 minutes, 22.77 seconds, edging Braxton and Espino.
Then, Carter, Justin Galaviz and Espino finished 2-3-4 in the 800.
Those performances came after Braxton, Carter and Espino finished 1-2-3 in the 3,200 final, which was held last week.
"In the 800, I think they were tired," Session said. "The goal was to go 1-2-3 as well, but I think they put so much into getting 1-2-3 in that mile, because time-wise it wasn't quite where they have been.
"But I told them this is probably the strongest distance team we have ever had."
Arbor View finished the meet with a win in the 1,600 relay, as Robert Milner anchored the Aggies to a time of 3:20.43.
Elsewhere in the Sunset, Jayveon Taylor of Bonanza had a busy day running for gold.
Taylor placed first in the 100 in 10.5, and propelled the Bengals 800 relay team to victory in 1:27.47. He then capped his evening by bolting to first in the 200 with a time of 20.82.
That time was faster than the meet record, but was wind-aided.
"I feel good. There was a lot of good competition, but I love competing," Taylor said. "That kind of competition just makes me faster."
In the 200, Taylor showed no ill effects from his earlier races, as he pulled away in the final 75 meters to win going away.
"My objective is always to catch everybody off the curve," Taylor said. "Then I have no worries on the straight away. On the 100 I had a good start. My hip kind of popped, but it went away really quick."
Shadow Ridge's Cody Alfar beat his own region record en route to victory in the 110 hurdles, crossing the finish line in 15.52. He also placed second to make state in the 300 hurdles.
Legacy's Nieamiah Lane won the 300 hurdles (39.9), and was part of the Longhorns' first-place 400 relay team (42.28).
Marvin Duty of Desert Oasis won the 400 (49.26), and Nicholas Oberdin of Shadow Ridge won the 800 (1:55.23.)
In the Sunrise meet, Colin Schultz of Liberty cruised to first in the 800, storming to the front early and finishing with a time of 1:57.11.
"I was a little nervous — I don't know why — but I was able to keep my pace," Schultz said. "There was no need to go for a (personal record) at a regional. I will go for everything at state."
The Patriots' team win was much closer, as they overcame second-place Coronado, 105-92½.
Martin Ponce won the 1,600 in 4:22.29 for Liberty's other individual victory. The two wins were enough for the Patriots, who came in with a 14½ point lead after two days of competition last week.
"I am proud of my team this year. We lost some big point scorers (from last season), and we were still able to hang on," Schultz said. "I'm so proud of them."
In other Sunrise winners, James Henderson of Foothill captured four gold medals.
Henderson took first in the 400 (48.07) and 200 (21.79), and helped the Falcons' 800 relay team to first place with a time of 1:28.57.
Henderson then anchored the Falcons' 1,600 relay team to a win in 3:23.02.
Demarcus Walker of Canyon Springs cruised to first in the 110 hurdles (15.22), and finished second in the 300 hurdles.
The Pioneers also won the 400 relay in 42.8.
Rancho's Isaiah Culverson won the 300 hurdles (39.18), and Valley's Arphaxad Carroll won the 100 (10.81). Carroll won the long jump and triple jump last week.
Full results: