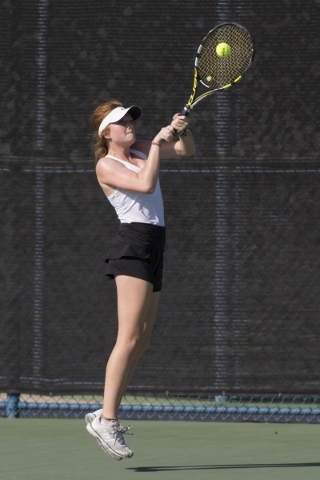 State tournament championships and record-setting performances aren't supposed to be bittersweet.
Yet, Palo Verde sisters Chloe and Sophie Henderson couldn't help feel a little sadness mixed in with a lot of joy Saturday.
The two became the first tandem to win three girls doubles titles, and Chloe became the first girl to win four individual state titles in tennis when they teamed to defeat Liberty twins Parker and Payton Burk 6-2, 6-0 in the Division I girls doubles state final at Darling Tennis Center.
"It really is bittersweet because she's going off to college and this is her last year," said Sophie Henderson, a junior. "It was fun to play together one last time."
Chloe Henderson teamed with Kristen Newell to win the girls doubles title in 2012 and with Sophie Henderson each of the past three years. Chloe joined Bishop Gorman's Horst Dziura, who won boys doubles titles from 1987 to 1990, as the only players to win four individual tennis crowns in state history.
"I didn't expect this. No. Just no," Chloe Henderson said. "I just wanted to do my best and play with my best friend on the team, which was Kristen my freshman year, and then playing with Sophie has been really fun."
A day after helping the Panthers win their second straight team title, the Hendersons rolled to a 6-0, 6-1 win over Palo Verde teammates Abby Lewis and Alissa Till in the semifinals and put an exclamation point on their dominance in doubles by winning 10 of the final 11 games of the match against the Burks.
"It has been so nice to have someone to rely on all the time and have someone to support me all the time," Sophie Henderson said. "Even though she is going off to college, we're still together."
Bishop Gorman's Angelique Friedrich is hoping Saturday was the start of a similar run in singles.
The freshman won the girls singles title by defeating teammate Amber Del Rosario for the second time in five days, 6-3, 6-4.
"I'm really happy," said Friederich, who beat Del Rosario in three sets in the Sunset Region final Tuesday. "I wasn't really looking forward to playing Amber again because it was a really tough match, lots of long games and rallies.
"I wasn't really thinking I would win a state title (this year), but I'm proud of myself. It's exciting, and hopefully I can do it again next year."
Friedrich made short work of Reno's McKenna LeVitt, winning 6-1, 6-0 in the semifinals Saturday, and played consistently well against Del Rosario, a senior.
"I was just a bit more solid today," Friedrich said.
DIVISION I-A
Andrada Stanciu became the second straight Sierra Vista freshman to win the Division I-A girls singles title Saturday when she downed Faith Lutheran's Madison Foley 6-4, 6-1.
Stanciu followed in the footsteps of Averiana Mitchell, who won the title last year but opted not to play high school tennis this season.
"It's very exciting that there's a school that is proud of me and wants me to play for them," Stanciu said. "It's great to follow in Averiana's steps."
Stanciu needed three sets to beat Foley in the Southern Region final Tuesday, but used the momentum of a close first-set victory to pull away in the second set Saturday.
"I was just consistent, and I was more aggressive," Stanciu said. "I ran her back and forth a little more."
In the girls doubles final, The Meadows' Olivia Waysack and Ava Frazier both overcame illness and fatigue to top Faith Lutheran's Dina Ciulla and Carolyn DiPasquale 6-3, 6-3.
"It was a goal, but it always just seemed like a dream," Frazier said. "There were a lot of really good teams in the doubles bracket, and every match was a grind. We just powered through it. We worked really hard."
Waysack, a sophomore, was a state runner-up last year when she teamed with Audrey Grigore, but found the right combination this year with Frazier, a senior.
"I don't know if we were the best, but we are really good mentally," Waysack said. "We don't think ahead, just one point at a time."
The two had an exciting couple of days, as they also helped the Mustangs win state as a team Friday.
"It's been an amazing two days, but it's been a long two days," Frazier said.
Contact reporter Bartt Davis at bdavis@reviewjournal.com or 702-387-5230.