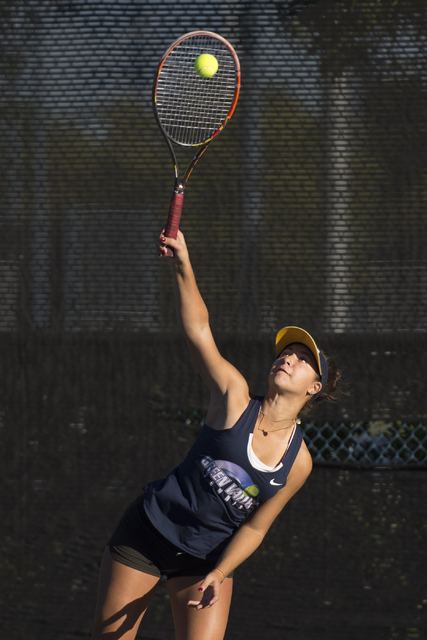 Clark's Audrey Boch-Collins already is one of the best prep tennis players in the state. And she's only a freshman.
Boch-Collins won the Class 4A Sunset Region girls championship Saturday with a 6-2, 6-2 victory over Durango's Averiana Mitchell at Darling Tennis Center.
Both players qualified for this week's state tournament in Reno. Boch-Collins, a five-star recruit, according to the tennis recruiting network, could be one of the favorites.
"I had never done high school tennis before. This is my first year. I wanted to have fun," Boch-Collins said. "It was my goal to make it to the regional finals and make it to Reno. It was my main focus this season."
Boch-Collins beat Mitchell during the regular season and said she realized at that point she had a chance to make the state tournament. She didn't lose a game in the region tournament en route to a rematch with Mitchell in the final.
And again, she came out on top.
Clark coach Francie Angelov said she recognized Boch-Collins' potential a few years ago at the middle school level. Boch-Collins had made a name for herself on the national circuit and worked out with the Chargers during the summer before deciding to join the team.
"You could see that she had really good court IQ," Angelov said. "This girl knows what she's doing. … I've been watching her play for a couple years. I was just really excited that she was going to come out and give it a try."
Her decision paid off.
Boch-Collins said she's enjoyed her first year of high school tennis, and said she's learned leadership skills and how to be a member of a team.
"She's got a really good rapport with all her teammates," Angelov said. "As good as she is, she's been staying humble. She's a great teammate as well as a great player."
In the doubles final, Bishop Gorman's Emma Figueredo and Angelique Friedrich defeated Palo Verde's Abby Lewis and Kaya Richardson 7-6 (2), 6-3.
Both teams advanced to state.
Sunrise Region
Green Valley's Daria Shalina started the Sunrise Region singles tournament as the No. 1 seed and finished No. 1.
Shalina rallied to beat Coronado's Hannah Grossman 4-6, 6-3, 7-5 in the title match. Both players advanced to the state tournament.
In the doubles final, Liberty's top-seeded Peyton and Parker Burk defeated teammates Megan Quandt and Madison Knoblock 6-4, 4-6, 6-3. Both teams earned state berths.
Class 3A Southern Region
The Meadows' Abbigail Klein defeated teammate Anuja Daulat 6-2, 6-1 in the girls singles title match. Both players advanced to state.
Mustangs doubles partners Olivia Waysack and Grace Nemec outlasted Moapa Valley's Kinzi Robinson and Lindsey Leavitt 7-6 (5), 1-6, 6-3 in the final. Both teams captured state berths.