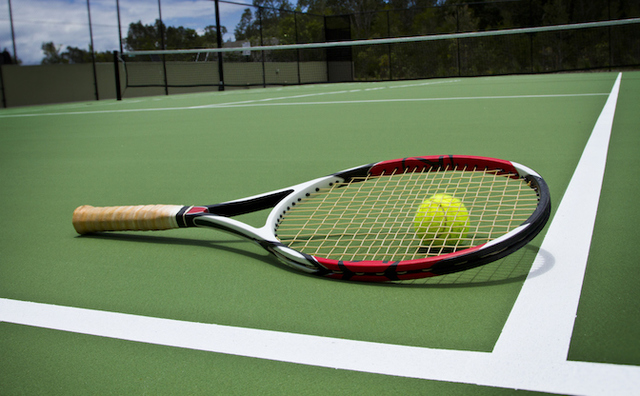 RENO — Coronado players had a simple message for coach Kenya Jackson as they huddled for a few quick words before playing a tiebreaker against Reno in the semifinals of the Class 4A girls state tennis tournament at the Caughlin Athletic Club.
"They said they really wanted it, and I said, 'OK, let's go get it,' " Jackson said.
After reaching the state tournament with a win by tiebreaker over Liberty, the Cougars showed they have some kind of tiebreaker magic, beating Reno 4-2 in the tiebreaker to advance to Friday's championship match with a 10-9 win.
"Yes, we do," Jackson said. "I'm so happy for these girls, and as their first-year coach, they believe in me and I believe in them."
The Cougars (17-1) play Palo Verde (17-0) in the title match at noon on Friday.
Coronado won all three doubles tiebreakers after going just 3-6 in doubles in the first three rounds.
"Their doubles in my opinion were all pretty even, so our girls just had to figure out their style of play," Jackson said.
The clincher came from the team of Jessica Duff and Sophia Potamitis, who were winless during the first three rounds, but pulled out a 10-8 win over twin sisters Sage and Shayna Schula.
"When the chips were really down, they seemed to rise to the occasion," Jackson said.
The match was tied 6-6 after two rounds of play. Coronado won three of the first five sets in the third round, but Reno's McKenna LeVitt forced the tiebreaker with a 6-2 win over Alina Kacharovskaya.
The doubles team of Megan King and Mana Iritani went 3-0 for Coronado, and Nikoleta Nikoloff was 3-0 in singles.
In the other semifinal, Palo Verde built an early lead behind strong doubles play and cruised to an 11-7 win over Bishop Manogue.
The Panthers won all six doubles sets in the first two rounds and led 9-3. In the third round, the Panthers' No. 1 doubles team of Abby Lewis and Kaya Richardson provided the clinching win, 6-0 over Claire Sedgwick and Lisette Melendez.
Palo Verde led 4-2 after one round, thanks in part to Shelby Graber, who rallied from a 2-4 deficit to win 6-4.
"The girls played smart in the first round and then even better in the second," Palo Verde coach Zach Brandt said. "Then the temperature started dropping and everyone started to play bad."
The Panthers will go after their third consecutive state title on Friday, but Brandt said they haven't even discussed that. Palo Verde has three players back from the teams that won those titles and has two freshmen — Ivy Dobrijevic and Caroline Hsu — playing key roles in doubles.
For the title match against Coronado, Brandt said the Panthers will need their doubles teams to come up big again.
"Coronado is singles heavy, so we're hoping for eight or nine points from doubles and one or two from singles," Brandt said. "My (No. 1) and (No. 2) doubles are just beasts, so we've got to build off those two."
And after watching Coronado pull off a second consecutive win in a tiebreaker, Brandt said he hopes the Panthers can get off to a quick start in the championship match.
"We need another 4-2 or 5-1 first round," Brandt said. "Tiebreakers are all about nerves, and Coronado has quelled their nerves."
Box scores:
Palo Verde 11, Bishop Manogue 7