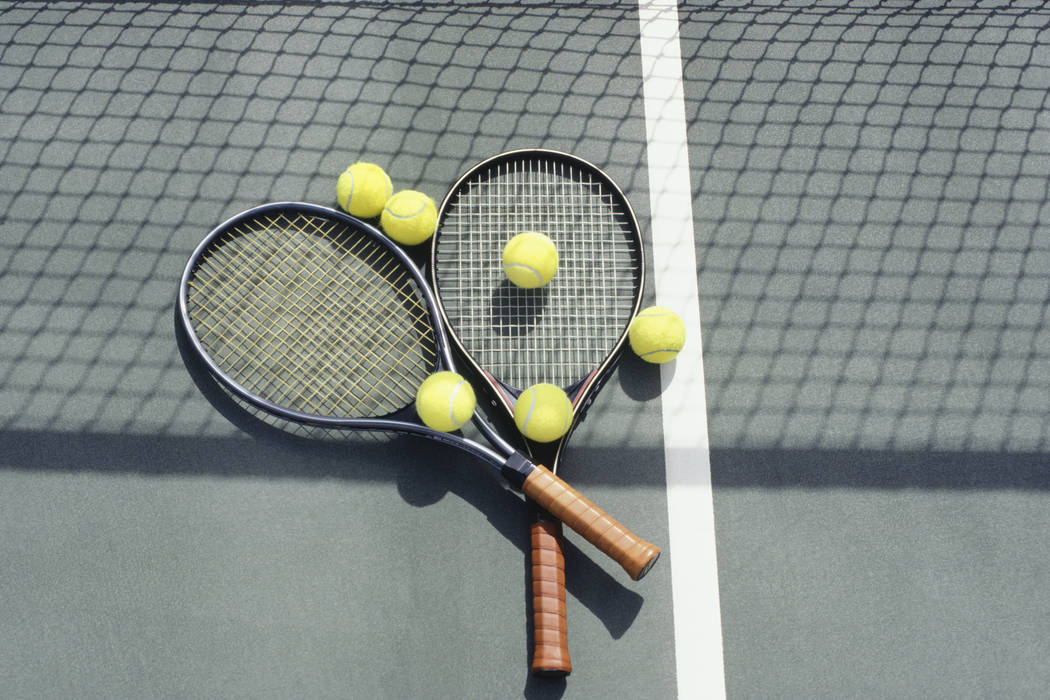 Jose Espejo and Miguel Rodriguez each posted a 3-0 record in singles play to lift Eldorado's boys tennis team to an 11-7 home victory over Valley on Wednesday afternoon.
Christian Younger and Javonte Dorsey also finished 3-0 in doubles for the Sundevils.
The Meadows 10, Desert Pines 9 — At Desert Pines, the Mustangs took down the Jaguars on a points tiebreaker.
Treasure Nyame and Kevin Giron each went 3-0 in singles, and Adan Cano was 2-1 in singles for Desert Pines.
Desert Oasis 9, Foothill 9 — At Foothill, the Diamondbacks and the Falcons played to a tie.
The doubles teams of Ognjen Zekanovic and Tyler Parlade, and Caiden Jacob and Eliseo Wao-Udin both went 3-0 for Desert Oasis.
Dominic Gonzalez and Preston Oakley each went 2-1 in singles for Foothill.
Bishop Gorman 12, Arbor View 6 — At Arbor View, Riley Griffith went 2-0 in singles play to help the Gaels handle the Aggies.
Palo Verde 15, Durango 3 — At Durango, Denim Richardson and Axel Botticelli each finished 2-0 in singles to lead the Panthers by the Trailblazers.
Moapa Valley 16, Virgin Valley 2 — At Mesquite, Gavin Hadley and Slade Graham went 3-0 in doubles to power the Pirates over the Bulldogs.
Chase Hadley, Conner Batty and Adam Smedley each went 3-0 in singles for the Pirates.
Green Valley 13, Silverado 5 — At Silverado, Ryan Elezra, Ben Lieberman and Robert Sarosi all posted 2-0 records in singles to lift the Gators to a victory over the Skyhawks.
Costandinos Pappas and Jakob Winders were 2-1 in doubles for Silverado.
Tech 12, Chaparral 6 — At Tech, the doubles team of Gabe Kermode and Daniel Sardina-Perez posted a 3-0 mark to guide the Roadrunners to a win over the Cowboys.
Liberty 12, Basic 6 — At Basic, Thomas Blomquist was 3-0 in singles as the Patriots defeated the Wolves.
Brendan Brandonisio and Garrison Burk teamed to go 3-0 in doubles for Liberty.
Bonanza 15, Cimarron-Memorial 3 — At Cimarron-Memorial, Sebastian Rosales-Hernandez was 3-0 in singles as the Bengals downed the Spartans.
The doubles teams of Marshall Nelson and Stone Perry, and James Mead and Manny Gegen both finished 3-0 for Bonanza.
Justin Balconi was 2-0 in singles for the Bengals.
Coronado 18, Rancho 0 — At Rancho, Sebastian Frace and Aiden Benovalid each went 2-0 in singles as the Cougars blanked the Rams.
Boulder City 12, Del Sol 0 — At Del Sol, Boulder City defeated the Dragons by forfeit.
Las Vegas 12, Canyon Springs 0 — At Canyon Springs, the Wildcats beat the Pioneers by forfeit.
Western vs. Cheyenne — Western and Cheyenne could not field a full team and played to a double forfeit.
Boys Tennis:
The Meadows 10, Desert Pines 9
Bishop Gorman 12, Arbor View 6
Moapa Valley 16, Virgin Valley 2
Bonanza 15, Cimarron-Memorial 3
Las Vegas 12, Canyon Springs 0