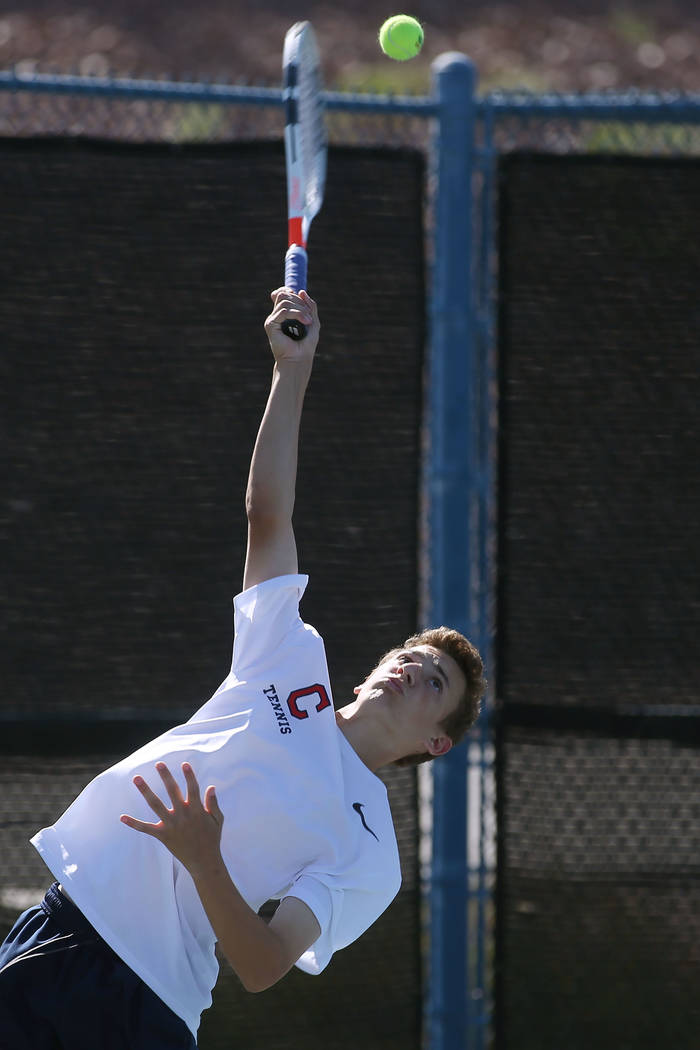 The trilogy is set.
And the stakes are a little higher this time.
Palo Verde and Clark will meet for the third and final time this season in the Class 4A state championship boys tennis match Friday at the Darling Tennis Center.
The local juggernauts took care of business in their respective semifinal matches Thursday, setting the table for a matchup between the two programs that have combined to claim the last five state titles.
"They're scrappy, battling kids, and they know what they're facing tomorrow," Palo Verde coach Richard Coop said. "Skill-wise, they're very prepared."
The Panthers (15-3) worked their way to a 14-4 victory over Coronado (13-1) in the first Class 4A semifinal.
Axel Boticelli was 2-0 in singles play, and Jayden Atkin and Sam Soderborg posted a 2-0 record in doubles, before ceding playing time to Palo Verde's reserves. Soderborg said the Panthers will lean on their experience and "can't get freaked out" by playing the Clark on Friday.
"We've been here before," Soderborg said. "We've just got to take care of business."
The Chargers (18-0) won their first two matches against the Panthers and were surgical in their 14-4 victory over Reno on Thursday.
Michael Pasimio and Simran Shah won all three of their doubles matches, and Artem Iermolov was 3-0 in singles play.
"We've got to take (the state championship) very seriously," Clark interim coach Jordan Zimmel said. "It doesn't matter if we've (beaten Palo Verde) already. We've got to play our best game."
Pasimio wants to bring another championship home for the Chargers, but said he isn't thrilled by the familiarity between the two programs.
"I think actually it hurts," Pasimio said. "Once you play them a lot, it's like there's a lot of bad blood. It's going to be a fight."
The Meadows and Boulder City will play for the Class 3A championship Friday in a rematch of last year's state championship, which the Mustangs won.
Daniel Pereira was 3-0 in singles, and Peyton Sachs and Ahmed Nadeem-Tariq combined were 3-0 in doubles for the Mustangs (17-1), who cruised to a 17-1 win over South Tahoe.
"The guys are feeling good, feeling strong," Meadows coach Frideric Prandecki said. "We've won a state championship before. Most of the guys from that team are still here … They're hungry. They want to play, but anyone can win. They're hungry."
The Eagles (19-0) are also eager for their chance to avenge their loss in the 2016 final. They toppled the Meadows, 10-8, in the Class 3A Southern regional final two weeks ago, and beat Truckee, 12-6, in their semifinal match Thursday.
Breton Erlanger, Connor Mikkelson and Andre Pappas were all 2-1 for Boulder City.
"It's probably going to come right down to the wire again tomorrow," Boulder City coach Rachelle Huxford said. "We're very evenly matched."
Contact reporter Sam Gordon at sgordon@reviewjournal.com. Follow @BySamGordon on Twitter.