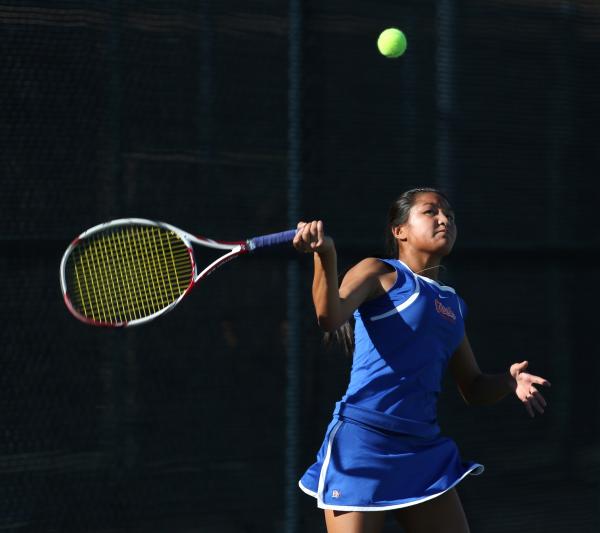 Coronado's Sam Grant watched two chances to secure the Division I boys tennis team state title slip off his racket.
He wasn't about to let a third one get away.
With the Cougars leading by one point and only Grant's doubles match still left on the court, the sophomore rifled a backhand down the middle, just off the edge of Palo Verde's Teijiro Nishimura's racket, to finish a 10-8 victory Friday at Darling Tennis Center.
"My heart was beating, and I was kind of shaking because I felt like I had choked so far," Grant said. "On the last point, I saw the opening and ripped my backhand. Right off the frame of the racket."
Grant and Aaron Egbert had chances to win the clinching point at 5-4 and again at 6-5 against the Panthers' Brandon Sulzberg and Nishimura. Both times, the Panthers stayed alive.
Finally, ahead 6-5 in a tiebreaker, Grant capitalized to clinch Coronado's second straight state crown. The Cougars (18-0) won five of their 10 points on tiebreakers, with Grant and Egbert taking two of those and Ryland McDermott winning two more in singles.
"It's tough every year," Coronado coach Luther Bohanan said. "You have to come out and compete, and we competed. And we got a little lucky winning five out of five tiebreakers. My kids didn't quit."
The Cougars trailed 3-1 in the opening round before Egbert and Grant and McDermott pulled out tiebreaker wins to even the match.
Tiebreaker victories by McDermott and Cassell King in singles in the second round helped Coronado build a 7-5 advantage, and wins by King in singles and Jack Vance and Jamie Vance in doubles set the stage for Egbert and Grant.
Grant, who normally plays singles, moved to doubles Friday to strengthen Coronado's lineup. The change paid off as he and Egbert went 3-0.
"We knew if we played well in doubles, we would have a chance," Grant said. "They have such good singles players."
Trevor Johnson was 3-0 in singles for Palo Verde (16-1).
GIRLS
Bishop Gorman coach Gordon Hammond ultimately is responsible for setting his team's lineup.
After losing to Palo Verde in the Sunset Region final, Hammond thought his Gaels might need a new look Friday. He turned to his 12-year-old son Luke, who came up with the perfect combination.
With a lineup set by a potential child prodigy, the Gaels rebounded from a first-round loss by their top singles player to post a 10-8 win over Palo Verde in the Division I girls final.
"We aren't very far off. We talk," said Hammond, whose team lost 11-7 to Palo Verde in the Sunset final. "He will have my job before I'm 50, probably."
Amber Del Rosario won a key second-round singles match on her way to a perfect day and helped the Gaels (16-1) overcome the early setback to defending singles champion Chelsea Crovetti.
Palo Verde's Chloe Henderson knocked off Crovetti in the opening round, but Del Rosario won her second-round match over Henderson while Crovetti was rebounding to beat Annie Walker, the Panthers' top singles player.
"I just thought it was another point I needed to win," Del Rosario said. "I didn't want to get ahead of myself. My team is very supportive of me and kept pushing me. They knew I was very nervous."
Wins by the doubles teams of Julia MacDonald and Marisol Arvilla, and Monika Ryan and Zoe Lier gave Gorman a 7-5 lead heading into the final round.
Crovetti easily won her third set, and MacDonald and Arvilla picked up the team's ninth point a minute before Del Rosario finished off a 6-0 win that gave Gorman enough points for its third straight team crown.
MacDonald and Arvilla also went 3-0, and Ryan and Lier were 2-1.
"Our doubles made a big difference today," said Hammond.
Tia Okano and Kristen Newell were 2-1 in doubles, and Henderson was 2-1 in singles for Palo Verde (16-1).
Box scores:
BOYS
GIRLS
Bishop Gorman 10, Palo Verde 8