Just because it is not a unique situation to Legacy's boys swimming team doesn't mean it isn't an interesting one.
Plenty of star swimmers opt to train primarily with club teams as opposed to high school teams. They train occasionally with the school teams, but like to hone their craft in a more intense setting.
Legacy has two such athletes and they are two of the best: Tama Tuitama and McKay Mickelson, both of whom who will be looking to add to their trophy cases when the season begins in earnest on Saturday against Centennial at Pavilion.
"I want to be part of the team still, but it's hard trying to balance club with high school," Tuitama said. "At high school, it's just the fastest high schoolers in the state. At (club) meets, you have the the fastest in the world.
Tuitama is committed to BYU, and last year won the state title in the 100-yard breaststroke, and came in second in the 200 individual medley. Mickelson placed second in the state 100 backstroke, and both were on the state-champion 200 medley relay team.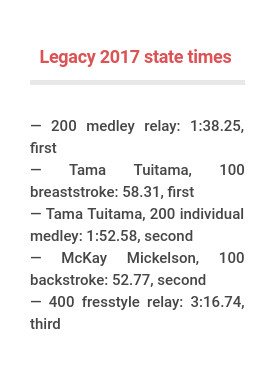 Both really only swim for Legacy during meets, devoting most of their time to Team Rebel Aquatics, the club team they both compete on. Tuitama is a senior who attends Legacy, and Mickelson is a home-schooled sophomore who plans to attend the school for his junior and senior years.
"These are the people that you go to school with and you talk to them even more when you come here," Mickelson said of Legacy's team. "On club they're almost like a family as well because you do everything with them. You work hard, you sweat with them."
It puts Legacy coach Marcus Meadow in a strange position. Tuitama and Mickelson both swim for him and help get the Longhorns points at meets, but he doesn't exactly coach them. He's open about his role when it comes to them, and focuses on teaching the novice swimmers on the team.
And two state champions make for a good incentive.
"It's like a competition: Who gets to swim with Tama and McKay on the relay?" Meadow said. "That's a big push for these guys."
For Tuitama and Mickelson, it's less about winning a state championship and more about improving times. Tuitama placed second in the 200 individual medley with a time of 1 minute, 52.58 seconds, and said he has his eye on the state record of 1:47.53.
Mickelson does not have an individual ring, and said while he wants to win, it's not his biggest concern.
"It still excites them, but they've got bigger goals," Meadow said. "These kids are going places. I hope the Olympics."
Making the Olympics, while an ambitious goal, is not an unrealistic one. Tuitama chose BYU in part because it would hold his scholarship when he went on his religious mission, but he's holding it off for two years — until after trials for Tokyo 2020.
"It's pretty much the fastest meet in the world," Tuitama said. "That's the goal right there, top eight in the Olympic trials."
Contact Justin Emerson at jemerson@reviewjournal.com or (702) 387-2944. Follow @J15Emerson on Twitter.