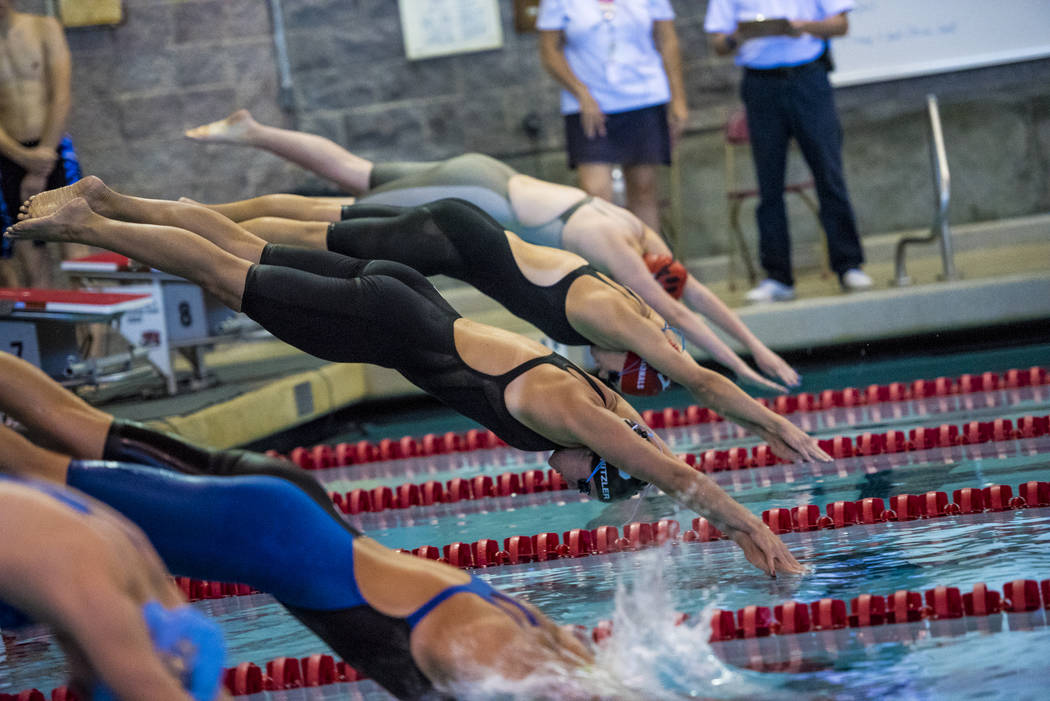 Boulder City has won a state title in boys swimming for six consecutive seasons, but that streak could be in jeopardy this season.
"I need to get about five really fast boys," coach Sara Carroll said. "The girls should be fine. I think we have a pretty deep girls team. The guys are a whole different story."
Boulder City will carry about 20 boys on the team, with about half of them newcomers.
"I only have two club swimmers," Carroll said. "I always have kids that aren't club swimmers that are at state, but I usually have a few, and there are teams that are in town that have 37."
The Eagles have won a record 10 boys state championships, but winning an 11th is likely to be a great challenge.
Boulder City isn't alone in feeling the pressure. In Class 4A, the Palo Verde girls have won back-to-back state titles, and the boys will look for their fifth straight title, a feat never accomplished in 4A.
"I think it would be considered a little bit of a failure for these kids to finish second in state," Palo Verde coach Brent Gonzalez said. "Now if we go up there and we swim our best and we take second, I think we'd be happy."
The more a team wins the more people assume it will continue to win, and Palo Verde and Boulder City have felt the weight of those expectations.
Gonzalez says the only thing his swimmers care about is winning and not worrying about their expectations.
"They don't want to lose, but they know it's going to be a tough year," he said. "They don't want to be the class that causes the loss."
The expectations for the Boulder City boys are set much lower with how the team looks, perhaps taking some pressure off.
"I see Truckee as destroying us at state up north," Carroll said. "They have a lot of club swimmers."
Boulder City lost two seniors that swam at state for the boys, and the Eagles are down one underclassman, as sophomore Paco Cuevas is unable to swim with a broken arm.
Carroll says she will need to work hard with her newcomers to get the most out of them while looking at her upperclassmen to step up.
It's not all bad news for Boulder City. Carroll is confident about her girls team looking for its fifth straight state title.
"The girls are pretty good," she said. "I don't see us getting beat in girls, unless we do something stupid."
The girls team returns five swimmers who were state finalists in two events last season and also has some promising newcomers.
"I think most of them are pretty focused," Carroll said. "You just worry about DQ or something like that, but I'm not really that worried about the girls at all."
Contact reporter Bill Slane at bslane@reviewjournal.com or 702-380-4559. Follow @bill_slane on Twitter.