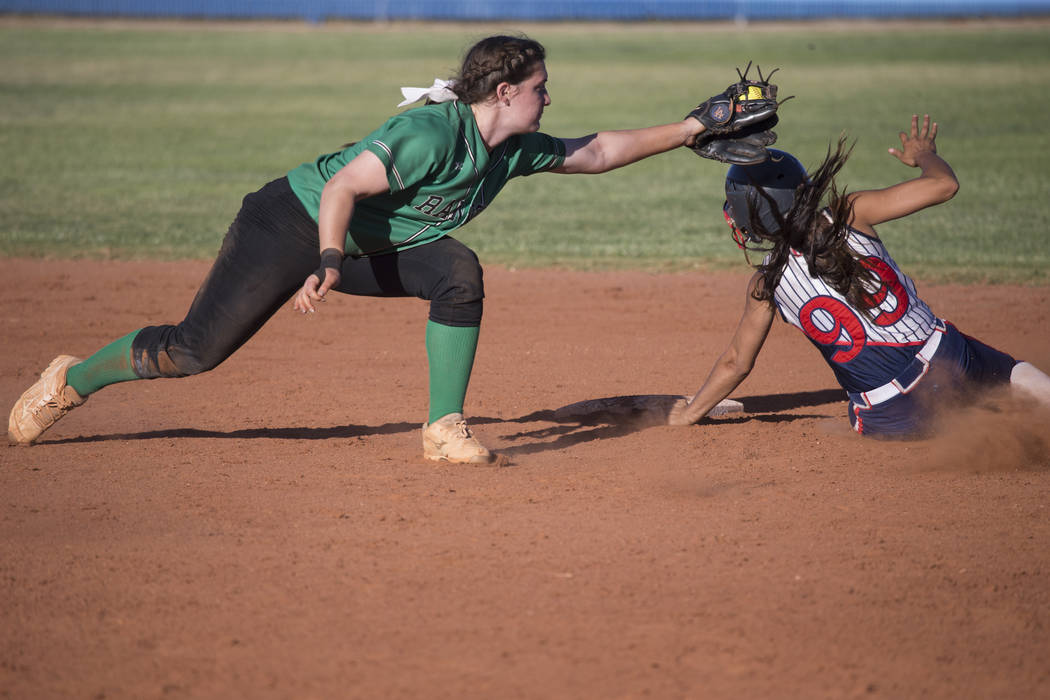 Rancho pitcher Sam Pochop was tired Friday when she took the field for her fourth start in as many days, but she was determined not to let a little thing like fatigue slow her down.
Despite some key blunders by her offense, Pochop maintained control of the defense by tossing a four-hitter to lead the Rams to a 3-1 win over Liberty in the losers' bracket final of the Class 4A Sunrise Region softball tournament at Foothill.
The win lifted the Rams (23-11) into Saturday's championship, where they will face Coronado (30-5) at noon at Bishop Gorman. If Rancho wins, a second game would be played to determine the champion.
"I just focused on not missing my spots and doing what I had to do," said Pochop, who struck out nine while walking four.
The Rams jumped on Patriots starter Breanna Alvarez in each of the first two innings, but only managed a first-inning run out of the opportunities because of a key double play and a big offensive misstep.
"This was a big game for both teams because we knew the winner was going to the championship," Rancho coach Amanda Zunno said. "If we could do it over again, I'm sure things would be a little different."
Though Pochop's squeeze bunt scored a run in the first inning, a potentially big inning was ended by an untimely double play.
Rancho again appeared ready to blow the game open with runners at first and second with no outs in the second. But aggressive baserunning on a fielder's choice resulted in an unconventional double play with outs at home and third base, effectively ending the threat.
The Rams, who finished with 11 hits, also failed to score after loading the bases with two outs in the fourth. But they finally managed two key insurance runs in the fifth on an RBI single by Yvette Sanchez and a run-scoring fielder's choice by Lili Gutierrez to make it 3-0.
Those runs paid off, as Liberty (24-8) went on the attack in the sixth and finally got on the board with a run-scoring bloop single by Alvarez. The Patriots followed by putting runners at second and third with one out, but Pochup escaped the jam with back-to-back strikeouts.
"You always want to strike them out," said Zunno, who had instructed her pitcher to rely on her defense. "Sam has amazing endurance, and that shows in big games."
Pochop went 3-for-4 with a double, and teammates MacKenzie Perry and Ayanna Potter had two hits apiece for the Rams.
Marisa Olmos had two hits to lead Liberty.
Liberty 10, Las Vegas 9 — After building an early 8-0 lead, the Patriots allowed a Wildcats rally and had to come from behind with two runs in the sixth to win the early game.
Liberty's Ashleigh Rodriguez went 3-for-5, Olmos went 3-for-4, and Jessica Meza drove in the winning run with a sacrifice fly.
Sarina Ramirez went 3-for-5 with a double to lead the Wildcats (16-9).
Box scores: