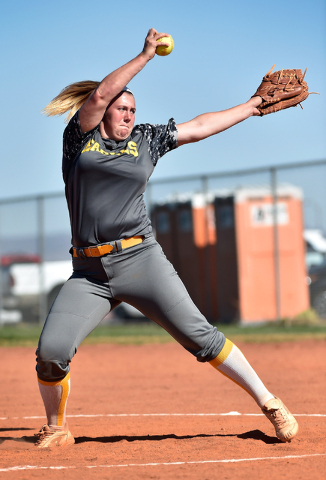 From the first batter it sent to the plate Monday, Sierra Vista's softball team made no secret of its game plan: simply put the ball in play.
And though the Mountain Lions didn't hit the ball past the pitcher in the first inning, they scored all the runs they needed.
Two well-placed bunts led to two first-inning runs, and junior Kalei Watkins pitched a gem to lead Sierra Vista to a 7-0 win over visiting Boulder City in a matchup of the two defending league champions in the Division I-A Southern Region.
"We knew what we were up against," said Sierra Vista coach Keith Ulrich. "The game plan all along was to get some bunts down in that first inning. We wanted to lay some bunts down and make their fielders make plays after a long bus ride."
With Watkins and Boulder City senior Charlene Masterson, a UNLV signee, hooked up in an expected pitchers' duel, Sierra Vista (10-1) played little ball in the first inning.
Daelynn Hilton led off with a bunt single, and Taylor DeGuzman reached when her bunt was misplayed. Two passed balls and a wild pitch later, the Mountain Lions led 2-0, despite having its No. 4, 5 and 6 hitters all strike out in the inning.
Of the Mountain Lions' first eight batters, four bunted.
"That was huge just to give us a good start," Ulrich said. "When Kalei is throwing against one of the other aces in our region, the team that scores the first run usually wins."
Watkins, a first-team all-state selection last season, took care of the rest, allowing just three hits and striking out 15 without allowing a walk.
Boulder City (14-4) didn't get a runner into scoring position until the seventh inning as Watkins effectively changed speeds and eye levels to keep the Eagles from making solid contact. Two of the three hits were to the opposite field, the other a swinging bunt by Masterson in the seventh.
Watkins tacked on a home run just to the right of straight-away center field in the fifth inning — the only earned run Masterson allowed — and the Mountain Lions took advantage of five Boulder City errors in the final two innings to put the game away.
Watkins was 3-for-3 with a double, the home run and two runs, and Hilton went 2-for-4 with two runs for Sierra Vista.
"We already have confidence and momentum the way we are playing," Ulrich said. "We treat these games against good competition nonleague as games to build experience for playoffs. It helps to be able to execute against a quality team."
Masterson was 2-for-3 for Boulder City.
Contact reporter Bartt Davis at bdavis@reviewjournal.com or 702-387-5230.
Box score:
Sierra Vista 7, Boulder City 0