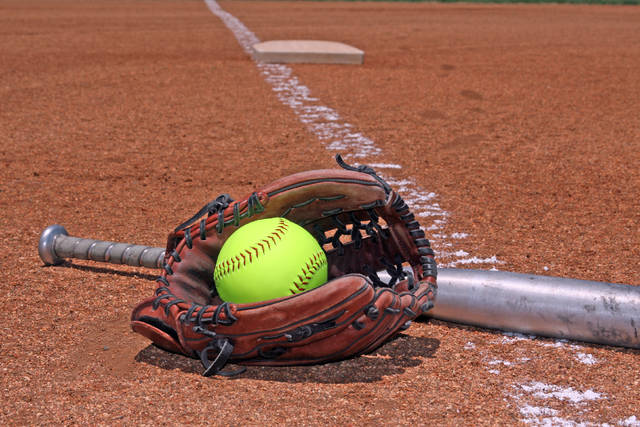 Palo Verde's Makena Martin was 3-for-4 with two doubles and three RBIs Wednesday as the host Panthers nipped Shadow Ridge in softball, 5-4.
Kendall Hopkins supplied two hits and an RBI, and earned the win in the circle for Palo Verde.
Jasmine Martin belted a solo home run, and teammate Shea Clements had two hits to lead Shadow Ridge.
Arbor View 8, Centennial 5 — At Centennial, winning pitcher Torii Forsberg was 2-for-4 with a double and two RBIs to power the Aggies over the Bulldogs.
Lileya Kebos doubles and scored twice for the Aggies, and Cierra Mikaelsen hit a triple and knocked in two.
Kaylee Pierce had a double for the Bulldogs.
Virgin Valley 15, Desert Pines 7 — At Mesquite, Savannah Price went 2-for-3 with a homer and three RBIs as the Bulldogs cruised by the Jaguars.
Calee Clem was 3-for-5 with four runs for the Bulldogs, Kari Wakefield and Jessica Barnum each doubled and scored three runs, and Nataly Serna had a pair of RBIs.
Cristina Montiel was 3-for-4 with a double, three RBIs and two runs for the Jaguars.
Boulder City 11, Mojave 0 — At Boulder City, Lily Osman homered, doubled, knocked in five and scored three times to power the Eagles over the Rattlers in five innings.
Bailey Bennett-Jordan had a shutout with three strikeouts for the Eagles, and went 2-for-2 with a double and two RBIs.
Ellie Ramsey and Jordan Moorhead each scored twice for Boulder City.
Cheyenne 12, Tech 0 — At Tech, Madelynn Kennedy fired a no-hitter with 12 strikeouts and was 2-for-2 with a triple, three runs, four walks and four RBIs, as the Desert Shields blanked the Roadrunners in five innings.
Hannah Tennant went 3-for-3 with three RBIs for Cheyenne, which used a five-run third to pull away.
Chaney Park supplied two walks for Tech.
Liberty 16, Las Vegas 1 — At Liberty, Morgan LaNeve was 3-for-3 with a double and four RBIs as the Patriots routed the Wildcats in three innings.
Cali Christopher tripled and knocked in three for the Patriots, Shelby Carvahal had a double and an RBI, and Lauren Clark went 2-for-2.
Melina Fabian doubled and had an RBI for the Wildcats.
Pahrump Valley 15, Chaparral 0 — At Chaparral, Jacquellen Stobbe went 3-for-4 with a double, and Taylor Egan was 2-for-3 with a triple, an RBI, and four runs scored as the Trojans stormed past the Cowboys in four innings.
Winning pitcher Amaya Mendoza supplied two hits for Pahrump Valley, which led 12-0 after three innings.
Losi Brown hit a double for Chaparral.
Moapa Valley 15, Western 0 — At Overton, Lainey Cornwall went 3-for-3 with two home runs and four RBIs, leading the Pirates to a three-inning rout of the Warriors.
Winning pitcher Emilie Barraza gave up one hit with four strikeouts and went 2-for-3 with two doubles and two RBIs for Moapa Valley. Aria Messer was 3-for-3 with two doubles and an RBI for the Pirates, who led 13-0 after one inning.
Del Sol 15, Sunrise Mountain 0 — At Del Sol, Noa Bowie went 3-for-3 with a double and four RBIs, and Saleena Quichocho was 2-for-3 with a double, triple and two RBIs as the Dragons blanked the Miners in three innings.
Leila Canete added two hits and two RBIs and Jazmine Rivera pitched one hit ball to gain the win for Del Sol, which scored 11 runs in the second inning.
Mohave Accelerated (Ariz.) 15, Laughlin 3 — At Laughlin, the Cougars fell to the Patriots.
Box scores:
Del Sol 15, Sunrise Mountain 0
Pahrump Valley 15, Chaparral 0
Virgin Valley 15, Desert Pines 7