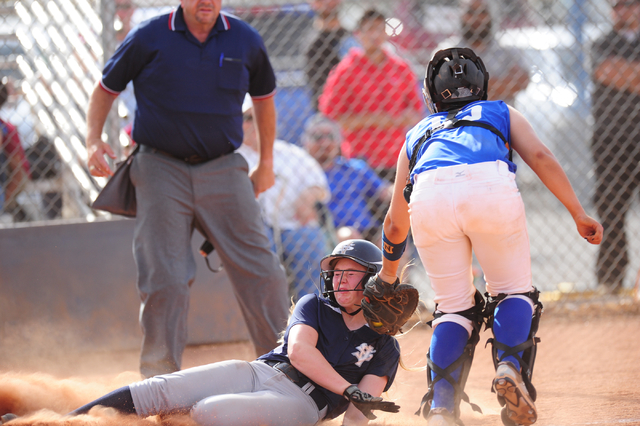 Spring Valley's softball team gathered near first base for a team photo minutes after defeating Sierra Vista and clinching the Division I-A Sunset League title Wednesday.
The way they played, it may not be the only time this month they'll be smiling and raising their index fingers in the air.
Michaela Hood tossed a one-hitter and went 3-for-4 with four RBIs as the Grizzlies secured the first league title in the program's history with a 6-1 win at Sierra Vista. Spring Valley (20-3, 13-1) will be the Sunset League's No. 1 seed for the Southern Region tournament, which starts Tuesday. The top two teams in the region tournament advance to the state tournament in Reno.
"It means so much to these kids," said Spring Valley coach Kelsey McCoy. "They are so excited. It shows how much they love to be around each other and love to work together. They've pushed each other. They love continuing to grow, and that's what so nice as a coach is to see your team not want to settle for what they have and wanting to get better."
Hood got all the support she needed early in the game.
Spring Valley, which beat the Mountain Lions 1-0 in the teams' first meeting, scored a run in the top of the first inning on an RBI single by Hood and tacked on four unearned runs in the top of the third to take a 5-0 lead.
Two Grizzlies reached on errors before Hood had a two-run double and scored on Stephanie Huff's single. Vivian Quiroz-Montano tripled home Huff to make it 5-0.
"It was so nice to be able to jump on top," McCoy said. "We just wanted to keep pushing each inning and try to get more. Our girls showed they were not going to give up. Today, we really worked on being aggressive and seeing the pitches we wanted to see and not just letting those go by."
Hood, who no-hit the Mountain Lions on April 12, had another no-hitter going through six innings.Opposing pitcher Kalei Watkins broke it up with a leadoff double over the head of Spring Valley left fielder Teegan Teal to start the bottom of the seventh. Watkins scored on a throwing error with two outs in the inning to ruin the shutout bid.
Hood finished with 11 strikeouts and one walk.
"She really did a great job of mixing up her pitches," McCoy said. "We really work on making sure they're not always on the plate. If it's not always in the same place, that's what we want instead of someone being able to read us."
Sierra Vista (20-5, 11-3) is the Sunset's No. 3 seed and will open the Southern Region tournament at Moapa Valley on Tuesday.
Box score:
Spring Valley 6, Sierra Vista 1