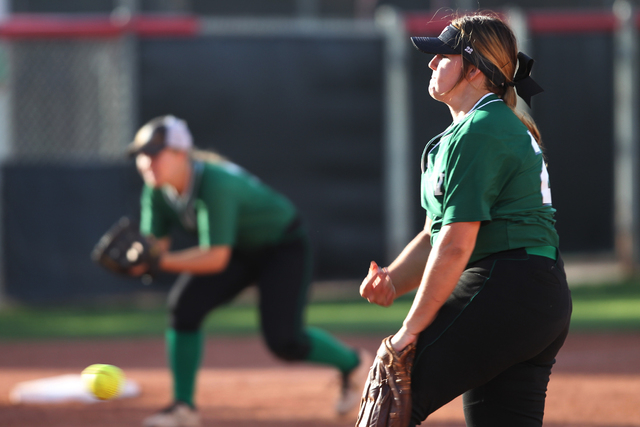 Makall Whetten's first three trips to the plate Thursday were anything but memorable.
But the Palo Verde freshman will not soon forget her last at-bat.
After swinging at two pitches outside the strike zone, Whetten hit a double into right-center field to score Lauren Oxford with the winning run with two outs in the bottom of the seventh inning and give the Panthers a 2-1 victory over Rancho in the Division I state tournament at UNLV's Eller Media Stadium.
"She talked to me before that at-bat and said 'I got you, Coach,' " Palo Verde coach Kelly Glass said. "She just wanted it more in that at-bat. It was just a different look in her eyes."
Palo Verde (32-8), the defending state champion, will play Reed (35-2) in the winners' bracket final at 5 p.m. today at UNLV.
The Panthers clung to a 1-0 lead until the Rams (27-10) scored on what could have been an inning-ending double play in the sixth inning.
With runners at first and second, McKinzi Vega's grounder to short resulted in a force-out, but the throw to first was in the dirt and umpires ruled first baseman Emily Guthrie didn't control the ball before Vega reached first base.
Kayla Coles kept running on the play and scored from second to tie the game.
Oxford, the hero in Saturday's Sunset Region final against Centennial, singled to left field to start the bottom of the seventh, but stayed at first as Rancho pitcher Samantha Pochop got a strikeout and a foul-out.
Whetten swung and missed at two curveballs outside the strike zone before connecting on a 2-and-2 pitch and driving it into right-center. As the ball rolled to the wall, Oxford easily scored.
"The thing with this group is you never know who is going to be the one to step up," Glass said. "It's a different person all the time."
Kelsea Sweeney did a marvelous job in the circle for Palo Verde, tossing a three-hitter and striking out 10 without a walk. Rancho's run was unearned after an error allowed Coles to reach second base.
Sweeney threw 85 of her 128 pitches for strikes.
"She did a great job," Glass said. "She worked through a lot out there today. There were some pitches that we thought she should have gotten that she didn't get, but she didn't let it get to her."
Cara Beatty's second-inning home run gave the Panthers the early lead, but Pochop settled down and gave the Rams a chance to come back. The Rancho sophomore allowed just six hits and three walks and struck out nine, a sharp contrast to the teams' first meeting in March when Palo Verde routed the Rams 10-0 in six innings.
"They just got better, and we got better," Glass said. "They got better since we played them."
Rancho faces Foothill (23-16) in an elimination game at 3 p.m. today at UNLV.
■ Reed 9, Foothill 1 — Julia Jensen pitched and hit the Raiders into the winners' bracket final.
Jensen, a sophomore and the Raiders' ace, tossed a four-hitter with 13 strikeouts and provided all the offense she needed when she blasted a three-run homer well beyond the center-field fence in the third inning, giving Reed a 5-0 lead.
Jensen allowed a leadoff single to Hannah Stevens to start the game, then retired the next 14 batters — nine of them on strikeouts — while her team built a cushion.
Alexis Gonzalez's second-inning sacrifice fly gave Reed the lead for good, and Jensen's homer followed an RBI single by batterymate Rheanna Smith.
Reed struck for two more runs on Allie Hughes' two-out double in the fifth inning and got a two-run homer from Jessica Sellers in the sixth.
Daryan Meade reached on an error to start the sixth inning for Foothill and eventually scored on another error.
Stevens was 2-for-3 for Foothill.
Contact reporter Bartt Davis at bdavis@reviewjournal.com or 702-387-5230.
Box scores: