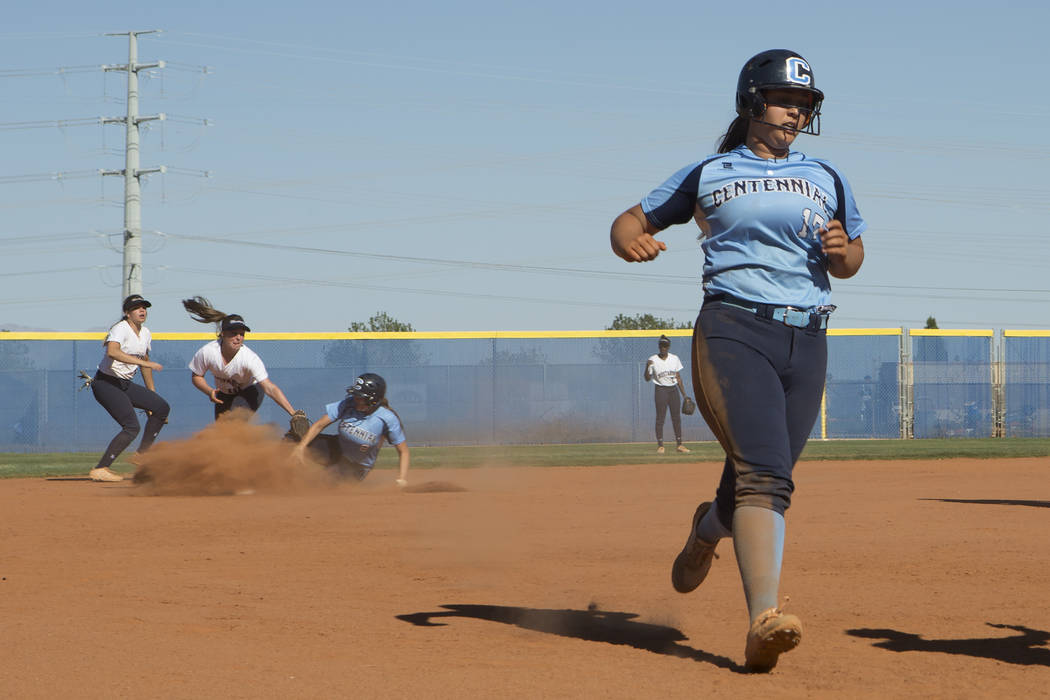 Shadow Ridge softball coach Julia Meyn spent most of her postgame talk Wednesday pointing out areas that her team needs to improve defensively.
Ironically, the Mustangs' defense played a pivotal role in their 6-2 Northwest League victory over visiting Centennial.
No. 3 Shadow Ridge made two key fielding plays and feasted on four errors to defeat the fourth-ranked Bulldogs for the second straight day.
"The whole conversation was (Thursday) we are working on defense," Meyn said. "Did we come up big in a couple spots? I would say we did. We had to."
Caitlyn Covington went 2-for-3 with a double and two RBIs, and Shea Clements was 2-for-3 and drove in a run for Shadow Ridge (17-6, 9-2 Northwest).
The Mustangs led 4-2 in the second inning when Skyler Ball's pop-up landed in shallow left field between two Shadow Ridge players, drawing the ire of Meyn and loading the bases with one out.
But Shadow Ridge starter Mia Voges snared Makenzie Ball's hard grounder ticketed for center field and threw home for the force, then retired Kiana Tate to end the threat.
In the third, Jillian Bartley reached on a one-out double, and Jaden Tate followed with a drive to right-center for Centennial (18-12, 8-5). But Clements made a spectacular shoestring catch and doubled up Bartley at second for the final out.
"I was honestly proud of myself, personally, that I got to it and also that my teammates were cheering me on and that someone was there at second base to make that out," Clements said. "It was an exciting catch for all of us."
Shadow Ridge reliever Shelbi Denman was the winner, allowing two hits in 3⅔ innings and striking out four.
Alisha Schultz had a run-scoring triple, and Covington added an RBI single as part of Shadow Ridge's four-run first inning.
"When you come with solid defense and bats, that's the only way you're going to win this," Meyn said. "And that goes for any team in our division."
Seanna Simpson went 1-for-3 with a run-scoring double, and Brianna Benoit was 1-for-2 with an RBI for the Bulldogs.
Contact David Schoen at dschoen@reviewjournal.com or 702-387-5203. Follow @DavidSchoenLVRJ on Twitter.
Box score: