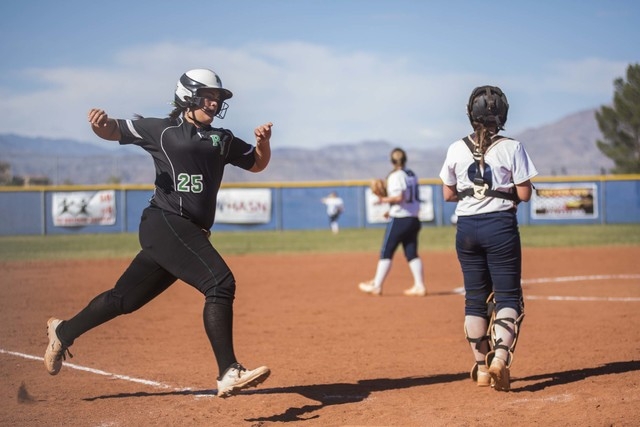 Palo Verde's softball team treated the ball like a hand grenade much of Friday afternoon, committing six errors as it frittered away an eight-run lead.
But just when the Panthers were about to hit the self-destruct button for the final time, it was the defense that saved the day for the defending state champions.
Third baseman Lauren Oxford made two key defensive plays in the bottom of the seventh inning to get Palo Verde out of a jam, and the top-ranked Panthers scored three times in the eighth to pull out a 13-10 victory at No. 2 Centennial.
"Offensively, I'm very happy," Palo Verde coach Kelly Glass said. "It's just defensively and pitching, they've got to get it together if they want another (state championship ring)."
The Panthers (22-8) led 10-7 entering the bottom of the seventh when an error and two walks loaded the bases with one out for Centennial (17-12). Kiana Tate's grounder skipped past second baseman Kali Tomlinson, allowing two runs to score, and when the throw home got away for the Panthers' third error of the inning, Jaden Tate scored to tie the game.
Angel Love drew a four-pitch walk to put runners at first and third for Centennial, but that's when the Panthers' defense tightened up. First, Oxford fielded a bunt by Lina Barrera and threw her out while holding Kiana Tate at third. Centennial then tried to bunt home the winning run again, but Oxford's throw to Allyson Snelling, who replaced Tomlinson, just beat Stephanie Day's head-first slide into first base.
"Lauren and Ally Snelling, they definitely stepped up. They were two kids that mentally wanted the ball, and luckily it happened," Glass said. "We bunt a lot, so my defense is ready for bunts, and it obviously helped us having that mentality."
In the top of the eighth, Cara Beatty singled home Oxford with the go-ahead run, and, two batters later, Dejanae Gage blasted a two-run homer to left-center field to give the Panthers a 13-10 lead.
Oxford went 4-for-4 with an RBI, and Gage went 3-for-5 with three RBIs as Palo Verde banged out 19 hits against two Bulldogs pitchers. Beatty and Kiley Harrison each had three hits for the Panthers, who scored six runs in the third on four hits and four Centennial errors to take a 9-1 lead.
"They have great plate presence right now," Glass said. "They smashed the ball. They're aggressive but selective at the same time."
Brianna Benoit went 3-for-5, while Love, Kara Simpson and Skyler Ball had two hits apiece for Centennial, which lost to the Panthers for the second time this season.
Contact reporter David Schoen at dschoen@reviewjournal.com or 702-387-5203. Follow him on Twitter: @DavidSchoenLVRJ.
Box score: