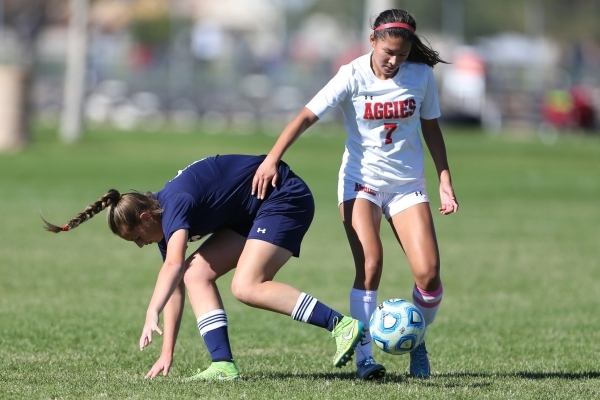 Arbor View's girls soccer team leveled a barrage of shots at Centennial goalkeeper Addison Riddle on Saturday.
And Aggies coach Jay Howard figured eventually, something had to give.
Howard was right, as Deja Erickson broke through in the game's 34th minute, and Arbor View tacked on three second-half goals to earn a 4-0 victory over the Bulldogs in the Sunset Region title game at Bettye Wilson Park. It was the fourth consecutive Sunset title for the Aggies.
"Centennial did a really nice job of how they were playing, and it was making it tough to find that space for us," Howard said. "But we had enough opportunities that we did feel like one was going to come."
Arbor View (19-1-1) controlled the possession throughout the game, and the Aggies had taken seven shots by the time Centennial (12-9) got its first one in the 23rd minute.
Still, the game was scoreless until Allyssa Larkin sent a long pass ahead to Erickson down the left sideline. Erickson controlled the ball, made a move on a defender and drove a left-footed shot to the far post for a 1-0 advantage.
Erickson got things going in the second half as well. She ripped a shot from outside the penalty area, and Riddle tipped it over the crossbar to set up a corner kick.
Bailee Davis took the corner, and Madison Boyd was able to control the ball and send a shot into the net for a 2-0 advantage in the 54th minute.
Two minutes later, Erickson drilled a shot off the crossbar, and Hannah Ferrara was there to head home the rebound to make it 3-0.
The Aggies tacked on a goal with about a minute to play. Riddle was able to stop Samantha Blanchard's penalty kick, but Blanchard quickly got to the ball and put home the rebound.
Arbor View outshot Centennial 25-10 for the game, and the Aggies had 16 shots in the second half.
"Part of that was the way Centennial was playing," Howard said. "That was their game plan, was to try to counter us. We recognized that, and some of our shots were a little rushed. We got a lot of opportunities. It's just about putting them in the back of the net."
Haylee Niemann made five saves to earn the shutout for the Aggies. Riddle was outstanding for Centennial despite giving up four goals. She made 12 saves.
Arbor View advances to the Division I state tournament next week in Reno, and sets its sights on a fourth consecutive title. The players seem to have that as a clear goal, as the celebration following the region title was rather subdued.
"We actually talked about it last night at our team dinner that we needed to celebrate and be happy if we had the opportunity to win region, because it's not easy to do," Howard said. "And these girls, it's really a new team. And I felt like they've had kind of unfair pressure on them because we've had so much success, but most of those girls are gone. I'm proud of the way they've handled everything this year."
Box score: