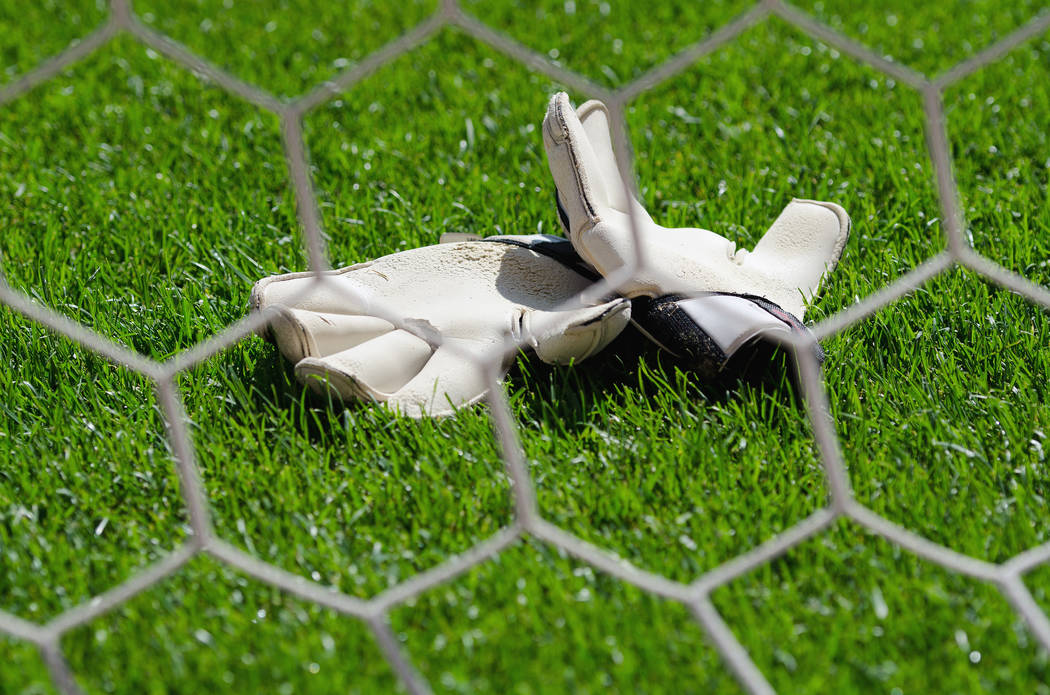 Dani Correa's second-half goal powered the Virgin Valley girls soccer team to a 2-1 road victory over Boulder City on Monday.
Rainee Brito also scored for Virgin Valley.
Madison Manns scored the goal for the Eagles on an assist by Trinity Oeland.
Palo Verde 2, Shadow Ridge 1 — At Palo Verde, Adrianna Serna and Taylor Crouch each scored one goal as the Panthers defeated the Mustangs.
Alyssa Belcher scored for the Mustangs.
Canyon Springs 1, Bonanza 1 — At Bonanza, Mallory Arnold had one goal for the Pioneers, but the game ended in a tie with the Bengals.
Ashley Vazquez had Bonanza's goal.
Keona Hirales made seven saves for Canyon Springs.
Sunrise Mountain 3, Moapa Valley 1 — At Sunrise Mountain, the Miners scored three goals in the second half and defeated the Pirates.
Alexandra Trinidad, America Zacarias, and Stephanie Plazola each scored a goal for Sunrise Mountain.
Italia Bracamontes scored for the Pirates.
Faith Lutheran 4, Las Vegas 0 — At Faith Lutheran, Maggie Shuirman scored two goals as the Crusaders rolled past the Wildcats.
Faith Lutheran's Madison Sonerholm and Amelia McManus each scored.
Goalkeeper Jordan Brown played the full 80 minutes and made two saves as she kept a clean sheet for the Crusaders.
Legacy 8, Desert Pines 2 — At Desert Pines, Gabriella Lancaster scored six goals to power the Longhorns past the Jaguars.
Sierra Kashin and Maria Escalante each added a goal for Legacy.
Nazly Ramos and Briza Cortez scored for Desert Pines.
Green Valley 6, Pahrump Valley 0 — At Green Valley, Jazlyn Camacho had three goals and two assists as the Gators rolled past the Trojans.
Karina Gonzalez and Taylor O'Neill each scored for the Gators, and Taylor Younaicutt had a goal and an assist.
Goalkeeper Nicolette De La Carrera made eight saves to get the shutout.
Centennial 7, Eldorado 0 — At Eldorado, Marcella Brooks had two goals and an assist, and Quincy Bonds had three assists as the Bulldogs routed the Sundevils.
Viviana Cera and Manon Dafonsecca each had a goal and an assist for the Bulldogs, and Jendra Garcia, Nora Nouhaili and Halle Roberts each had a goal.
Keyla Alba made four saves, and Amaya Pidsosny made three saves to combine on the shutout.
Cimarron-Memorial 8, Cheyenne 0 — At Cimarron, Ashlee Hackett scored three times to help the Spartans shut out the Desert Shields.
Katherine Caldwell added a two goals and an assist, and Alejandra Rojas had a goal and three assists for Cimarron. Haylee Nerio had a goal and an assist, Marissa Galvez scored once and Leanne Sawyer had two assists for the Spartans.
Galvez and Anay Garcia-Reyes combined on the shutout.
Bishop Gorman 9, Mojave 0 — At Mojave, Gianna Gourley scored three times as the Gaels rolled past the Rattlers.
Ashtyn Fink had two goals for Gorman, and Taylor Cox, Jaden Terrana, Marissa Garcia and Jenna Madrid each scored once.
Maris Findlay was in net for the shutout, making one save.
Arbor View 9, Rancho 0 — At Rancho, Keily Larosee had four goals as the Aggies blanked the Rams.
Preshus McCraney had two goals and two assists for Arbor View. Brynn Covington scored twice, and Madison Carter scored once for the Aggies.
Arbor View's Krystin Cooper had the shutout with one save.
Sky Pointe 6, Chaparral 1 — At Sky Pointe, Taylor Tortomasi's hat trick lifted the Eagles over the Cowboys.
Hannah Bunch-Driscoll had two goals for Sky Pointe, and teammate Faith Kanounji scored once.
Box scores:
Cimarron-Memorial 8, Cheyenne 0
Green Valley 6, Pahrump Valley 0
Sunrise Mountain 3, Moapa Valley 1
Virgin Valley 2, Boulder City 1