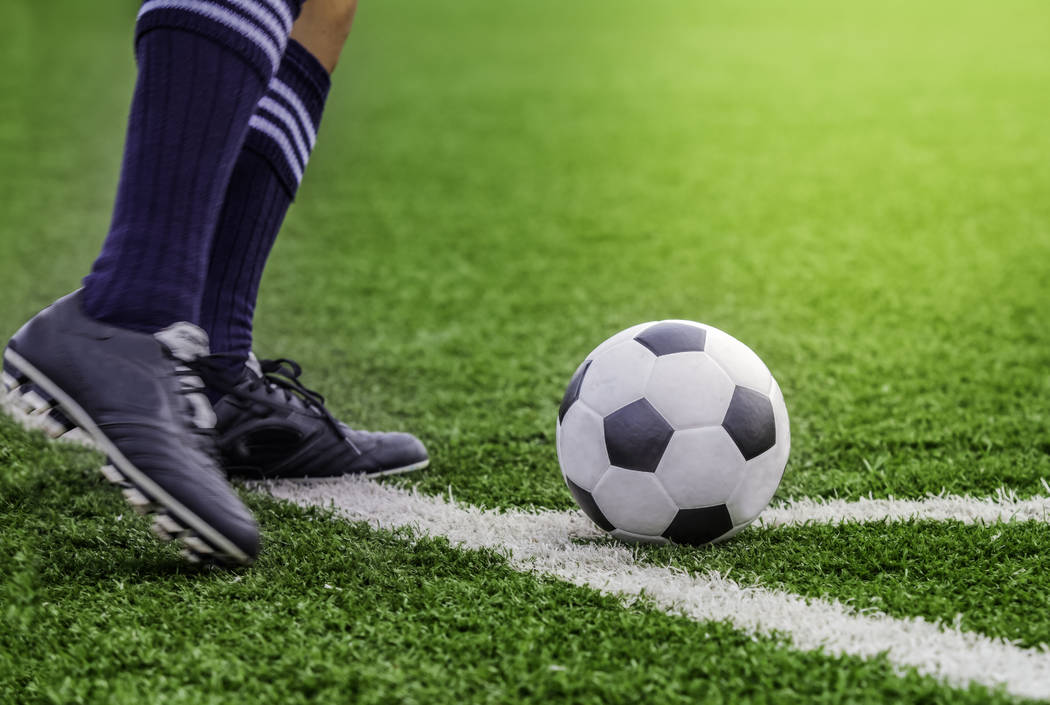 Olivia Packer is a talented soccer player who is committed to Pepperdine University.
But because she was on an ECNL club team that forbid its players from playing high school soccer, she was forced to watch her friends at Palo Verde the past three years.
This year, the ban was lifted, and Packer is making her presence felt.
The senior forward scored all four goals Thursday night at Bishop Gorman, leading the Panthers to a come-from-behind 4-3 victory.
"We were down 3-1 but we knew we could do it and pushed ourselves and we pushed them to the last minute," said Packer, who now has 10 goals in Palo Verde's first four games. "It was amazing, the crowd was amazing, it helped everyone step up. We just want to work hard, show what we got, and win."
With the game tied and less than three minutes left, Packer took a defensive rebound and delivered the impressive game-winning goal through traffic from 10 yards out. Her shot went just inside the left post, past Bishop Gorman goalkeeper Kirsten Kircher.
"Last time we played here, we had a tough-fought loss here, that was two years ago," Palo Verde coach Frank Messina said. "For them to come out in terms of how we ended the season last year, and actually come out on top of these guys, it's huge. It's good motivation for my girls going into division (play), knowing that we have again one of the toughest divisions."
Bishop Gorman (6-2-2) supplanted five-time defending state champion Arbor View as the No. 1 team in this week's Southern Nevada Girls Soccer Coaches Poll. Palo Verde (4-0) — which lost to Arbor View in last year's state championship — is ranked No. 3.
"To know that we can competitively hang and win this early in the season against our rival opponents on the other side of town is huge," Messina said. "Every year is a new year, and you got players who graduated. I lost some very key players on the field. Between two players last year, we (lost) 96 percent of our goals. That also is something we're trying to work on, is spreading the wealth to more of the team."
On Thursday, Packer was wealthy enough for everyone.
She scored the game's first goal after taking a pass from Reighna Werner down the left side and found a great angle past Gaels goalie Hannah Lee.
Gorman took a 2-1 lead into halftime after Caitlyn Rueca took a rebound and blasted a shot past Palo Verde's Sarah Saxe, and Gianna Gourley followed with a 12-yard blast off Saxe's hands. The Gaels took a 3-1 lead early in the second half, when Jaden Terrana punched in a wide-open shot from five yards.
After Packer tied the game with 15 minutes left, Bishop Gorman had a couple of chances to score, but Jacqueline Hillegass' shot with 11 minutes left and Rueca's attempt with eight minutes remaining both went wide. It was the Panthers' deliberate physicality that took the Gaels out of their rhythm.
"It's not a non-physical sport," Messina said. "I tell them never play dirty. We're not that team, we've never been that team, in terms of not taking shots at people. But I'm clearly going to tell them to play physical, shoulder-to-shoulder and not get knocked off the ball.
"I tell them to play soccer to the point where it's the true game of soccer. We're still fueled from the end of last season."
Said Packer: "We just want to win. We want that state title. What they did last year motivated everyone. We want that state ring so bad that we're willing to work so hard for it."
Box score: