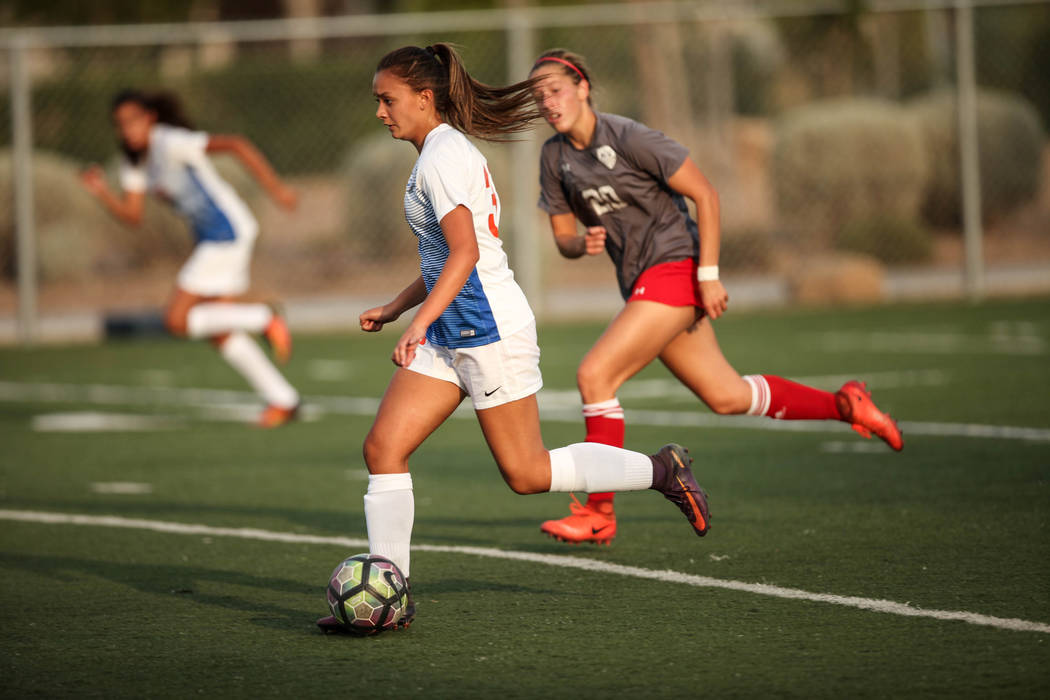 Bishop Gorman's girls soccer team may have been too talented for its own good last year.
With three big-time scorers, the Gaels ran roughshod through the Southwest League, only to fall short in double overtime in the Sunset Region semifinals against a battle-tested Palo Verde out of the stacked Northwest.
Coach Doug Borgel knew he needed his team to play the best of the best early on this season before division play begins Sept. 5. And that included a home date with five-time defending state champion Arbor View on Thursday.
Freshman Jacque Hillegas had a goal and an assist, and a stalwart defense limited the Aggies' shots, as the Gaels knocked off Arbor View, 4-3.
Hillegas' corner kick caromed off Arbor View's Neally Peters' head for the game-winning goal with 15:30 left in the game.
"We're so different this year, so to have somebody like that step up in a game like this is huge," Borgel said. "I don't think she knows the importance of it and that helped her a little bit. But we're such a different team from last year … this year we're a lot more balanced and we have a lot more ways to hurt you. Tonight, it was Jacque's turn."
Hillegas added: "They've been No. 1 in the state in past five years, so this feels pretty good."
After Arbor View's Deja Erickson took a pass from Sierra Vicente to open the scoring less than three minutes into the game, the Gaels answered four minutes later when Hillegas fed Gianna Gurley to tie the game.
Arbor View's Allyssa Larkin put the Aggies back on top when she maneuvered through Gorman's defense and got one past goalie Hannah Lee. But with 16 minutes left in the first half, Hillegas fired a 20-yard blast into the upper right corner to knot the game once again.
In the second half, it was Gorman (5-1-2) striking first, as Jaden Terrana reacted quickly after Taylor Cox's shot missed to put home the rebound. The Aggies tied the game when Vicente broke free all alone, and grooved a shot past Kirsten Kircher just inside the left post.
"It was kind of easier for me because I know how they play," said Gorman senior defender Jasmine Anaya, who plays club soccer with three of Arbor View's top scorers. "This was an important win because it sends a message to the other teams that even without the players we lost, we're still a good team."
The Aggies 1-3 start is their worst since 2012, when they also lost three of their first four games, but ended their season by winning the first of their five straight state championships.
"I still think (Arbor View is) top five for sure, so for us it's a great week," Borgel said. "We played Coronado, played Faith, played Arbor View here — and to win all three games and this one be the last for us is a good result. This is a good one to put behind us, toward the future, toward playoffs, just to build a little confidence. And something now in the back of our kids' minds knowing that they can play with these girls and actually beat them is big for us."
Box score: