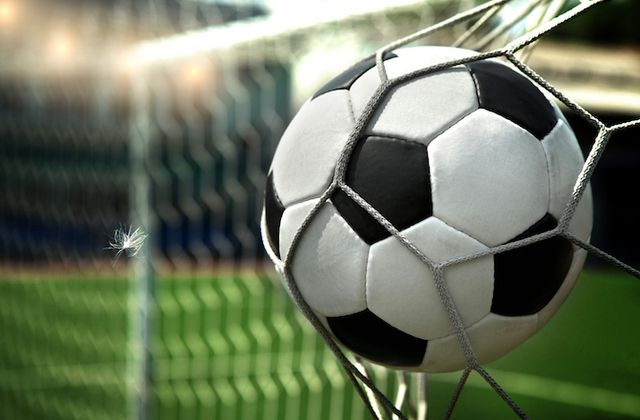 In each of the past two seasons, Coronado's girls soccer team has known which of its players would get the ball in a game's pivotal moments. Having the last two Gatorade Nevada Player of the Year award winners more or less dictates that.
This season, though, several players have alternated in the spotlight.
It was Leili Rosenberg's turn on Saturday, as the sophomore headed in a cross from Olivia Meza with three minutes remaining to lift the Cougars to a 2-1 win over a depleted Palo Verde squad in the championship game of the Las Vegas Kick-Off at Faith Lutheran.
"We know if we put the ball in the box, great things can happen," Coronado coach Dana Neel said. "Sometimes — well today, we were shooting (far) because it was hot and we were tired. But once they got it through that they needed to play their own game, things happened for us.
Coronado (8-1-1), which won its second consecutive Las Vegas Kick-Off, handed the Panthers (6-1) their first loss of the season. Palo Verde was without seniors Macee Barlow, Avery Jacobsen, Alexis Lloyd and Jadyn Nogues, who were playing club soccer in Arizona, according to coach Frank Messina.
The Cougars still didn't take the match lightly. After Meza was fouled outside of the box early in the game, teammate Jensen Boman stepped up and drove in a 20-yard free kick from the center of the field to make it 1-0 in the fifth minute.
"It was huge," Neel said of building an early lead. "We know we're playing a good team and whether they had certain players or not, it's always going to be a close game. It definitely was huge in our momentum."
Palo Verde wouldn't go away and answered in the 24th minute, when Madison Hernandez sent a cross from the left corner to a charging Gia Barone in the box. Barone sent the ball to the back of the net to tie it at 1.
The Panthers also almost converted two 20-yard free kicks in the opening half, but Coronado goalkeeper Rachel Morris made two of her four saves to keep the score tied at the break.
"She's been having a great season," Neel said of Morris. "She's full of confidence this year, which she's been building year after year. … Our defense also has been strong in shutting everybody down."
The match appeared to be headed to overtime until the Cougars converted their fifth and final shot attempt of the second half. With Rosenberg's goal, Coronado now has four girls who have scored five or more goals this season, and that's something Neel believes makes it hard for opponents to defend.
"(The depth) is great," Neel said. "We have a deep bench this year, too, so it keeps us fresh and allows us to experiment with a lot of things. It's unique this year because of it."
Centennial 2, Green Valley 1 — At Green Valley, Marcella Brooks scored a pair of second-half goals to lift the Bulldogs over the Gators in third-place game at the Las Vegas Kick-Off.
McKenna Stratton assisted on both goals for Centennial. The Bulldogs led 2-0 before Alexis Kirson scored for Green Valley.
Cimarron-Memorial 3, Faith Lutheran 2 — At Faith Lutheran, Annalise Esparza scored twice as the Spartans edged the Crusaders in the Las Vegas Kick-Off.
Irely Garcia added a goal for Cimarron, which led 1-0 at the half.
Madison Sonerholm had a goal and an assist for Faith Lutheran. Maggie Shuirman also scored for the Crusaders.
Shadow Ridge 3, Western 0 — At Green Valley, Camryn Grant had a goal and an assist to lead the Mustangs over the Warriors in the Las Vegas Kick-Off.
Kaitlyn Banks and Taylor Lee also scored for Shadow Ridge. Makensie Turner made three saves to get the shutout.
Legacy 4, Liberty 0 — At Green Valley, Emma Singleton scored three goals as the Longhorns defeated the Patriots in the Las Vegas Kick-Off.
Isabella Skrinjaric added a goal for Legacy, which led 1-0 at the half.
Box score: