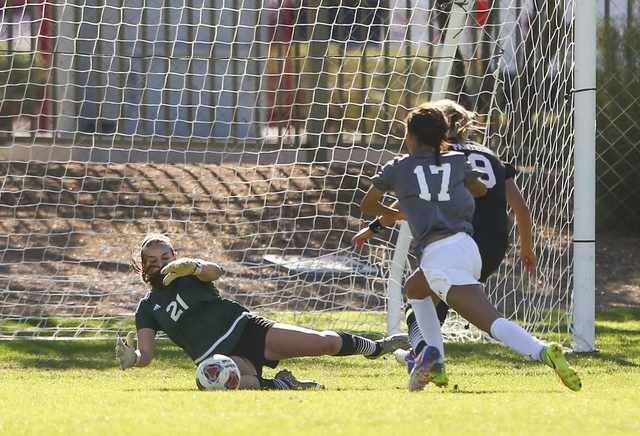 Palo Verde's Jadyn Nogues figured her go-ahead goal in the 67th minute Saturday afternoon would hold up for the final margin in the Class 4A Sunset Region girls soccer final at Bettye Wilson Park.
The senior midfielder, who has committed to Arizona State, was completely wrong.
It took a second goal — in overtime — to knock off the four-time defending state and region champions.
Nogues headed in an Avery Jacobsen free kick just two minutes into overtime to give the Panthers a 3-2 win over previously unbeaten Arbor View in a back-and-forth game seen by hundreds of fans.
"It was a little bit more dramatic this way," Nogues said, laughing.
Palo Verde (17-2-4), which secured its first region title since the 2006-07 season, will meet Reno or Foothill in a state semifinal at 6 p.m. Friday at Bettye Wilson Park. Arbor View (17-1-2) will play Foothill (12-3-3) in a state play-in game at 6 p.m. Tuesday at Faith Lutheran.
It took two set-piece goals with Nogues and Jacobsen, and a penalty kick by teammate Macee Barlow, to hand Arbor View its first loss to an in-state opponent in more than a year.
The Aggies had compiled a 33-0-1 record against in-state competition after their 3-2 loss to Coronado in the Las Vegas Kick-Off on Sept. 12, 2015.
"These girls have done something that hasn't been done in (five years)," Palo Verde coach Frank Messina said. "I knew they could do it. I just kept telling them, 'The team on the other side — no doubt about it, they're the four-time defending state champions — but those were teams of the past. I think you're the better team and you need to get back out there and finish this game.'"
For the second game in a row, Jacobsen delivered the ball that led to the game-winning goal. She lofted a 20-yard free kick to the back post, and the 6-foot-1-inch Nogues headed the ball past several defenders to the upper left corner.
Already knocked over, Nogues was then mobbed by teammates and fans on the Southwest side of the complex.
"I ended up on the far post and I just fell to the ground and started crying," Nogues said. "It was the best feeling ever. It was a perfect chip. I couldn't have asked for a better ball."
Said Messina: "Perfect ball. Her lofted balls, day-in and day-out, have been the ones that have gotten it done. She did it against (Desert Oasis) a couple of years ago. Any time she steps up to deliver, I know it's at least going to be on frame and give us a shot."
Jacobsen also had the go-ahead assist to Nogues on an identical play in the 67th minute to put Palo Verde up 2-1 before Arbor View's Hannah Ferrara tied the game in the 73rd minute.
"We didn't want to see (Arbor View) walking away with another region title," said Jacobsen, who has committed to Western Kentucky. "We wanted to take that away from them. I am just so unbelievably proud of our team. We put in so much work this season and we wanted it so bad. We came out a little slow in the first half. I think it was nerves, but we came back and fought. We deserved that win."
Arbor View came out as the aggressor in the first half and took a 1-0 lead in the 11th minute on a goal by Sierra Vicente.
The score remained at halftime, prompting Messina to get on his girls for not having the same energy and intensity they had two days before in their semfinal win over Bishop Gorman.
The Panthers didn't take a shot in the opening half and had to rely on their defense and three saves by goalkeeper Kailee Barnhard to keep the game within striking distance.
Palo Verde answered the call in the second half and got the equalizer from Barlow in the 56th minute.
Haylee Niemann made five saves for the Aggies, who had three players go down in the contest with various injuries.
"That was a really good game, really high level," Arbor View coach Jay Howard said. "I don't know if I've had that many girls go down, but they kept fighting and kept their heads up. So I'm really proud of them and what we did."
Contact reporter Ashton Ferguson at aferguson@reviewjournal.com or 702-383-0430. Follow @af_ferguson on Twitter.
Box score: