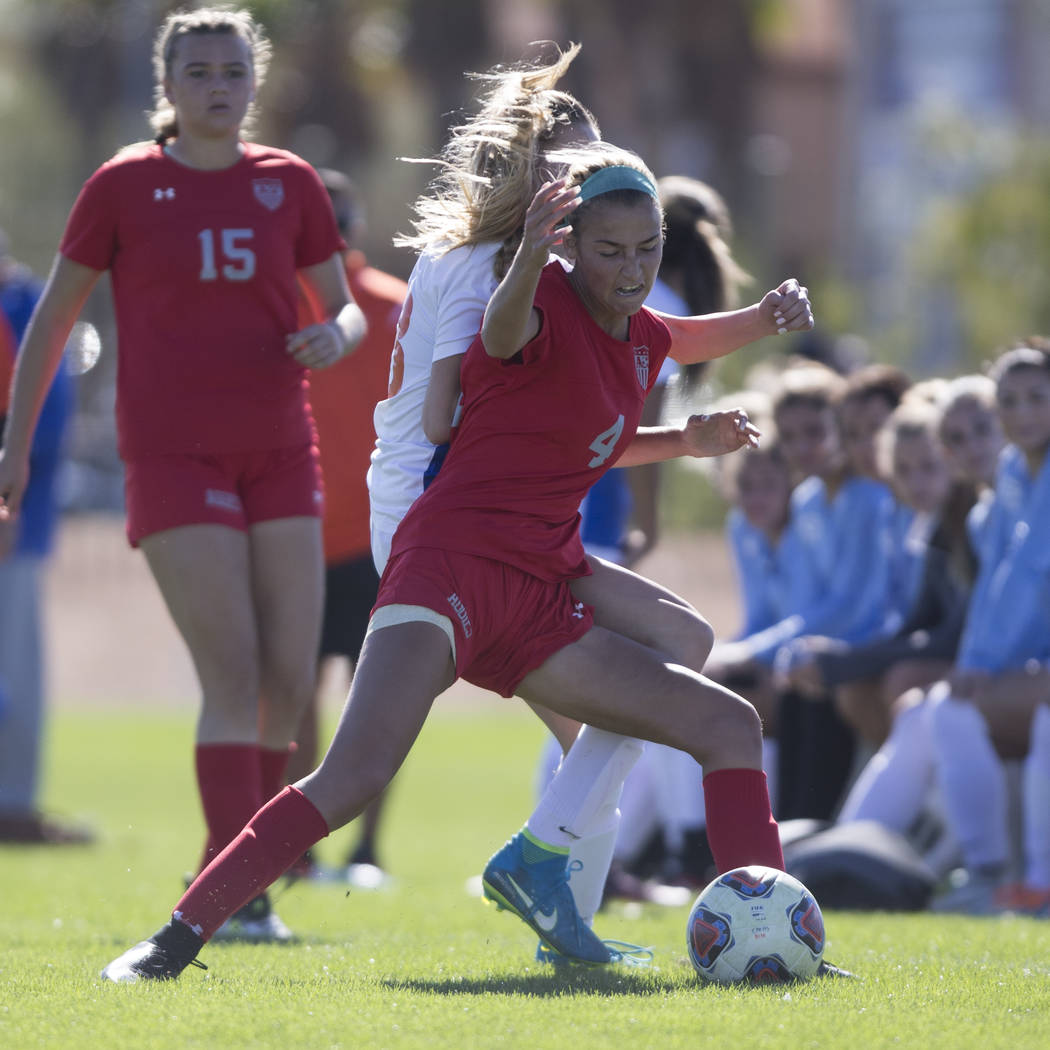 For the first time since 2011, Nevada will have a Class 4A state girls soccer champion that is not Arbor View.
Bishop Gorman answered each of the Aggies' goals with one of their own in the Sunset Region title game Saturday at Bettye Wilson Park, and once they had the lead keeper Hannah Lee would not let it go as the Gaels held on to win, 2-1.
It is Gorman's first region championship since 2011-12 when soccer was a winter sport in Southern Nevada.
"I think we rallied and didn't give up and that was the way to go," Lee said. "I just really wanted to work for my team because I wanted to make sure that we could go to state this year."
Last year Arbor lost the region title game, then responded by winning the state play-in game and eventually going all the way. With the Northern Region hosting this year's state tournament, no play-in game exists, and the Aggies will be unable to defend their five-year state winning streak.
The Aggies can thank Lee for that.
The senior keeper was everywhere for the Gaels (21-2-2) on Saturday, making nine saves, including five in the second half once the Gaels took the lead. On one she made a hockey-style kick save and on another, leaped and batted away harmlessly a ball destined for the top of the net.
"I'm a little short for a goalkeeper," Lee said with a chuckle. "But I do make up for it with my high jumps, so I was really proud of myself for that one."
The Aggies (15-5) opened the scoring courtesy of Sierra Vicente in the third minute, and the squads alternated goals afterward to bring the game tied at 2-2 to the half. In the 45th minute, Gorman's Taylor Cox collected a pass from Caitlyn Rueca and sent in the eventual game-winner.
Though the way was going, it didn't seem like the winning goal at the time.
"I honestly thought it was going to get up to fives or sixes," Cox said. "I was really hyped and more excited to know that was the game-winner."
Arbor View has been a tormentor of sorts for the Gaels lately, bumping them from the playoffs three times in the last five years prior to Saturday. But it is the Gaels will be moving on to play Galena at noon Friday in Reno.
"They were as good today as they'ver ever been," Gaels coach Doug Borgel said. "We were just a little better."
Contact Justin Emerson at jemerson@reviewjournal.com or (702) 387-2944. Follow @J15Emerson on Twitter.
Box score: