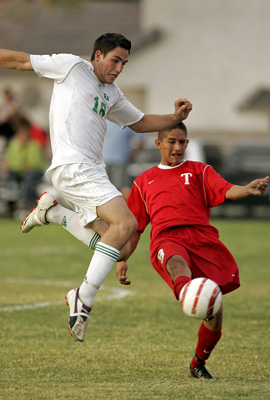 Green Valley's players walked off their soccer field Wednesday still trying to figure out how they didn't score.
The Gators threw almost everything they had at Tech in a battle for first place in the Southeast League.
The answer was threefold: a stingy crossbar, an unkind left post, and most importantly, the fantastic play of Tech goalkeeper Edgar Velasquez.
The Roadrunners' senior made eight saves, including three in the first 10 minutes of each half, to help Tech earn a 0-0 tie. Both teams are 3-0-1 in league play.
"We were unlucky, and their goalkeeper played well," said Green Valley coach Roy Snyder, whose team scored 16 goals in its first five matches. "Sometimes that happens. You hit the post every once in a while. Next time we'll put those in."
Green Valley had three fantastic scoring chances in the first half.
Velasquez dived to his left to deny Alex Chun in the fourth minute of the match.
Near the midway point of the half, Mitchell Anderson's 15-yard shot from the left side hit the crossbar solidly and ricocheted away.
With 10 minutes remaining in the half, Tim Shue's shot from 10 yards out on the right scraped the inside of the left post and bounced out.
Velasquez made three saves in the first half, along with the help from the posts.
"Our keeper is our field leader out there," said Tech coach Josh Jones. "We have some good seniors who are keeping us together, and our keeper is one of them."
Green Valley dominated most of the play, registering 18 shots and taking Tech out of any potential offensive flow. The Roadrunners were basically limited to counterpunching.
"We did what we wanted to do," Snyder said. "We showed we're a good team. I told our kids before the game that if we won balls in the air, they didn't have anything that would hurt us. They couldn't get passes around us. They couldn't switch the field."
Green Valley goalkeeper Andrew Hendrickson made four saves, though two of those were on shots from 40 yards or more away.
"It wasn't our best effort," Jones said. "We didn't play our style of soccer, but I'm happy with a tie. A tie on the road is almost like a win. They have to come back and play us."