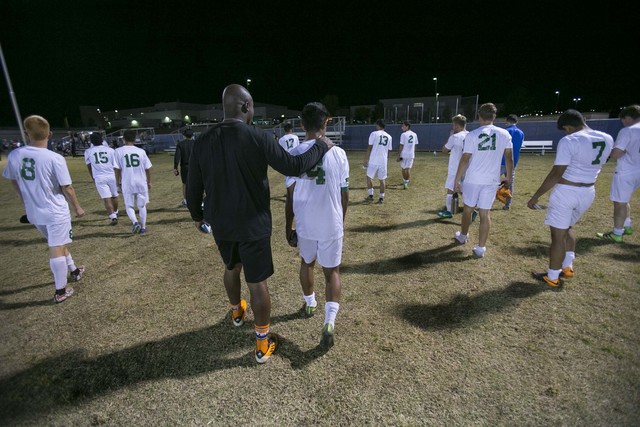 Foothill's boys soccer team beat Green Valley by two goals earlier this season, so naturally, Falcons coaches players joked this week that Thursday's rematch would yield a similar, two-goal result.
They were right.
Foothill (7-4-2) overcame an early 1-0 deficit to earn a 3-1 victory over the home-standing Gators (7-9-4) on Thursday night.
The Falcons scored three second-half goals, and Stanley Henderson scored what turned out to be the game-winner with about 12 minutes left in regulation.
Green Valley players sat on the turf for a long lecture from their coaching staff while Foothill players were giddy in celebration at the other side of the field.
"We're always a second-half team," Falcons coach Andrew Risheg said. "They said it when they came in at halftime. They said 'Coach, we're not going to let this stand."
And they didn't.
Green Valley's Elyjah DeLeon gave the Gators a 1-0 lead midway through the first half with a looper from the right corner 35 yards away from the net.
Risheg said his players weren't pleased about the quality of the goal, and they set the tone in the second half with physical, aggressive play.
Falcons winger Isaac Olsen tied the game with a similar goal 12 minutes into the second half to set the stage for a testy, chippy final 30 minutes.
Referees had to stop play several times to reconvene order among the players, and Foothill's Cole Aronson was assessed a red card.
The Falcons played most of the second half down a man after Aronson's ejection, and Henderson finally broke through late in the half with a steal, a couple nice dekes and a rocket into the top right corner.
"Goal, goal all the way," Henderson said about his steal. "There was a lot of emotion out there, for sure. Everyone left it on the field."
Green Valley had three late cracks at an equalizer after a free kick, but Foothill's defense held strong. Reagan Mugume added the Falcons' final goal as time expired.
Gators coach Jacob Rivera said his team made a few too many mental mistakes to come away with a victory.
"At the end of the day, physically we match up pretty well with them," Rivera said. "We shouldn't allow external factors to dictate the we do."
Risheg, meanwhile, was pleased with his team's effort, and the Falcons are still in the mix for the Southeast League title, just three points behind first-place Coronado.
"We're all fighting for that first, second, third spot," he said. "We had to win this game. We couldn't tie. We just have to take it from there."
Box Score: