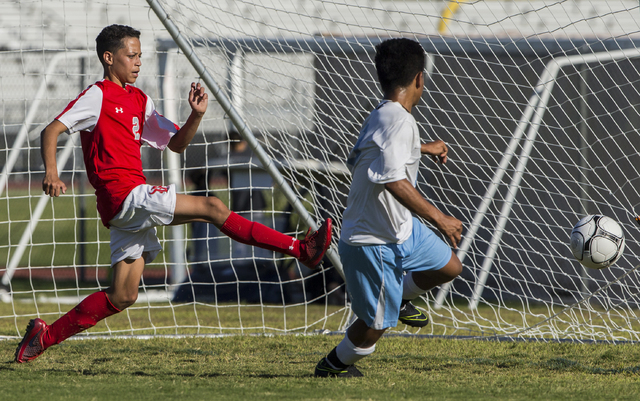 After a freshman year in which he led Canyon Springs in goals, sophomore Eduardo Quintero-Rodriguez spent the offseason and beginning of the 2016 season working primarily on one thing: he wanted to score with his off foot. So it was gratifying for the right-footed kicker to see his work pay off Tuesday.
In the 32nd minute, Quintero-Rodriguez flashed some fancy footwork in front of the net before scoring with his left foot, one of two goals he scored in the Pioneers' 4-1 home win over Arbor View.
"I've been training on everything that I have to improve on, so seeing it come out in a game like that feels pretty good," Quintero-Rodriguez said.
Canyon Springs (2-0) started quickly, capitalizing on a penalty kick in the 11th minute when Edgar Donate was taken down in front of the goal and converted the PK. Donate assisted on the next goal when he cleared the ball down the field to set up Manuel Arellano-Arias and put the Pioneers up 2-0.
Arbor View (3-1-2), ranked seventh in the Southern Nevada Soccer Coaches Poll, got on the board midway through the first half on a goal from Zach Breaz, assisted by the team's leading point-producer, Nicklaus Dongmann. But any hopes of a comeback were dashed when Heston Helquist took a red card in the 28th minute, making the Aggies play with 10 players the rest of the way.
"It didn't help," Arbor View coach Robert Starbird said. "I think we would have been better off playing full strength but that's the nature of the game and the way it goes."
Quintero-Rodriguez scored his lefty goal three minutes later to put Canyon Springs up 3-1, and his goal in the 55th minute put the game out of reach.
"We didn't come to play and they did," Starbird said. "They wanted to win more than we did."
Canyon Springs coach Dan Myers said the Pioneers' first game, a 2-0 win over Sierra Vista last Thursday, was not as sharp as he would like, and he was much happier with Tuesday's result.
"Last time we played we controlled the possession but we couldn't finish," Myers said. "Today I thought we controlled the ball much better, we made much better passes and we finished today. And that's the big difference. We finished."
Justin Emerson can be reached at jemerson@reviewjournal.com. Follow on Twitter: @J15Emerson
Box score:
Canyon Springs 4, Arbor View 1