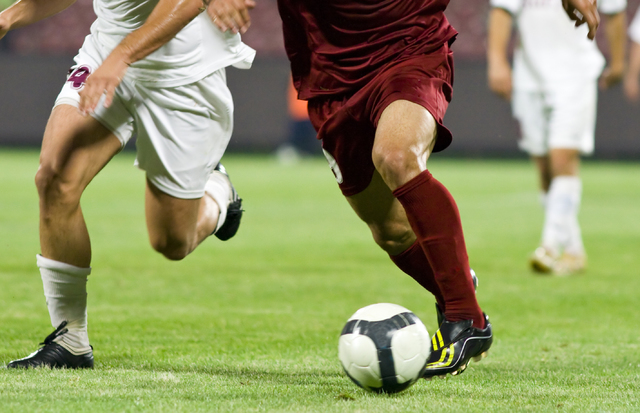 Jack Guynn and Chase Castro both recorded a goal and an assist for Shadow Ridge's boys soccer team on Wednesday, as the visiting Mustangs took down Faith Lutheran, 3-1.
Jordan Tschogl also scored for Shadow Ridge, which got an assist from Edoardo Turrini.
Zac Abdo scored on an assist from Carson Merrill in the first half for Faith Lutheran.
Cimarron-Memorial 5, Arbor View 3 — At Arbor View, Arturo Bahena scored twice as the Spartans topped the Aggies.
Dresdan Quackenbush, Jimi Villasenor and Kevin Andrade also supplied goals, and Edgar Carrillo-Nunez and Miguel Rubio each had two assists for the Spartans.
For Arbor View, Nicklaus Dongmann had two goals, and Ethan Boone had a goal and an assist.
Pierce Fincher and Christian Limon each had an assist for the Aggies.
Canyon Springs 4, Eldorado 2 — At Canyon Springs, Jesus Gonzalez had a goal and an assist to lead the Pioneers over the Sundevils.
Edgar Donate, Luis Azpeitia and Debit Gomez each added a goal for Canyon Springs, which led 3-0 before allowing two late goals.
Mario Rocha scored twice for Eldorado.
Palo Verde 2, Centennial 1 — At Centennial, Presten Manthey had a goal and an assist in the Panthers' win over the Bulldogs.
Henry Robledo-Matadamas also scored for Palo Verde.
Adrian Martinez scored Centennial's goal, unassisted.
Mojave 2, Pahrump Valley 1 — At Pahrump, Olsen Bonilla and Jesus Ubario scored for the Rattlers to carry them past the Trojans.
Jose Pelayo scored for Pahrump, assisted by Pablo Resendiz-Murillo.
Las Vegas 4, Valley 0 — At Las Vegas, Mario Diaz scored twice as the Wildcats blanked the Vikings.
Chris Sosa made two saves to record the shutout. Naithan Gomez and Rigo Carrasco had the Wildcats' other goals.
Oscar Canales, Agustin Hernandez, Roberto Sotomayor and Alejandro Graciano recorded assists.
Western 4, Cheyenne 0 — At Cheyenne, Juan Estrada scored twice to lead the Warriors past the Desert Shields.
Leonel Acosta-Treviso and David Ginsburg also scored for Western. Juan Arredondo-Alvarez had an assist.
Sunrise Mountain 6, Desert Pines 0 — At Sunrise Mountain, Jose Arreola had two goals and an assist, and teammate Edwin Hernandez scored twice as the Miners routed the Jaguars.
Ivan Enciso supplied a goal and two assists for Sunrise Mountain, which got a shutout with five saves from goalkeeper Anthony Acedo.
Luis Alvaro also scored, and Musio Jimenez-Vazquez and Luis Luna each added an assist for the Miners.
Box scores:
Shadow Ridge 3, Faith Lutheran 1
Cimarron-Memorial 5, Arbor View 3
Sunrise Mountain 6, Desert Pines 0