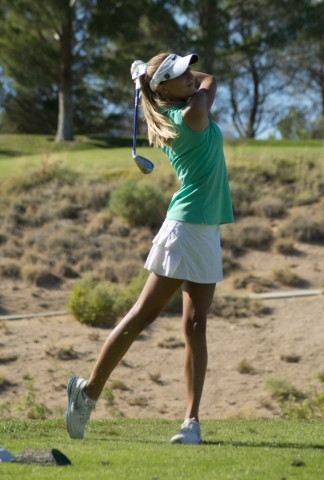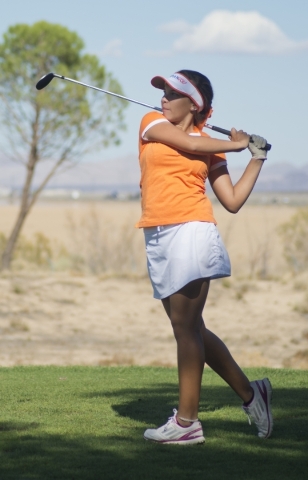 NIPTON, Calif. — Joe Sawaia is a self-professed leaderboard watcher, and the Coronado girls golf coach likes to inform his players of the team scores when he thinks they need a boost.
Midway through the final round of the Division I state tournament, Sawaia decided the Cougars needed an update.
"I let them all know, 'Hey, this thing is getting close. You're going to have to really play your best golf coming in, and every shot counts,' " Sawaia said. "And they really responded to that."
Coronado had three of the top seven finishers Thursday and held off Bishop Gorman to capture its second consecutive state title.
The Cougars shot 26-over-par 310 on the Lakes Course at Primm Valley Golf Club and finished with a two-round total of 623 to defeat Gorman by 14 shots.
Palo Verde took third, led by medalist Annick Haczkiewicz, who fired a 2-under 69 in the final round and won by four shots over Gorman's Hunter Pate.
"Our hats are off to Gorman," Sawaia said. "They put the pressure on right in the middle of the round. I believe it was down to four strokes at one point. We were going in the wrong direction and they were playing great.
"The girls just kind of hung in there and played a little bit better holes eight through 14, and that gave us a little bit of a lead to kind of keep a cushion coming in."
Coronado's Victoria Estrada nearly chipped in for birdie on No. 16 and closed with a 72 to finish fourth at 7-over 149. Sami Penor was sixth at 11 over following a final-round 78, and Ashley Lung shot 76 to take seventh place for the Cougars at 156.
Haczkiewicz was one of two players in red numbers during the final round — McQueen's Alice Duan shot 70 in the final round and finished third — as the players faced several tough pin placements. Haczkiewicz could have been even lower had she not missed two short birdie putts on the back nine.
Haczkiewicz held a three-shot lead over Pate through 13 holes and closed the door when she chipped in for birdie on the par-4 14th hole. Haczkiewicz was all set to putt from just off the edge of the green but changed her mind at the last second and switched to her 60-degree lob wedge.
"Every time that I do putt off the fringe, I'm not consistent with those putts at all," Haczkiewicz said. "I really love chipping. So I was like, 'Hey, why don't I just try to chip it.' I guess I had the good speed and it went in."
Haczkiewicz, who almost holed her chip for birdie on No. 12, finished at 1-over 143.
"I really wanted to focus on my shots and not make any mental mistakes," Haczkiewicz said. "My putting was a little bit shaky towards the end, but overall, I think I had my 'A' game today and I played much better than (Wednesday)."
Pate birdied both of the par 3s on the front side to offset bogeys on Nos. 2 and 3, but she was unable to make a charge on the back nine and saw short birdie putts lip out on Nos. 15 and 18.
Pate shot even-par 71 to lead the Gaels, who posted 314 in the final round and had a two-day total of 637. Danielle Oberlander shot a final-round 72 to finished tied for eighth at 158, and Rose Baral tied for 10th at 159 after a 79 for Gorman.
Contact reporter David Schoen at dschoen@reviewjournal.com or 702-387-5203. Follow him on Twitter: @DavidSchoenLVRJ.