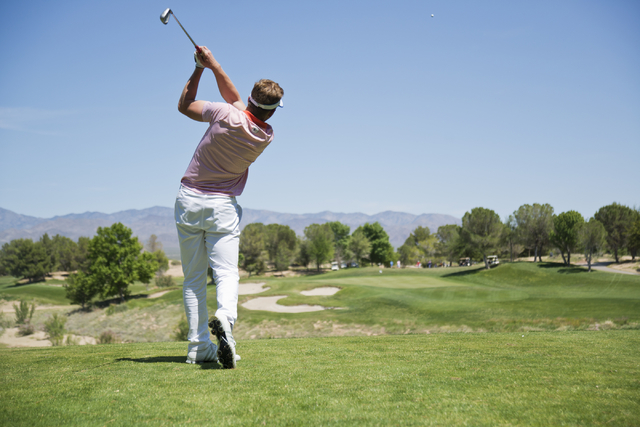 NIPTON, Calif. — Cameron Meeks took his driver out and was set to attack the par-4 13th hole at Primm Valley Golf Club's Lakes Course when he changed his mind.
Coming off a bogey and still nursing a two-shot lead at the time, the Palo Verde junior decided it was time to play it safe.
"Driver probably would have brought a lot of the bad stuff into play," Meeks said. "Plus, I saw that the guys in my group were all hitting 3-wood, and I thought driver really wasn't worth it there."
Meeks' steady play late in the round helped him hold off Panthers teammates Jack Trent and Jun Oshimoto for medalist honors, and Palo Verde ran away with the team title at the Division I Sunset Region boys golf tournament on Wednesday.
Meeks, the leader after the opening round, finished with six straight pars and shot 1-over-par 73 for a two-round total of 2-under 141.
"I did my job just to keep the ball in position and really, I was trying to make those birdies, but they just didn't fall," Meeks said. "I wouldn't say I was playing conservative, but I was putting the ball where I wanted. I had a game plan for today and I just went out there and executed."
Palo Verde shot 9-over 364 on Tuesday to claim its second team title in the past three seasons, as all six of its players shot in the 70s. The Panthers posted a total of 22-over 737. Arbor View (784) closed strong to finish second ahead of Bishop Gorman (800).
The top two teams and the top five individuals from nonqualifying teams advance to the Division I state tournament, which opens Tuesday at Reflection Bay Golf Club.
"We have a great team this year and a lot of guys who can take it low," Meeks said. "If we can do something like this at state, I think we'll have a really good shot at winning."
Oshimoto had the round of the day with a 69 and tied for second at 144 with Trent, the defending region champion. Oshimoto had birdies on three of his final four holes, sandwiched around a bogey on the par-3 No. 17.
Trent was within striking distance of Meeks on the back nine before making bogeys on Nos. 12 and 18. Meeks missed a short birdie putt on No. 13 after leaving himself less than 100 yards to the green, and he wasn't able to convert an uphill birdie putt on No. 17.
"I was keeping calm, keeping the ball where I wanted it, really limiting the mistakes," Meeks said. "Although the birdies didn't fall today, I'm happy I still got the win."
Arbor View freshman Hazen Newman was fourth at 146 following an even-par 71 in the final round. Shadow Ridge senior Tanner Johnson shot 72 and finished fifth at 149.
Results: