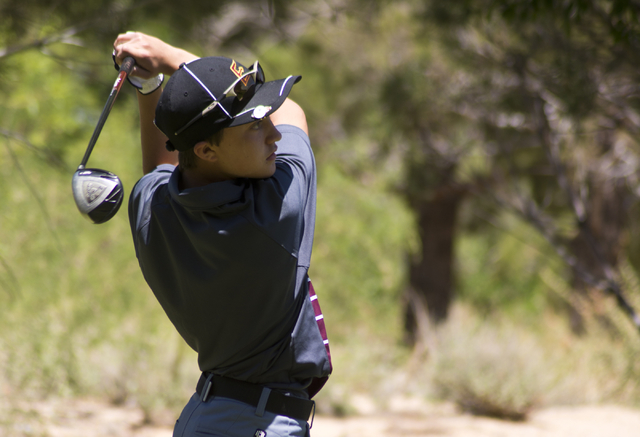 Matthew Manganello arrived for his private lesson Monday afternoon at TaylorMade Golf Experience proudly wearing an Eldorado golf shirt.
Since winning medalist honors at the Division I Sunrise Region golf tournament last week, the Sundevils freshman wants to make sure people know what school he plays for.
"I'm just representing my team, me and my coach," Manganello said. "It feels good to wear this shirt."
Manganello became the first golfer from Eldorado to capture a region title when he rallied on his back nine with four straight birdies and then won on the second playoff hole.
Manganello will try to carry that momentum into the Division I state tournament, which begins at 11 a.m. Tuesday at Reflection Bay Golf Course. The Division I-A and Division III state tournaments tee off Tuesday at Mountain Falls Golf Club in Pahrump.
"He's very controlled, and he doesn't let a whole lot of things bother him," said Jim Fitch, who is in his 36th year as Eldorado's boys coach. "The one thing that he really has to concentrate on is that he has got his game. And his game is down the middle, on the green, ball in the hole."
Manganello followed his older brother, Ryan, into the sport and started playing junior golf tournaments at age 6. He had a solid freshman season for Eldorado and entered the region tournament on the heels of a 1-under-par 71 in a Southeast League match May 3 at Chimera Golf Club.
Manganello shot 80 at Badlands Golf Club in the opening round of the tournament and trailed by six strokes entering the final day. But after a double bogey on his 13th hole, he started his birdie run on the next hole and finished with a career-best 1-under 70.
"I had to work for it, because all those players I played against were really good," said Manganello, who attends East Career and Technical Academy but is zoned for Eldorado. "I just kept focusing and just kept hitting the shots I know how to do."
Manganello, at 5 feet, 5 inches tall, is not a long hitter and instead will rely on his accuracy off the tee and touch around the greens to contend at the state tournament.
Junior Jack Trent of Palo Verde is the defending Division I state champion. Palo Verde and Coronado are expected to compete with Northern Region champion Galena for the team title.
"I feel like I've been keeping my game pretty consistent," Manganello said. "I have a specific game plan that's going to help me get through the two days of the tournament: Just keep it in position, if I get in trouble, get out of it as best I can, and just keep going from there."
Contact reporter David Schoen at dschoen@reviewjournal.com or 702-387-5203. Follow him on Twitter: @DavidSchoenLVRJ