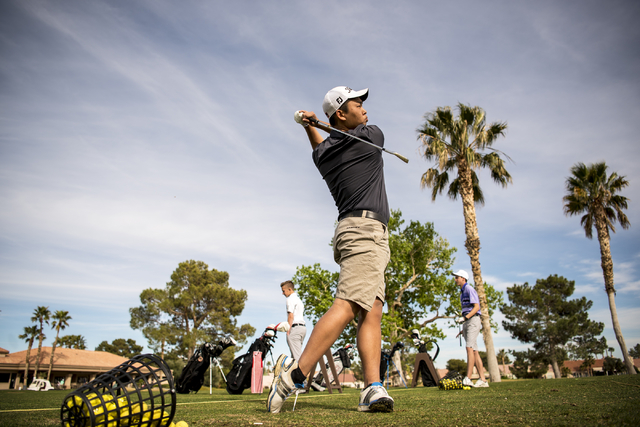 Young golfers often go to great lengths in an effort to accelerate their development on the course.
Syouta Wakisaka went halfway around the world.
Wakisaka spent three years living in Japan before returning to the U.S. for his sophomore year of high school. Now a senior at Desert Oasis, Wakisaka is one of the top players in the talent-laded Division I Sunset Region.
"I thought it was a good idea to improve my golf game," Wakisaka said of his move overseas. "It was pretty cool, I guess. The playing style that you would have in Japan is completely different than America. It was a weird transition coming back to America and playing because fairways are huge and it's a lot longer, the courses."
Wakisaka moved to Osaka, Japan, when he was 12 and lived with his grandmother, who introduced him to the game seven years earlier. Wakisaka attended an international school — he speaks fluent Japanese — and played in several local amateur tournaments.
"At first it was difficult to fit in. It's completely different," Wakisaka said. "But by the time I left, I really enjoyed it. The people there are so much more genuine."
As a sophomore, Wakisaka was the only Desert Oasis player to qualify for the Sunset Region tournament, and he finished tied for 16th before struggling the following week at the Division I state tournament.
But last season, Wakisaka showed marked improvement. He was third at the region tournament with a two-round total of 8-over-par 149 and was ninth at the state tournament despite difficult playing conditions at Montreux Golf and Country Club in Reno.
In June, Wakisaka shot 67-75-70 and finished tied for first at the American Junior Golf Association's Ryan Moore Junior Championship at Anthem Country Club. Wakisaka was part of a six-man playoff and eventually lost on the second playoff hole to UNLV signee Yash Majmudar.
"Honestly, I think last year was a pretty big breakthrough," Wakisaka said. "I played pretty well in high school golf as well as just junior golf in general. Hopefully I can continue that into this year.
"I'd like to crack top three at state. I feel like I've improved, and I want to show that."
Wakisaka, who also played tennis for the Diamondbacks, shot 6-over 150 to finish fifth at the Pahrump Valley Invitational last week and will have plenty of competition this spring.
The Sunset Region includes defending state champion Jack Trent of Palo Verde, Arbor View's Sam Dickey, who has signed with New Mexico, Bishop Gorman's Christian James and Owen Rosebeck, and Utah Valley signee Tanner Johnson of Shadow Ridge.
"I know for a fact that he certainly has a legitimate chance of winning any tournament that he's in," Desert Oasis coach Kelly Perryman said. "When he gets in competition with the top dogs, it's like he increases his quality of play by several levels."
Contact reporter David Schoen at dschoen@reviewjournal.com or 702-387-5203. Follow him on Twitter: @DavidSchoenLVRJ