None of the athletes being honored at the Best of Nevada Preps Awards banquet was alive in 1996 when Kerri Strug propelled the U.S. gymnastics team to Olympic gold.
But Strug, who landed a miraculous vault on an injured ankle 22 years ago, has plenty of experience that will resonate with young athletes regardless.
Strug, 40, will be the keynote speaker at the annual event, which begins at 7 p.m. Sunday at the Thomas & Mack Center.
"I know many of them probably were not born," Strug said this week. "Nonetheless, I think for me I had idols when I was young … (and) it was meaningful to hear what they have to say, because sometimes when you hear it from your mom or dad or that coach that you see every day, it doesn't translate the same as if you hear it from somebody who has actually lived it."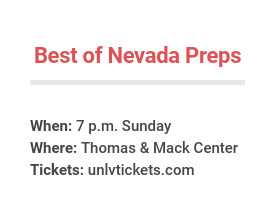 And Strug certainly has. She competed in her first Olympics at 14 and won a bronze medal.
Four years later, she was a crucial part of the Magnificent Seven. After falling on her first attempt on the vault and severely spraining her ankle and tearing two ligaments, she needed to nail her second attempt to secure a gold medal.
She did.
"I use my vault and my story to try to motivate other people," Strug said. "I've learned over the years, and I talk about it, that sports really parallel life in many ways, and there's some core values that are critical to being successful in whatever venue you hope to become successful in."
Some of those, she said, include doing what's required, leadership, trust, teamwork and perseverance.
"I think the general public associates me with that one vault," Strug said. "But my gymnastics career started at the age of 3, and I went to an Olympic Games at the age of 14 and didn't get what I wanted, and I used that as motivation to train for Atlanta. So that's kind of what I'll do is tell my story so kids realize if you don't succeed at first, try, try again. I truly believe in that, and that's kind of the values I'm trying to tell my kids."
Strug has two children, Tyler, 6, and Alayna, 3. She has been working for the federal government since 2003, currently as a program manager for the Office of Juvenile Justice and Delinquency Prevention.
She also has written multiple books, including an autobiography, and does speaking engagements across the country.
"It'll be exciting to see these young athletes that have done well for themselves and their families," Strug said. "I know what it's like personally each step of the way when you reach different milestones."
Strug said she's looking forward to sharing her story and talking with the young athletes.
"These kids most likely (wouldn't) be able to what they do and be successful if it weren't for the sacrifices of their parents and coaches and teachers," she said, "so it's nice when there's these big events to acknowledge the hard work and accomplishments."
Contact Betsy Helfand at bhelfand@reviewjournal.com. Follow @BetsyHelfand on Twitter.