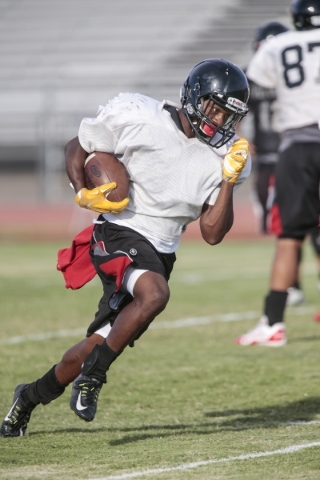 Las Vegas High football coach James Thurman hasn't had to make a decision about whom to start at quarterback for a while.
Maybe that's why he's taking as much time as he can before he appoints this season's starter.
"We've still got a little battle going on," Thurman said. "We'll probably figure it out in pregame."
The Wildcats host No. 8 Green Valley (0-1) in their season opener at 7 p.m. today.
Las Vegas relied on now-graduated Trevor Swenson for the past three years, but Thurman expects junior Ronnie Broadhead and sophomore Zach Matlock to see time in the opener.
"Those two kids are kind of neck-and-neck," Thurman said. "Neither one has really won the job yet, so we'll kind of play it by ear. They both bring a little different things to the table."
The good news for either quarterback is Las Vegas returns a host of talented skill players led by sophomore running back Elijah Hicks.
Hicks rushed for 849 yards and 10 touchdowns after taking over as the team's No. 1 option last season.
"If we can turn and throw the ball a little bit and get Hicks a couple lanes to run with, we could be decent there," Thurman said. "He could be a very talented kid. He's got some special abilities."
The Wildcats also return a trio of experienced receivers led by senior Zacharry Loveland . Loveland caught 27 passes for 340 yards last season. Seniors Hanoie Rabago (21 catches, 274 yards) and Raul Perez (18 catches, 169 yards) lend experience.
"I feel like we do have good receivers," senior right tackle Manny Caudillo said. "They're fast, and they can catch."
Catching short passes and controlling the ball may be key for the Wildcats. Green Valley has a game under its belt. And though the final outcome didn't go the way the Gators had hoped in a 42-21 loss to Charter Oak (Calif.), the team did show offensive flashes, finishing with 468 total yards.
Running backs Austin Warhop (19 carries, 111 yards) and Nazhi Smith (11 carries, 93 yards) were productive on the ground, and three quarterbacks combined to complete 22 of 34 passes (64.7 percent) for 203 yards. Like the Wildcats, Green Valley is looking to replace a three-year starter at quarterback in Christian Lopez.
"We need to execute on offense and keep their offense off the field," Thurman said. "If they get in rhythm, they can score points in a hurry. We've seen that in years past."
The Wildcats took some hits on defense, losing all-state players Jacob Littlefield (83 tackles), Kode Mwirigi (11 interceptions) and Dante Ortiz (13 sacks) to graduation. Cruz Littlefield was second to his older brother in tackles with 78 and will try to replace his production at linebacker.
Las Vegas didn't play Green Valley last season, but the teams hooked up twice in 2013, with the Gators winning 39-38 and 47-34. The Wildcats seem excited about getting another shot at a team they call a rival.
"We've been waiting for this moment for two years now since last year we weren't able to play Green Valley," Hicks said. "So we're very excited to have this opportunity to play against them."
Loveland thinks the game could set the tone for the season.
"We have high expectations," Loveland said. "We work hard, and our whole team just goes out there and does the best we can, and we'll see how the season goes."
Contact prep sports editor Damon Seiters at 702-380-4587 or dseiters@reviewjournal.com. Follow him: @DamonSeiters.